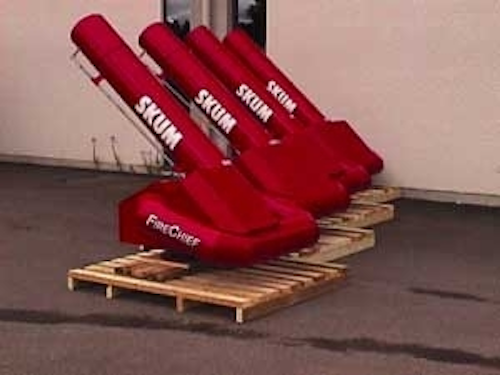 Svenska Skum has almost 70 years experience of designing and manufac-turing industrial fire protection systems. In recent times it has been very active in the environmentally-driven development of water-based systems to replace Halon and carbon dioxide for fighting fires in enclosed spaces. The company was the first to offer hot foam technology for this purpose and still considers itself to be the leader in this field, a claim based on the number of formal approvals its proprietary 'HotFoam' product has been granted.
The system has an advantage over most other water-based foams in that it does not need clean air from the outside to produce the foam. Careful selection of suitable foaming agents and the design of the foam generating apparatus means the system can operate with air actually coming from the vicinity of the fire and containing combustion gases or heavy smoke. This reduces ducted air requirements and dramatically simplifies the installation of the systems.
In performance terms, HotFoam is claimed to be the equal of conventional high expansion foams. The system is fully approved for use in shipping applications - units have been installed in around 100 vessels - and the company is actively pursuing business in the offshore market.
Increased water capacity
The company's other main area of interest is offshore and marine fire fighting using water monitors, alternatively known as water cannons. Jan Johansson has responsibility for marketing fire fighting systems and is disappointed with the lack of attention given to this vital area by some parts of the industry.
"The marine fire fighting industry has for a long time been in a state of hibernation," he says, "especially if one considers research and development. A quick look at the systems installed on new fire fighting tugs and salvage vessels indicates there have been few changes over the last 10-15 years. The equipment has hardly changed at all, and the overall design of the systems show no sign of improvement or modernization." He feels that many vessels with fire-fighting systems would be "better off without them," especially vessels that do not conform to formal class notation such as FiFi I or FiFi II (figure 1).
As an example, Johansson cites the customary installation of 300m3/h water pumps on tugs intended for port duties. "Even in port, we have to look at the worst case scenario. A simple calculation tells us that 300m3/h at 10 bar inlet pressure to the monitor will result in a water jet of 80 meters in still air. This is fine if the tug has a clear line of sight to the fire and is not downwind of the stricken vessel. But this cannot be guaranteed. In our opinion, a minimum of 600m3/h per monitor should be the mandatory requirement for all vessels intended to be used in fire fighting. This would ensure the tug could remain around 100 m from the casualty under most conditions while fighting the fire, an essential requirement from a safety standpoint."
Johansson adds that tests performed in the offshore industry have shown that "up to 70%" of the water directed at a fire at sea is lost before reaching its target owing to wind, conversion to steam and air resistance. It is this kind of knowledge which is often not factored into designs by less expert practitioners.
He is in no doubt about the reason behind the general malaise: "In the never-ending drive for lower costs, shipyards are taking it upon themselves to design the fire fighting systems and to procure equipment from multiple sources, depending on who can offer the lowest price for individual components at the time," he says. In his view, shipyards generally do not fully understand all the issues connected with the design of the systems, and so equipment stands a good chance of being oversized at best or unreliable and ineffective at worst.
Johansson argues strongly for taking an integrated approach to fire fighting systems on the basis that not only does this lead to more effective systems but, in the long-term, to more cost-efficient ones also. "Pumps, valves, drives and gearboxes, piping, fire monitors, controls and instrumentation and self-protection water spray systems all need to be fully compatible in order to provide optimum systems," he says.
Lower weight monitors
Svenska Skum prides itself on its R&D record and recently introduced a new generation of lightweight, compact monitors. Where there has been a demand for greater water capacities, this has generally been met by larger, heavier monitors. In an effort to reverse this trend, the company has used 3D CAD in combination with finite element analysis in the design of its new monitor, which complies, with FiFi I, II & III requirements. As well as providing an optimum design, use of these latest tools has both speeded up and cut the cost of the development by limiting the number of prototypes that had to be made and tested. The new monitors have been supplied to shipbuilders in the Middle East and in Singapore.
For more information contact Peter Kristenson, Svenska Skum. Tel: +46 303 577 00, Fax: +46 303 582 00, E-mail info@skum.se