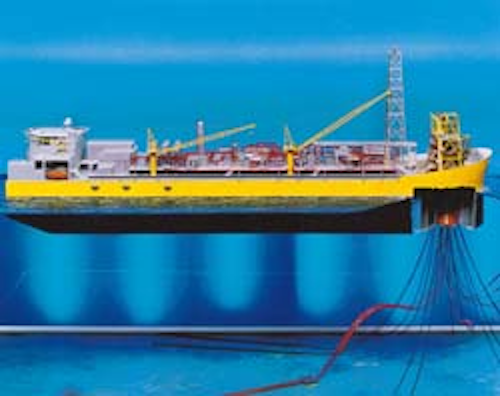 Newbuild monohulls and converted tankers being tried in deeper waters
mid-Norway and West of Shetland
Jeremy Beckman
Europe Editor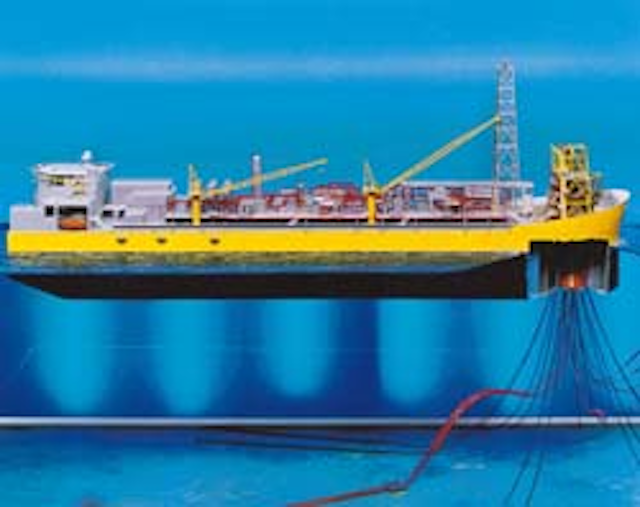 Model of the Shell/Esso Central North Sea FPSO.

The modified Petrojarl IV, on its way to do service for ARCO on the Blenheim Field.

Uisge Gorm, the converted tanker engineered by Bluewater and Astano for Amerada Hess' Fife development.
Production from mid-size North Sea fields is becoming increasingly ship-shaped. In areas with scant export infrastructure, vessels are replacing fixed platforms as the preferred development option. Newbuild monohulls and converted tankers are also being tried in the deeper waters off mid-Norway and west of the Shetlands, in an attempt to speed production from these rapidly emerging provinces.
Alternative floating systems are not entirely out of favor. In Norway, Norsk Hydro has just signed up for a semisubmersible for its Njord development, and Heidrun will start up this year through a tension leg platform. But in the UK in particular at the moment, vessels get the vote.
At IIR's FPS '95 conference in Aberdeen recently, John Trickey of Noble Denton Europe pointed out that in the North Sea the purpose-designed, turret moored ship is starting to dominate due to the harsh environment and the ability of these vessels to weather vane, reduce roll motion and remain on location throughout the year.
Strides have also been made in the development of swivels for fluid transfer and larger diameter flexible risers. But technical advances are better seen than read about, and in this regard, vessel builders and designers have a lot to thank Kerr-McGee and Amerada Hess for.
The latter caused a stir early this decade by renting Golar Nor's Petrojarl 1, then basically a test ship, to produce oil from its Angus and Hudson Fields in the UK North Sea. Kerr-McGee went one better, purchasing outright a Tentech-designed monohull as the FPS for its Gryphon development. Success of this scheme, economically, technically and in terms of safety, probably did most to put ideas into other North Sea oil executives' heads.
Blenheim
In the UK this year at least three operators have announced plans for floating production developments; others have hinted at future schemes; and one project has already come onstream. That was ARCO British's Blenheim Field, which yielded first oil on March 13.
Blenheim, in 500 ft of water, is a 23 MM bbl accumulation with a plateau production rate of 35,000 b/d. The field is being produced through one vertical and two horizontal wells tied back to the Petrojarl 1, with oil exported by shuttle tanker. Using the FPSO allowed this project to be fast-track: Annex B development approval was only granted a year ago.
The vessel was demobilized from the Hudson Field early this February, then mobilized to Blenheim early March following a short refit and recertification. Golar Nor has leased the vessel to the partners and is also operating it on their behalf, along with the shuttle tankers. Total capex to Golar Nor was £ 15 million, but just £ 12 million to the field partners.
Recently, ARCO has been targeting a satellite prospect which, if successful, could be tied back to the floater as it has spare risers available.
Around the same time, Shell UK Expro was given government go-ahead to develop its Guillemot A, Teal, and Teal South Fields in the Central North Sea. These will be subsea installations tied back via flexible risers to a monohull FPSO, Shell's first in the North Sea. This will also be the North Sea's largest FPSO development to date, according to UK Industry and Energy Minister Tim Eggar, with total expenditure of around £ 500 million.
Half of that sum is going to Single Buoy Moorings which is responsible for construction, procurement and installation of the floater, including its turret and mooring system. Mitsubishi Heavy Industries is building the hull, and Amec at Tyneside, UK is building the topsides facilities. The near 130,000 dwt vessel will be 234 meters long and 45 meters wide with a maximum draught of 16.7 meters, and storage capacity of around 850,000 bbl.
Shell's vessel will be moored midway between Teal and Guillemot A in 90 meters of water. The three fields' combined reserves are 90MM bbl of oil and 1.3 bcm of gas. A subsea manifold at each of the wells will tie in 12 wells to the FPSO, which will be able to process 55,000 b/d of oil (offloaded onto four tankers serving other Shell fields in the area), as well as 85,000 b/d of injection water, and 30 million cf/d of gas for export into Shell's Fulmar pipeline system.
First oil is expected early next year. The partners had talked of tying in other nearby finds, but heavy crude and unitization problems ruled out that idea.
Texaco also won government approval for its Captain development, located just 90 miles off Aberdeen in the Inner Moray Firth. Here a wellhead protection platform will be connected by a series of pipelines and flexible risers to a Tentech 700 T FPSO vessel for processing, offloading to a dedicated shuttle tanker. The FPSO, under construction by Astano in Spain, will process 60,000 b/d of oil with capacity to handle up to 140,000 b/d of produced water.
First oil from the complex Captain reservoir (via horizontal well sections up to 6,000 ft) is due late in 1996, a little after Conoco UK's MacCulloch Field comes onstream.
MacCulloch, holding an estimated 40 MM bbl, was considered uneconomic as a platform development. Conoco and partner Lasmo are contemplating a services contract involving leasing of production and storage vessels. The successful contractor will provide most of the equipment throughout the field's five-year life, and also handle routine production and logistical operations. "It's a big shift and a new way of doing business for us," says Glyn Jones, manager of the company's Small Marginal Fields Operating Unit.
Conoco will use experience gained from its stake in BP's Donan Field, which has been produced by the SWOPS FPS vessel for some time. Tiebacks may also be made to MacCulloch from nearby prospects in block 15/19. The lucky vessel owner has not yet been selected, but with time running out, spec newbuilds such as Smedvig/FELS' SPU 380 must stand a good chance.
Other North Sea fields linked recently with floating production schemes include Amoco's delayed Telford development, Mobil's Kyle, and Amerada Hess's new oil discovery Dauntless.
Shipyard shortfall
Any short-term UK floater developments will incorporate vessels built outside Britain. Although the country's key fabricators remain strong in topsides, there has been no investment in vessels. Top designers for FPSO vessels are all in continental Europe - Bluewater, Golar Nor Offshore, Maritime Consultants and SBM, with Astano's sites in Cadiz and El Ferrol the best bet to compete with the Far East yards for construction.
Astano's monopoly may not last, with Trafalgar House reportedly interested in building FPS hulls through buying the Swan Hunter shipyard at Tyneside, England, (currently in receivership) allied to fabrication of topsides at Trafalgar's nearby facility in Hartlepool. Heerema is also rumored to be interested in buying both yards for the same reason.
A report commissioned recently by Britain's Department of Trade and Industry concluded that only one other site would be suitable for vessel newbuilds or conversions, the Harland & Wolff shipyard in Belfast. The report recommended that operators with a requirement for FPSOs should start dialogue with this yard. But UK design expertise in this field is still lagging, except at the Aberdeen branch of Coflexip-Stena Offshore, which is using converted tankers for extended well tests on BP fields.
Norwegian prospects
In Norway, however, the creativity curve continues even though floater fever hasn't gripped Norwegian North Sea operators to the same extent. New developments known to be going ahead are headed by Norsk Hydro's Njord, which will be developed by a semisubmersible platform. Statoil's Norne system will be ship-shaped, but that will operate much farther north, off Mid-Norway.
Yme, also operated by Statoil, will come onstream shortly using an FSU. Otherwise, prime candidate for a ship-shaped solution in the North Sea is Saga's Fenris in block 15/12b, a 100 MM bbl oil and 2.3 bcm gas prospect. A likely scenario for this near NKr5 billion development is a wellhead platform tied to a production ship. Others linked with ships are Norsk Hydro's Hermod and Visund, and Esso Norge's 200 MM bbl Balder, which is extremely short of nearby infrastructure.
If these projects go ahead, there could be at least two Norwegian-owned vessels at their disposal. Recently Rasmussen Group ordered a speculative newbuild production and storage ship from the Japanese Mitsui yard. Process plant will be added later to fit the destined project, expected to be in Norway or the UK.
The double-hull FPSO, based on the Tentech 700 design, will have storage capacity of 500,000 bbl and a 3,500 cu meter deck area: its turret will be able to handle up to 15 risers, with a 10-anchor mooring system. Delivery is due in June 1997. Rasmussen is also supplying the Yme FSU.
Smedvig's much talked-about FPV SPU 380 is still under construction at the FELS site in Singapore, but should be ready for North Sea operation in less than a year. FELS is also a minority investor in this $200 million project.
The vessel is targeted at marginal oilfields with a production profile of four to eight years, or less than 100 MM bbl. It will be 211 meters long and 36 meters broad, with production capacity of 60-70,000 b/d and storage of 380,000 bbl.
The conceptual work on this ship started in February 1993, following handover of the SPU 1, or Tentech 850C vessel, to Kerr-McGee for the Gryphon Field: Smedvig had managed this project for two years during the construction work in Spain. Smedvig's study for the proposed new vessel was based on known field portfolios in the UK and Norway, and took into account these nations' offshore cost-cutting initiatives Crine and Norsok. The company's aim is to own and operate such production facilities, not to be a designer or seller of vessels.
Early this year a new FPSO specialist engineering company, Maritime Tentech, was formed in Kristiansand through the merger of Norwegian Rig Consultants and Tentech. This company is working closely with its Norwegian parent Maritime Group, which has a new concept for extended well tests/early production from minor oilfields.
The Tentech-Ramform concept is based on an existing hull design with very good motion characteristics, with storage capacity and processing between 40-200,000 bbl. Maritime expects the concept to be very competitive for low production rates. Another Norwegian group headed by Dolphin DOC is thought to be investigating development of a scaled down production vessel, with input from Norwegian oil companies.
Low cost Norne
In the deeper and rougher waters off mid-Norway, Statoil's Norne is allegedly the world's largest shipshape field development. The field is due onstream in 1997, six years after it was discovered - quick by Norwegian standards - and will be produced at a cost of just $2.3/bbl, according to Statoil president Harald Norvik.
That would be nearly half the figure for Gryphon. Project costs could eventually be cut further through use of horizontal wells with wide bore subsea horizontal trees, reducing the number of wells originally thought necessary.
Norne is a 500 MM bbl oilfield with an estimated production life of 20 years. The ship, held by a 12-point mooring system, will offload to shuttle tankers. Production capacity is put at 170,000 b/d with storage room for up to 717,000 bbl.
Fortunately for Statoil, Norway's parliament decided to approve the development this March: some politicians were against it for local environmental reasons, also claiming that Norwegian oil production was already high enough. A coastal base for operations organizations has yet to be agreed.
No such opposition yet from special interest groups in the Shetland Islands, west of which lies BP/Shell Expro's Foinaven development. Phase One is expected onstream early next year through the converted Petrojarl IV, originally a support ship for the Russian Navy.
Phase One is due to recover 200 MM bbl from the field. Horizontal drilling has been employed, again to reduce the number of production wells needed, from 28 to 14. Some of these will be multi-lateral - a first for BP offshore - contributing to savings of 25% over conventional well completions.
The partners chose to modify an existing vessel, for $360 million, rather than build a new one to speed up the development. Astano, which is performing the conversion in El Ferrol, has a brief to remove the bow and stern, upgrade and then join them to a new mid- section of double-skinned hull, increasing the vessel's length to 240 meters. On completion it will be part ship, part crude oil and gas processing plant ,and part storage unit.
Process capacity will be up to 95,000 b/d of oil, with storage for 300,000 b/d, with shuttle tankers visiting every three days during peak periods. The vessel's ten anchors should allow it to keep its station in the severe weather conditions anticipated in this frontier region.
Conversion of the Petrojarl IV should take less than 15 months. Installing the processing units concurrent with modification work has saved time; normally, vessels are modified prior to equipment installation.
Golar-Nor Offshore is responsible for designing, building and operating the vessel: lease payment will be tied into the oil production rate. Dayrates are staggered from $60,000/d to over $300,000/d, depending on production levels. But the contractor consortium also faces price penalties if production is delayed, either due to late delivery of the vessel or failure of equipment onboard.
Beyond Foinaven, BP's heavy oil Clair Field is the next likely contender for ship-shaped production west of the Shetlands. The TAPs alliance is believed to have studied extended well test studies on the field recently using a tanker. Other finds have been made by Amerada Hess in waters too deep for conventional platforms.
According to James Hargreaves, director of the UK's Smith Rea Energy Analysts, the extent and shallow nature of the reservoirs discovered west of the Shetlands indicate that a number of drilling sites would be needed, again endorsing the need for FPSs. However, these finds are not as remote from infrastructure as commonly imagined, he pointed out last year at an IBC conference in London: they are in fact closer to Aberdeen and Peterhead than most northern North Sea fields.
With field development west of the Shetlands still on the early stages of the learning curve, more ship-shaped floaters offloading to tankers are likely for the next wave of developments. Comparing the various production options, Smith Rea found that the monohull FPSO yielded the best rate of return. However, Hargreaves pointed out that BP has also commissioned studies of facilities including concrete spars with storage, steel and concrete TLPs, concrete semis and compliant towers.
Copyright 1995 Offshore. All Rights Reserved.