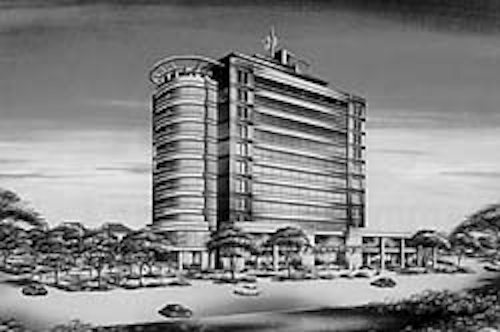 Coastal town rapidly becoming major venue for offshore service, supply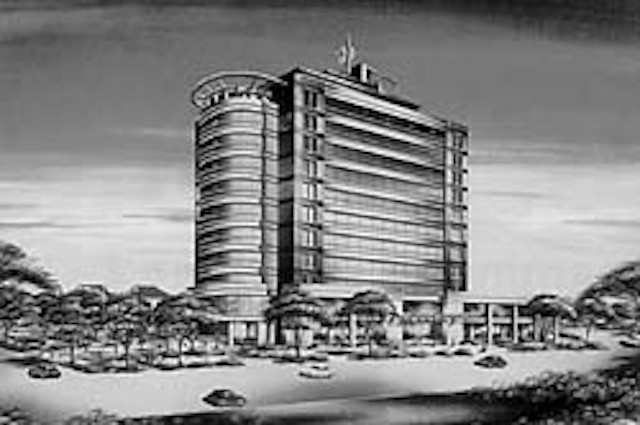 Artist's impression of the modern office building in Vung Tau planned by FELS, Vietnam Oil & Gas, and National Oil Services Co. of Vietnam.
Although Hanoi remains the centre of decision making in Vietnam, the southern coastal towns are rapidly developing into the country's main offshore construction and supply complex. None more so than Vung Tau, which was originally envisaged as the key port for oil operations, but is now being spoken of as a gas terminal and distribution centre as well.
Lack of space could kill that conjecture: international and local ventures are gobbling up unoccupied parts of Vung Tau, with the result that leaseholding rates are likely to soar. So Vung Tau could well follow Aberdeen's line in the North Sea, where gas processing has migrated up the coast to St Fergus. In Vietnam's case, the Ben Dinh fishing village up the coast from Vung Tau might be a more realistic candidate for gas infrastructure.
The biggest project announced last year for Vung Tau was a $900 million deepwater port, to be financed by Mitsui, Mitsubishi, and Singapore-based investment company Tredia. The facility will be able to handle 60,000 dwt vessels by 1998, and eventually ships of 100,000 dwt.
Among other international companies setting up shop in Vung Tau are Schlumberger, which is offering services and supplies to oil and gas subcontractors. Others sizing up the town or nearby areas include BHP, Itochu, Shell, and UK offshore constructor Trafalgar House.
One fabricator, however, has already taken the plunge. Singapore shipyard Far East Levingston is teaming up with Vietnam's BaSon Shipyard and the Vung Tau Shipyard Company to set up a new facility in Vung Tau that will design and build offshore structures and maintain and repair vessels.
In a separate development, FELS, the Vietnam Oil & Gas Corporation, and the National Oil Services Company of Vietnam are developing a $34 million, 10-storey office building in Vung Tau. It should be ready for occupancy by early 1997.
Last year, FELS refitted the Deep Sea Pioneer semi for BHP's Dai Hung development, and in previous years it has built two new jackups for Vietnam. FELS's parent group, Keppel, has also formed a shipbuilding and repair venture with BaSon Shipyard in Ho Chi Minh City, a 28-hectare site on the Saigon River, which flows directly to Vung Tau over 100 km away.
Other new projects planned for the Vung Tau area include a floating oil storage depot with a capacity of 250,000 tons, and a joint venture between Itochu, Mitsui, and Kyeoi of Japan and the Vietnam Steel Corporation to produce steel and steel wire for the offshore sector. This will be located in Ba Ria.
Copyright 1995 Offshore. All Rights Reserved.