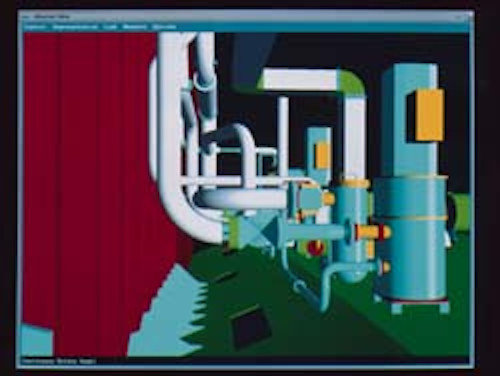 An example of a computer image from the KCS shipbuilding program.
The emergence of the newbuild production ship is enabling Kockums Computer Systems (KCS) to increase its contribution to the offshore sector.
KCS, originally the computer department of Kockums shipyard, provides a range of software tools to facilitate the task of shipbuilding through from initial design to finished product. Since it began marketing its expertise nearly 30 years ago, the company has seen its systems installed at more than 225 sites in 38 countries in Asia, Australia, Europe and the Americas.
In the past, KCS has tried to target the offshore sector as well as shipbuilding, but recently decided to focus on shipbuilding. Ironically, this has happened at a time when orders for dedicated offshore vessels are increasingly being placed with shipbuilders rather than in offshore yards.
"Many of our customers are now working on offshore vessels such as production ships and supply vessels," says market communications manager Magnus Feldt.
The trend is being driven by the growing popularity of floating production, storage and offloading systems (FPSOs) - otherwise known as production ships - and the shuttle tankers which are required to export their output. To a lesser extent there is also demand for floating storage units.
One yard which has been prominent in the production ship market is FELS in Singapore, which uses KCS's Autokon application. The yard is currently building FPSOs for Statoil's Norne development and a spec vessel for Norwegian contractor Smedvig.
The Harland & Woolf yard in Belfast, a KCS user since 1975, has recently declared its intention of specialising in FPSO construction - it has its own basic design ready for the market.
Of the three shuttle tankers for the Heidrun development in Norway, one is being built by Conoco at the Samsung yard in Korea, which uses KCS's Autokon application, while the other two have been ordered by Statoil from Astilleros Espanoles, which also uses Autokon.
KCS's current tool is the Tribon series of programs. These were originally launched in 1993, with a second version introduced late last year. Many users of the company's previous systems, Steerbear, Autokon, and Schiffko, have now migrated to Tribon, including H&W, the Bremer Vulkan group, which also aspires to build production ships, Blohm + Voss, Thyssen, HDW, Pendik, and van der Giessen - de Noord.
H&W, for example, upgraded from Steerbear to Tribon, managing the changeover in the course of one working day. To draw greater benefit from the system, the yard has put up screens in the production area so that production personnel can directly access production information.
The Tribon range is comprehensive, including programs for work preparation, hull, pipe, cable, accommodation, structure, components, equipment, general design, materials, and work reporting. It is particularly good for complex ships says Feldt, where a standard design cannot be applied.
Now KCS has added a program for early design to the Tribon range, filling what it saw as a gap in its range of services. "In the past we have been a bit weak in the early design phase," says Feldt. This move followed KCS' acquisition of Newcastle-based company BMT Icons, whose Hulltech product has now been integrated into the Tribon system as Tribon Initial Design.
Tribon Initial Design offers a wide range of modules for rapid definition of initial ship geometry and naval architectural analysis, combining advanced mathematical methods with accepted empirical techniques.
It is based on a combination of over 25 years" experience in the development of fullform geometry modelling and hydrostatic and hydrodynamic analysis techniques with state-of-the-art PC and work-station computer technology.
"Now we are much more competitive in the early phase," says Feldt. "We expect our acquisition of BMT, which has some 20 staff, to bring us a lot of benefits in the future."
Among the purchasers of Tribon Initial Design was the Kvaerner Govan yard in Scotland, which recently won an order to build an offshore supply vessel for Harrisons (Clyde). KCS will now extend its expertise to an even earlier phase through a joint project with Norwegian certifying authority DnV.
The company says that the aim of the project is to create new software tools for the requirements of hull structure classification design and outfit classification design which will be tightly integrated with rule-checking and analysis programs for direct calculation of design performance. The project was only initiated recently, and it will take a couple of years before any products emerge, says Feldt.
In general terms, he sees KCS becoming increasingly engaged in tackling its clients" problems. "It's a trend that has been taking place over the years," he says. "We started as a small software vendor, but now we're responding directly to the needs of shipyards."
The company has an agreement, for example, with the Danish yard Burmeister & Wain for testing new releases. It recently tested and verified the Tribon Robot Interface for application in the field of robot welding.
It has also announced the setting up of a marketing cooperation deal with TTS of Norway, which has programs for shipyard handling systems that also involve robotization.
KCS has also signed long-term partnership agreements with a number of yards, the latest being Daewoo, Halla and H&W, whereby it undertakes to develop its systems in close cooperation with these clients.
For more information contact Magnus Feldt, Kockums Computer Systems AB: telephone: 46 40 97 80 28 or fax 46 40 97 84 15.
Copyright 1995 Offshore. All Rights Reserved.