Jackups make up huge majority
Justin Smith
IHS Markit Petrodata
While the offshore rig construction market continues to suffer mightily during the ongoing downturn, there is finally a light at the end of the tunnel. At the moment, a total of 133 rigs are under construction. Jackups make up a huge majority, with 86 units currently under construction. This is nearly double the combined number of drillships, semis, and tenders currently being built, of which there are 28, 13, and six under construction, respectively. Out of these rigs, only 18 were ordered with contracts in hand or by operators themselves, although nearly all of those are associated with Sete Brasil, and thus mostly doomed.
Of the remaining 115 speculative units, so far only one, Odfjell Drilling's semisubmersibleDeepsea Nordkapp, has locked in a charter since construction began. In what has become a growing trend recently, Odfjell agreed to purchase the partially built Stena MidMax from Samsung Heavy Industries following the cancellation of the rig's initial construction contract by Stena in June of last year, and Odfjell has renamed it Deepsea Nordkapp. Upon delivery in the first quarter of 2019, the rig will mobilize to the North Sea region and begin a two-year charter with BP.
As with years past, Chinese shipyards continue to lead the way by a significant margin, with a total of 74 rigs under construction, 61 of which are jackups. Meanwhile, 23 of the 39 units being built in Singapore right now are jackups. South Korea continues to be at the forefront of building floaters, but not by such a huge margin as in days past. At the moment, 15 floaters are under construction in the country, and of those, 12 are drillships. Looking ahead, 59 rigs are officially slated for delivery this year, with 46 more scheduled for next year, 26 in 2020, and two in 2021. That said, it is highly unlikely anywhere near that many rigs meet their planned deliveries, especially those currently listed for 2018.
One trend that has not seen much abatement is contractors and shipyards putting under-construction units on standby to wait out the downturn. Thus far, at least 58 rigs have had their construction halted and placed on standby, and many of these rigs are essentially complete. Of those 58 units, 32 are jackups, 14 are drillships, eight are semis, and four are tenders. Save for a small handful of rigs, most of the units currently under construction have had their delivery dates pushed out by at least six months, but most are well over that, with some being extended by several years.
As indicated with Odfjell's decision to buy a cancelled rig, many contractors have previously attempted to cancel their construction contracts outright, and while that happens less frequently now, it has not stopped completely. As a result, though, there are a plethora of assets available for purchase, and Odfjell is not the only buyer. One company that has capitalized on this is Borr Drilling, which has scooped up 14 unfinished jackups, nine from PPL Shipyard and five from Keppel FELS. The PPL rigs include six from contracts that had been terminated with its original customers, while three of the Keppel units started with other contractors. Similarly, Northern Drilling has agreed to purchase two newbuild drillships from Daewoo Shipbuilding & Marine Engineering that were initially intended for Seadrill:West Aquila and West Libra.
In another positive sign for the industry, a few new rigs have been ordered in 2018, following zero rig orders in 2016 and 2017, and only four in 2015. Lower oil prices and the ongoing oversupply of rigs in the market pushed drilling contractors to hold off on ordering new units, but this should slowly turn around as the market bottoms out and more rigs are removed from the global fleet. Three orders have been placed thus far in the year, two by the Rowan and Saudi Aramco joint venture ARO Drilling and one by Awilco Drilling. While it is unlikely that many more orders will be placed over the remainder of 2018, the coming years should see a modest uptick as operators slowly boost offshore activity and demand newer units.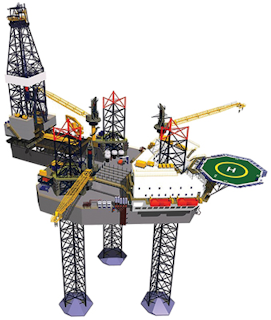 The LJ43 rig design was developed in collaboration between GustoMSC and Lamprell. (Image courtesy IMI)
Arguably the biggest turn of events in the newbuild market over the last couple of years has been the emergence of the aforementioned ARO Drilling. As a part of the agreement between Rowan and Saudi Aramco, the companies have committed that the new company will purchase future newbuild rigs that will be constructed at a new shipyard in Ras Al-Khair, Saudi Arabia. That yard was born from another joint venture, this time between Saudi Aramco and Lamprell, called International Maritime Industries (IMI). ARO and IMI have selected a new LJ43 rig design for this newbuild program. The design, which was developed in collaboration between GustoMSC and Lamprell, includes an X-Y cantilever, a new blowout preventer handling system, and enhanced skidding capabilities. The first rig is to be delivered in 2021, generally followed by two rigs per year for 10 years, up to 20 newbuild rigs in total.
As for Awilco, in March the company ordered a harsh-environment, midwater semi from Keppel FELS in Singapore. The firm, $425-million agreement also includes options to order up to three more similar rigs that are to be exercised within 12, 24, and 36 months. The prices of these additional units will be subject to cost adjustments and will be finalized only if they are exercised. The firm unit, scheduled for delivery in March 2021, will be built to the Moss Maritime CS60 ECO MW design. The rig will be outfitted to work in water depths of up to 1,500 m (4,921 ft), equipped with a variable deck load of 5,000 tons, a 2-million-pound hookload capacity, a 15K BOP, a 12-point mooring system, thruster assisted station-keeping, and hybrid power supply. The unit will be built for work in the Norwegian and UK continental shelves, as well as the Barents Sea.
Meanwhile, the drama surrounding Sete Brasil has continued, although it at least appears to be nearing an end. Construction had started on 17 of the planned 29 rigs before the contractor ran into financial trouble, but now Petrobras and Sete have come to terms on a possible settlement for the ongoing extrajudicial mediation between the two companies. If this settlement goes through, Petrobras' 10-year charters will stay in place for only four of Sete's newbuild rigs, while the other 24 contracts will be terminated. The agreement is conditional upon Sete finding "an international-class" rig manager with deepwater experience, and while several international contractors could be in the mix, such as Ensco or Seadrill, it is entirely possible established, Brazilian companies like Ocyan or QGOG Constellation could get the work. It is unclear which of Sete's existing, partially built rigs could be used to fulfill these contracts nor when these units could be used, but the rigs furthest along in the construction process are drillshipsArpoador, Guarapari, and Ondina, as well as semis Urca and Frade, all of which are at least 69% complete, according to Sete. As for the remaining units on which construction had started, most, if not all, will likely be scrapped.
2018 Worldwide MODU construction/new order survey as of May 31, 2018