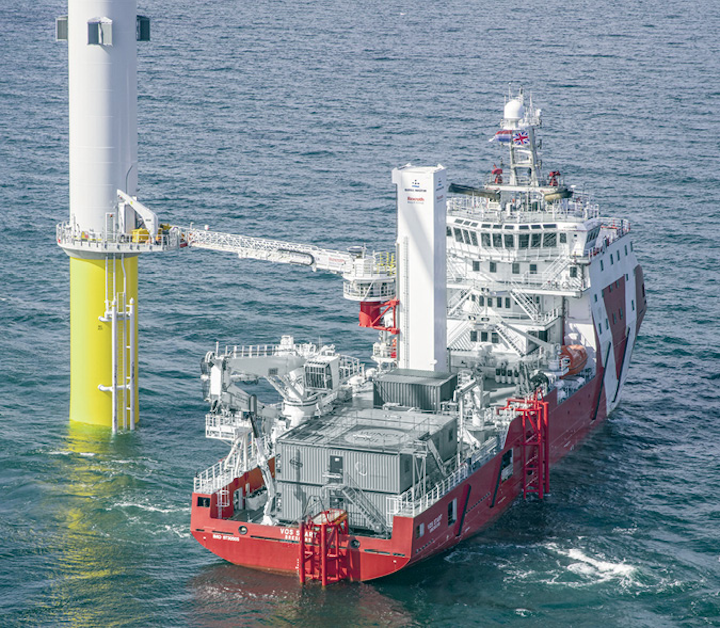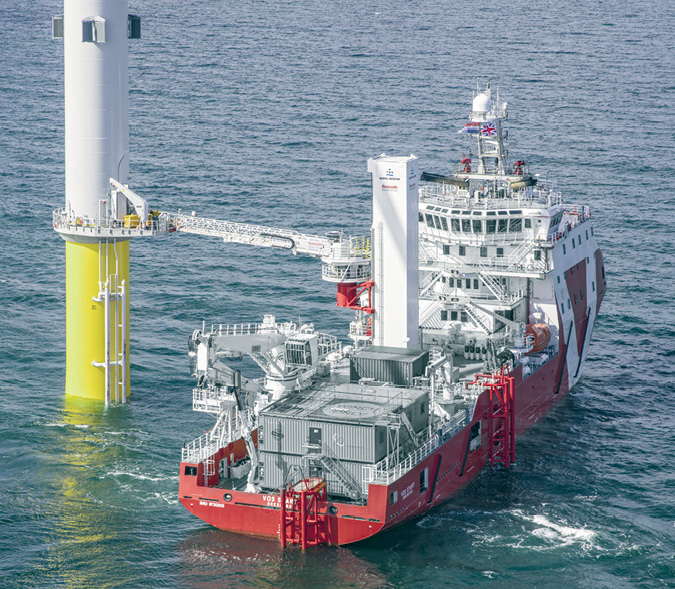 The Vos Start with gangway system in operation. (Image courtesy Alimak Hek)
Alimak Hek has supplied a rack and pinion elevator for the pedestal of a motion compensated walk-to-work system on the new offshore support vessel Vos Start. This is said to provide easy and fast access for personnel and goods from the vessel's main deck and warehouse deck to offshore platforms or wind turbines for service and maintenance work.
The Vos Start was recently mobilized from Amsterdam-based ship construction and repair group Damen. It is a subsea support vessel purpose built to support walk-to-work projects in the oil and gas industry and offshore operations in the renewable industry.
The gangway system incorporates an access tower in which the 2,000-kg capacity Alimak SE 2000 FC elevator is installed, providing step-less access. Its adjustable pedestal is said to provide flexibility in landing heights. Barge Master and Bosch Rexroth engineered the gangway system to allow transfer operations even in harsh weather.
Typical requirements of an offshore vessel such as high roll and pitch motions presented three main challenges for Alimak Hek for this project. First, the elevator's top landing needed to be variable; second was the limited amount of space available in the shaft; and third, the limited time window to complete the installation, testing and commissioning on the vessel itself.
The solution involved designing the elevator top landing to be variable depending on the height of the offshore platform or wind turbine being serviced, allowing the elevator car to be stopped at the exact same level as the motion-compensated gangway.
The vessel was handed over to the end-user last August, its first job being to provide offshore logistics support, accommodation and walk-to-work services during construction of a wind farm in the Irish Sea.
In this case, the elevator has a traveling speed of 0.6 m/s, a variable lifting height of around 20 m (65.6 ft), and is 1.3 m (4.2 ft) wide, 2.2 m (7.2 ft) long, and 2.1 m (6.9 ft) high. During operation, Alimak Hek claims its rack and pinion elevators are unaffected by roll, pitch or heave: typically its marine elevators have a minimum life expectancy of 30 years, assuming regular maintenance.