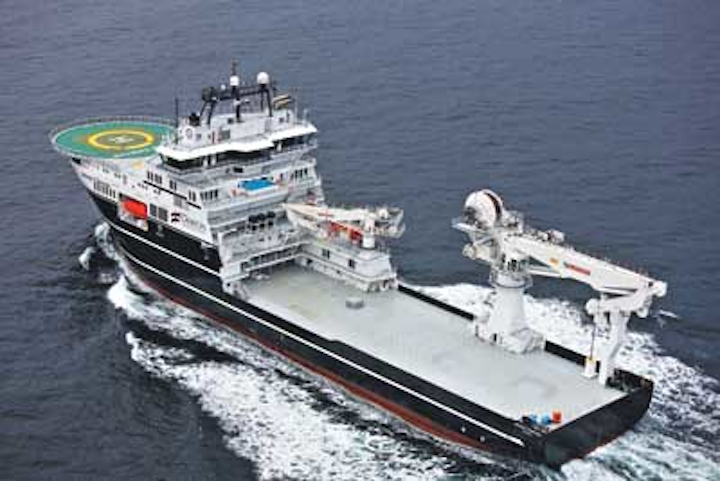 Jessica Tippee
Assistant Editor
As offshore operations expand into deeper waters and harsher environments, equipment providers and service companies continue to advance lifting and hoisting technology.
Huisman has successfully delivered what is said to be the world's largest offshore mast crane onboard theSeven Borealis. The crane, with the top of the mast reaching 150 m (492 ft) above the main deck when in upright position, features a full heave-compensated deepwater lowering system.
The 5,000-metric ton (5,512-ton) crane was installed, commissioned, and load-tested at Sembawang Shipyard in Singapore. Besides the two 2,500-metric ton (2,756-ton) main hoisting blocks, the crane has a 1,200-metric ton (1,323-ton) auxiliary hoist that is equipped with an active and passive heave-compensation system and is capable of storing up to 6,000 m (19,685 ft) of hoisting wire. The tip of the fly jib has an additional 110-metric ton (121-ton) whip hoist. The total installed motor power is about 15MW. The crane revolves on an in-house designed and fabricated slew bearing with a diameter of 11 m (36 ft).
Elsewhere, Huisman China has completed the installation of a 2,400-metric ton (2,646-ton) quayside crane at its Zhangzhou (Fujian) fabrication yard. Named the Skyhook crane, and referred to as the strongest moving quayside crane in the world, the crane is specially designed and fabricated by and for Huisman China's Zhangzhou yard. Skyhook has two main lifting configurations: a heavy-lift configuration, capable of lifting 2,400 metric tons at 30 m outreach (maximum lifting height of 100 m) and an extended-reach configuration, capable of placing a 200-metric ton load at 90 m outreach (maximum lifting height of 140 m).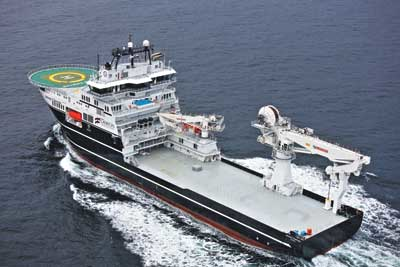 MacGregor 250-ton subsea crane and a 15-ton offshore crane onboard theGrand Canyon. (Photo courtesy Volstad Maritime AS)
In addition, Honghua Group has started construction of the "Honghai Crane" that when completed will have the largest lifting capacity of any movable gantry crane in the world at 22,000 tons. Co-developed with Wuhan Bridge Heavy Industries Group Co. Ltd., the crane will be 11 times more powerful than the next best movable crane. With a total height of 150 m (492 ft) and maximum lifting height of 65 m (213 ft), the crane will primarily be used for the construction of offshore drilling platforms.
And technologies continue to be advanced on other fronts. Cargotec has introduced electrically-driven versions of its proven range of offshore MacGregor anchor handling/towing winches (eAHT). The eAHT series comprises winches with line pulls ranging from 200 to 600 metric tons (220 to 661 tons), with an initial speed up to 25 m/min and a brake holding capacity up to 800 metric tons (882 tons). Each winch is available in double- or triple-drum configuration. The extended shaft connections at both ends of the winch are suitable for fitting chain wheels to handle chains ranging from 76- to 160-mm (3- to 6-in.) diameter.
Cargotec has secured a contract from Norwegian company Kleven Maritime. Delivery includes a 400-ton MacGregor active heave-compensated offshore crane with an outreach of 15 m (49 ft). A second smaller crane, which will have a safe working load of 100-ton at 9-m (30-ft) outreach, is also included in the contract. The 400-ton unit will have its winch installed below the working deck.
The cranes are scheduled for delivery at the beginning of 2014. Both cranes are equipped for subsea operations down to 3,000 m (9,842 ft) and have been ordered for an advanced subsea offshore construction vessel being built for Eidesvik Offshore.
In addition, MacGregor, part of Cargotec, has secured its third identical offshore crane contract for Volstad Maritime AS series of 125-m (410-ft) offshore construction vessels (OCV) being built by Bergen Group Fosen shipyard in Norway. Two more active heave-compensated MacGregor offshore cranes have been ordered for hull 091. As with the two previous orders from Bergen Group Fosen, the OCV will feature a 250-metric ton (276-ton) subsea crane and a 15-metric ton (17-ton) offshore crane. The delivery is scheduled for August 2014.
The first of Volstad's next-generation fleet,Grand Canyon (hull 089), was delivered in October 2012. Hull 090 was ordered in February 2012, and is scheduled for handover in October 2014.
On another front, SBM Offshore has contracted NFM Technologies to supply the mooring and riser installation winch for BP's Quad 204 FPSO turret west of Shetland. The winch system is due to be delivered to Hyundai Heavy Industries in South Korea in 4Q 2013, where it will be installed on the turret.
The 260-ton winch will be used for pull-in of mooring lines, risers, and umbilicals for hookup of the floater, which will replace the existing Schiehallion field FPSO. The company designed and manufactured the 400-ton capacity riser pull-in systems for Total's Dalia and Pazflor FPSOs offshore Angola.
Finally, four J D Neuhaus type EH50 air operated monorail hoists have been supplied and mounted by Westcon Løfteteknikk AS of Bergen, Norway, to the Maersk offshore rigGuardian. These products have been specified for the synchronized lifting and handling of an 18¾-in., 15,000-psi BOP unit before and after drilling operations. Two hoists are each mounted on twin parallel overhead rails, with each hoist providing 50-metric ton (55-ton) load and 20-m (66-ft) lift capacities for between deck operations.
Palfinger Group has acquired Norwegian offshore crane manufacturer Bergen Group Dreggen and now operates as Palfinger Dreggen. The company has won a contract for the delivery of 28 cranes to Sembcorp Marine's subsidiary Jurong Shipyard Pte. Ltd. The contract includes the supply of cranes for seven drillships to Sete Brasil, scheduled for delivery between 2014 and 2017. Each vessel is to be equipped with two DKF2000 pedestal knuckle boom cranes and two DKW2000 pedestal wireluffing cranes.