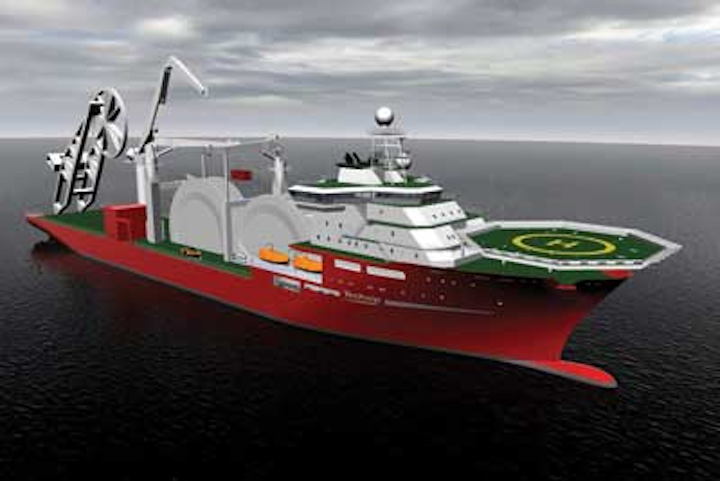 Ted Moon
Special Correspondent
While the total number of vessels inOffshore's 2013 survey of pipelay vessels is slightly lower than the previous survey in 2011, this does not tell the whole story. Older vessels are being taken out of commission and replaced with new vessels designed to meet the industry's growing demand for pipelay capabilities in deeper waters, more remote frontier locations, and in production scenarios that include higher pressures, hotter temperatures, and sour service.
Industry analysts anticipate a sizable increase in demand for higher-specification vessels of all kinds in the next five years. Douglas-Westwood's recent "World Subsea Vessel Operations Market Forecast, 2013-2017" forecasts a global spend of $106 billion on subsea vessel operations, which includes flex-lay and pipelay vessels. This is an increase of 54% over the preceding five-year period. The report expects the rate of increase in expenditure to outpace the growth in vessel days, thanks to a shift to higher-specification vessels that cater to deeper and more technically complicated field developments.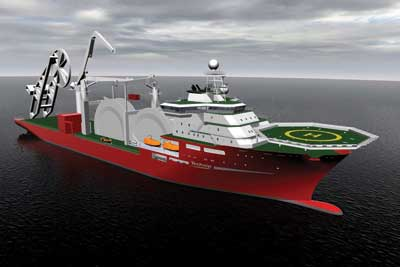 Launched in 2013, Technip'sDeep Energy is one of the fastest, largest, and highest capability pipelay vessels in the industry. A DP-3 vessel, it is primarily designed to install reeled rigid pipe of up to 18-in. outside diameter and travel at a service speed of 19.5 knots.
These challenging operating environments translate to a need for larger pipelay vessels that can carry pipe joints of greater length and weight, including pipes with greater wall thicknesses and increased amounts of insulation. And thanks to continued operator activity in deep- and ultra-deepwater regions of Brazil, the Gulf of Mexico (GoM) and West Africa – as well as new frontier areas off the coasts of Israel and East Africa – there is an increased demand for vessels with higher top tensions, larger storage volumes, and greater transit speeds.
Companies such as McDermott have responded to this need through investments in reel-lay vessels such as theNorth Ocean 105, which was delivered in 2012 and is rated to an operating water depth of 9,800 ft (3,000 m) and has a total tensioning capacity of 992 kips. It will be joined in 2014 by the Lay Vessel 108, a fast-transit DP-2 vessel with an advanced reeled system capable of rigid and flexible pipelay in up to 10,000 ft (3,048 m) of water. And in 2015, McDermott is planning to launch the Lay Vessel 2000, a high-spec, high-speed combination vessel with 2,200-ton crane and pipelay capability from 4.5 to 60 in. (11.5 to 152 cm) for deepwater s-lay installation in water depths up to 10,000 ft.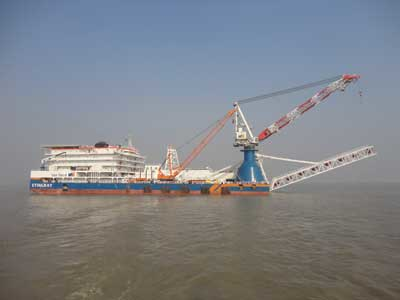 (Below) Van Oord's new shallow-water pipelay vessel theStingray has been awarded two pipelay projects worth $80 million. The first is for installation of a 42-in. pipeline and pipeline end manifold system. The second is for replacement of a crude oil pipeline in Taiwan.
China National Offshore Oil Corp. (CNOOC) has also expanded its pipelay offering with theHai Yang Shi You 201 (known more simply as the CNOOC 201). The ship, China's first deepwater pipelay crane vessel, can accommodate up to 380 personnel and lay 5 km (3 mi) of pipeline per day at a maximum water depth of 10,000 ft. The vessel has been conducting pipelay operations in the South China Sea since its maiden voyage in May 2012, when it was deployed to lay pipes at the Liwan 3-1 gas field in 1,500 m (5,000 ft) of water.
Another newer addition to the global pipelay fleet is theOceanic 5000, a DP-2 heavy-lift/double-joint pipelay vessel operated by Oceanic Marine Contractors in the United Arab Emirates. The vessel is the largest of its type in the region and can lay pipe up to 60 in. (152 cm) in diameter and in 10,000-ft water depths. It has a total lifting capacity of 4,400 metric tons (4,850 tons).
Vessels changing hands
Since the last pipelay vessel survey, Helix Energy Solutions divested its three pipelay vessels, theIntrepid, the Express, and the Caesar, as part of its corporate strategy to focus on growing its core businesses of well intervention and robotics. Stabbert Maritime acquired the Intrepid in October 2012 to perform offshore subsea and topside construction, primarily in the GoM. In June 2013, EMAS AMC took control of the Caesar after Helix closed on a deal to sell the vessel for $138 million. Rechristened the Lewek Centurion, the vessel was recently contracted by Cecon in the North Sea for 60 km (37 mi) of pipeline installation work. The Express was sold in July 2013.
Global Industries is another pipelay player missing from this year's survey. Technip acquired the company in December 2011 for $1.07 billion, in a deal that expanded Technip's total fleet to 34 vessels. This included s-lay pipelay units the1200 and 1201, latest generation sister ships with specifications suited to a broad subsea scope and capable of operating in up to 10,000-ft water depths and handling up to 60-in. outside diameter concrete-coated pipe. The acquisition of these s-lay vessels, the first of their kind for Technip, helped boost the company's addressable subsea market by approximately 30%. Other vessels acquired by Technip in the transaction, including the Chickasaw, Iroquois, and Hercules, are currently in layup status and are slated for sale.
Higher spec vessels coming
The next pipelay vessel survey in 2015 should include several new vessels currently being built to accommodate the industry's need for vessels that can operate in deeper waters and have higher operating specifications. For example, shipbuilder IHC Merwede secured orders totaling $1.35 billion in August 2013 for the design, engineering, and construction of six pipelay vessels. Three of these vessels, which will include twin-tensioning tilting lay towers, below-deck baskets, and support equipment for loading, spooling, and routing of pipe, will go to Seabras Sapura, a partnership between SapuraKencana and Seadrill.
The other three will go to Subsea 7, and will have an identical design to the recently launchedSeven Waves. With an overall length of 480 ft (146 m), a beam of 99 ft (30 m) and a Class-2 dynamic positioning system, these vessels will be equipped for transporting and installing flexible flowlines and umbilicals in water depths of up to 9,840 ft (3,000 m). All six vessels are destined for pipe installation in Brazilian waters for Petrobras and are scheduled for delivery between the first half of 2015 and the second half of 2016.
To learn more about the current state of the global pipelay fleet, please see the 2013 poster in this issue ofOffshore.