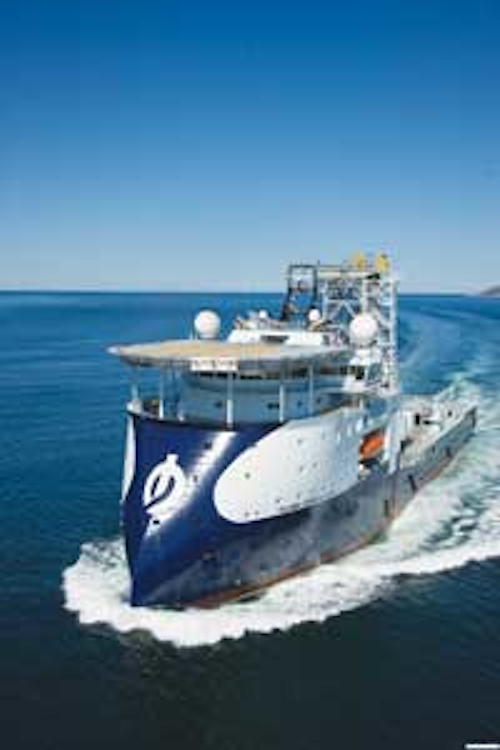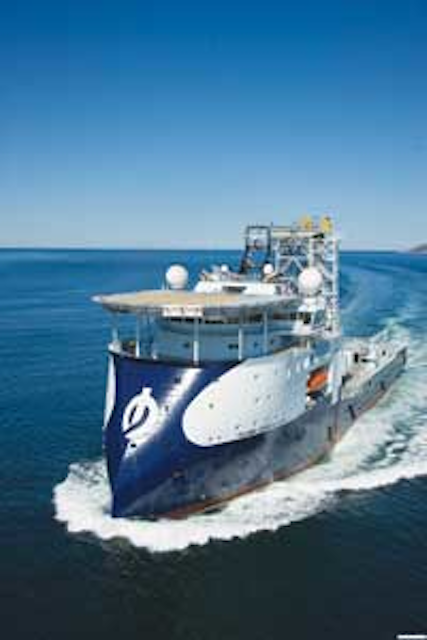 Island Constructor has begun work on the Norwegian continental shelf as part of Statoil's program to enhance recovery in the North Sea using light well intervention vessels. Photo courtesy Island Offshore/Ulstein Group.
Statoil says it has begun to implement plans to enhance recovery in the North Sea using light well intervention (LWI) vessels. TheIsland Constructor began work in December on the Norwegian continental shelf, and will be the third such vessel to undertake this effort for Statoil. "We already have three light well intervention vessels in our portfolio," said Terje Rognan, Statoil vice president for drilling and well procurement. "We are tendering for a minimum of two such vessels and are open for long-term commitments," Rognan added. "With 487 subsea wells on the NCS, it is evident that this is an important market segment for Statoil going forward, and subsequently of high interest for the supplier industry and shipowners."
Chevron fights rig fire offshore Nigeria
In its latest report, Chevron Nigeria Ltd. says it is continuing efforts to contain a fire on theK.S. Endeavor drilling rig offshore Nigeria. The rig is operated by FODE Drilling Nigeria Ltd.
The rig was drilling a natural gas exploration well in Funiwa field approximately 6 mi (10 km) offshore and in approximately 40 ft (12 m) of water when the fire started. As of Jan. 17, two crew members remained missing out of the 154 total persons and search, and rescue operations were under way.
"Every effort is being made to find the missing workers. They are our utmost priority," said Andrew Fawthrop, managing director, Chevron's Nigeria/Mid-Africa Strategic Business Unit. "We do not know what caused the incident. We are working diligently to contain the fire, which is restricted to the rig. Substantial resources have been deployed including well control specialists and drilling experts. We continue to work in full cooperation with Nigerian authorities and are committed to providing additional information as it becomes known."
Production from Chevron's North Apoi platform was shut in due to its proximity to the incident.
BP orders new semi for west of Shetland wells
Odfjell Drilling says it has received a pre-contract award from BP to provide a newbuild, semisubmersible rig for drilling west of Shetland in the UK sector. The $1.2-billion contract, excluding options, is the largest in Odfjell Drilling's 40-year history.
The rig will work on the Schiehallion/Loyal fields for the Quad 204 development. The full contract, subject to approval by the Quad 204 partners, will have a fixed duration of seven years and is due to start in late 2014.
The new sixth generation rig will be built by Daewoo Shipbuilding & Marine Engineering (DSME) in South Korea. Odfjel Drilling President and CEO Simen Lieungh said: "The new rig for BP is of the enhanced GVA7500 harsh environment design and will be a sister rig of theDeepsea Atlantic and Deepsea Stavanger previously delivered to us by DSME."
Construction engineering has started with keel laying scheduled for March 2013.
Castorone assigned Ichthys pipelay
INPEX has awarded Saipem an engineering, procurement, construction, and installation contract for the gas export pipeline at the Ichthys LNG project in the Browse basin off Western Australia.
The scope of work includes installation of an 889-km (552-mi), 42-in. (1.07-m) subsea pipeline in water depths of up to 275 m (902 ft), to connect the offshore central processing facility with the onshore processing facility in Darwin.
Saipem's new pipelay vesselCastorone will perform main offshore construction activities during 2014. The recently upgraded Semac 1 pipelay barge will handle the shallow water section.
Ichthys LNG is a joint venture between operator INPEX and Total. Gas from the Ichthys field, roughly 200 km (124 mi) offshore Western Australia, will undergo preliminary processing offshore to remove water and extract condensate.
North Sea FPSO withdrawn following storm impact
Severe weather in the UK North Sea caused theBanff FPSO to lose its anchors, causing damage to the risers, according to Premier Oil. As a result, the floater – which also handles production from the Kyle field – had to be removed from the location while the scope of the repairs was assessed. Premier says output from the Kyle field is unlikely to resume this year, and a claim for business interruption insurance is being processed.
Noble set to re-enter Israeli well
The drilling rigHomer Ferrington has arrived at the Leviathan 1 well site in the Rachel license in the deepwater Levantine basin. Operator Noble Energy suspended the well last April for technical and operational reasons. The re-entry was expected to move into deeper targets in mid-January.
According to partner Delek Energy, the program should take three months to complete. The cost is estimated at $45 million, excluding any production tests. Main prospective resources in the Leviathan Deep prospect are in Lower Oligocene, Middle Cretaceous and Lower Cretaceous reservoirs.
Multi-purpose construction vessel arrives in Middle East
Oceanic Marine Contractors (OMC) has taken delivery of the new offshore construction vesselOceanic 5000. The multi-purpose, GL-classed vessel was built at the ZPMC shipyard in Changxing, China. It is currently in the UAE undergoing preparations for its first project, installing jackets, topsides, and subsea pipelines in the Gulf.
OMC says this is the largest of its type in the region – main target markets are the Middle East, Africa, India, Southeast Asia and Australia.Oceanic 5000 is said to be especially suited for large-diameter trunk lines (up to 60-in. diameter), with capability to lay in water depths of up to 300 m (984 ft).
The vessel's revolving crane capacity of 3,000 metric tons (3,307 tons) and over-the-stern capacity of more than 4,400 metric tons (4,850 tons) allow it to undertake large heavy lifts.
It can also perform beach pulls (on anchors) and in-field pipeline and subsea installations. The DP capability assists work in congested fields, without the risk of damage to the existing facilities.
More Offshore Issue Articles
Offshore Articles Archives
View Oil and Gas Articles on PennEnergy.com