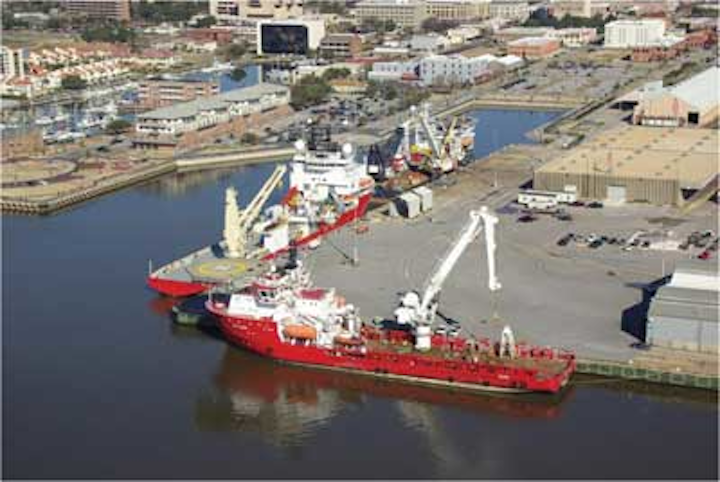 State of Florida passes $2-million appropriation for port initiative
Jessica Tippee - Assistant Editor
As exploration and production activity in the Gulf of Mexico gradually increases, the Port of Pensacola is turning to the offshore oil and gas industry to help revitalize and redevelop the 50-acre waterfront property.
Pensacola Mayor Ashton Hayward said he plans to transition the Port from an aggregate and cement-driven market to expanding the presence of the offshore service industry. "This sector has a lesser impact on the Port's neighbors and has considerable private sector growth potential. The Port may never be an enterprise which puts millions into the city treasury, but what it can be is an engine for economic growth and private-sector job creation," he said. "It's time to pursue new industry and capitalize on the opportunities those industries offer."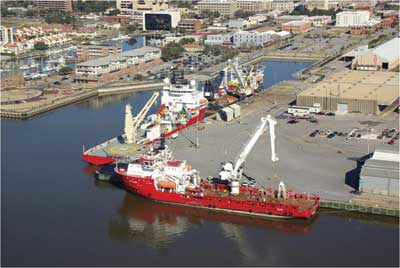 The proposed Pensacola subsea support base will service the deepwater construction fleet. Photo courtesy Offshore Inland.
The Port of Pensacola's established infrastructure includes seven warehouses with 265,000 sq ft (24,619 sq m) of available indoor storage, covered railcar loading and unloading, on-dock rail service, a range of stevedoring services and cargo handling equipment, and eight berths ranging from 16 to 33 ft (5 to 10 m). The berths include 2,360 linear ft (719 m) of primary deepwater berths, 1,000 linear ft (305 m) of secondary shallow-draft berths, and 1,000 linear ft of shallow-draft moorage.
In January, Hayward said possible funding sources for Port improvements include state and federal grants, and available economic development funds resulting from theDeepwater Horizon oil spill. "I believe these changes provide a clear direction for the Port," he said. "We can create the opportunity for sustainable, private-sector job growth, and make Pensacola a viable, competitive port option for 21st- century industries."
Since contracts for the Port of Pensacola require a vote by the City Council, Hayward said he intends to work with the City Council to adopt policies enabling Port staff to expedite decision-making by executing tariffs, contracts, and lease agreements with mayoral approval. "Domestic oil and natural gas exploration is on the rise," he said, and "we should position ourselves to be a player in this growing market."
In April, the state of Florida passed the $2-million appropriation for an economic development initiative at the Port. Appropriated from the Florida State Transportation Trust Fund, $1.2-million will fund improvements to Warehouse 9, which will be retrofitted to accommodate the fabrication and repair of subsea equipment. A sum of $800,000 will fund Phase II of shore-side utility improvements including installing sanitary sewer receiving stations for berthed vessels.
The Florida Seaport Transportation and Economic Development Council also granted the Port $1.64 million, paid for with a 25% local match from the city, to repair and rehabilitate Berth 6. This will increase the capacity of the port to handle ships by 25%.
Some of the industry's key service companies have also been working to advance this goal. Offshore Inland Marine & Oilfield Services (OIMO) established a deepwater repair and fabrication facility in Pensacola in October 2010. The company, in conjunction with the city of Pensacola, has proposed the development of a state-of-the-art subsea support base to service the deepwater construction fleet in the Port. The plan calls for the installation of a 1,200-amp shore power terminal, and a pier-side sewage discharge station. The company says shore-side improvements at the Port will allow more vessel service calls at Offshore Inland's subsea support business base.
According to the proposed plan, the subsea support base will include:
Full service vessel repair and conversion
Subsea fabrication, assembly, and testing
Project vessel mobilization and equipment staging
Vessel equipment maintenance and storage
Heavy lift capabilities
Project engineering support
Electrical, mechanical, and instrumentation support
Manufacturing
Structural and marine system inspections.
Tom Haley, president of OIMO, said the company is looking for vessel home porting opportunities, suppliers, and service providers to create vessel traffic and work for both Offshore Inland and the port and city of Pensacola. "The attraction is clear, a state-of-the-art deepwater facility with unbelievable accommodations, easy access to the central and eastern Gulf of Mexico blocks, and a city and Port totally on board with attracting subsea players," he said.
OIMO' port facility features 2,000 ft (610 m) of deepwater access, 9 acres of paved/concrete apron area, 150,000 sq ft (13,935 sq m) of warehouse space, and full onsite equipment handling and crane services.
EIC Consult, the market research and consultancy division of the Energy Industries Council, predicts that deepwater drilling in the Gulf of Mexico is on its way toward "regaining the momentum" it had before the Macondo incident. The EIC report points out there are 5,981 active leases in the Gulf. As a result of new permitting regulations, more than 130 new well permits have been granted, mostly in waters greater than 5,000 ft (1,500 m).
More Offshore Issue Articles
Offshore Articles Archives
View Oil and Gas Articles on PennEnergy.com