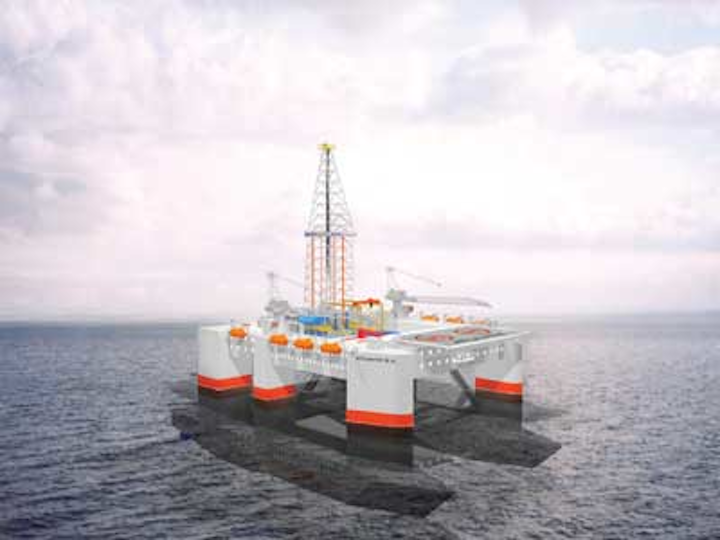 Jeremy Beckman
Editor, Europe
Clearer segregation of safe and hazardous areas on offshore drilling units was one of the main recommendations of the Macondo review. Another was a greater emphasis on equipment redundancy in dynamic positioning.
Both have been addressed in the ATLANTIC-CSP-DP-3, a catamaran-type drilling, intervention/workover and subsea construction vessel designed for operations in water depths of up to 10,000 ft (3,048 m). Developer Seamet International, based in Paris, is in discussions with one interested party which could lead to construction of a first unit at an STX-owned shipyard in western France.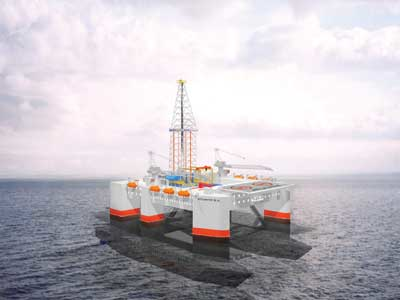 Artist's view of the Atlantic-CSP-DP-3.
Seamet's managing director is Andre Rey-Grange, who for 20 years was vice president of Neptune Offshore Drilling Co., later to become SEDCO-FOREX which eventually spawned Transocean. Rey-Grange was in charge of R&D, overseeing design, construction and commissioning of 16 drilling rigs operated by the company. Half were in-house developments that included three PENTAGONE semisubmersibles, designed and engineered with the Institut Francais du Petrole (IFP). Eight others were built under license for other drilling contractors by Eiffel in France and Rauma Repola (now STX) in Finland.
After leaving SEDCO-FOREX, Rey-Grange and other industry individuals banded together in the 1990s to develop a first version of the Atlantic drilling vessel. Although the engineering at that stage was fairly basic, the Chantiers de l'Atlantique shipyard at St- Nazaire agreed to market the concept, which was exhibited at both OTC and Offshore Europe. However, the industry's reaction was lukewarm – subsea wells were still few and far between – leading the shipyard to postpone the project and focus instead on ocean liners.
But when South Korea's STX bought the shipyard during the last decade, the decision was taken to reactivate the project in light of the deepwater sector's sudden growth. "At the same time we had kept in touch with the industry," Rey-Grange said, "improving and amending the earlier design, mainly in terms of design criteria, although retaining the basic principles and equipment layout."
Following the changes, Seamet had access to Total's invitation to tender for a DP-2 subsea intervention vessel for a project offshore Angola, which was eventually awarded to Aker's newbuildAker Skandi. "It so happens that our vessel's specifications fully meet Total's requirements now," he added, "which are for full DP-3 compliance in readiness for the resumption of deepwater drilling in the Gulf of Mexico."
Rey-Grange continued: "With our concept, the upper deck's variable load capability is increased, leading to reduced congestion. The living quarters are sheltered from engineering noise, with the diesel generating sets located in two different premises in lower hulls, which in turn improves safety. These features are all suited to the constraints of the classifications societies' rules for DP-3, which call for two independent engine rooms, two independent control systems, and two independent pilot houses. All are compatible with our design, and we are working with the STX Atlantic shipyard to improve our specifications to achieve full DP-3 compliance."
Equipment spread
In its present configuration, the ATLANTIC-CSP-DP-3 is a six-column stabilized catamaran with a U-shaped open structure astern to accommodate docking of a cargo barge or supply boat. The vessel's operational capabilities range from intervention, workover and decommissioning of subsea production wells (using a riser) to installation of light subsea structures. Following the installation of higher-capacity hoisting and pumping equipment, the vessel can also be adapted for top hole construction; slim hole drilling; well testing; and cleaning and logging services.
During normal operation, the displacement is 26,000 metric tons (28,660 tons), with an operating draft of 21 m (69 ft) and a 6-m (19.7-ft) air gap. In storm survival conditions the draft is 18 m (59 ft) with a 9-m (29-ft) air gap. Typical cruising speed is 12 knots in calm seas. The dynamic station-keeping capability ensures a fixed heading in up to wind force 9 and sea state 6 (5.5 m, or 18 ft, significant wave height). In severe conditions (up to wind force 12 and 14-m, or 46-ft, waves), it allows the vessel to stay on location while weather vaning.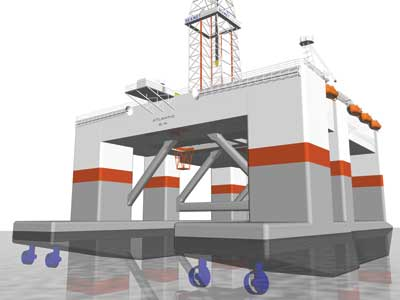 View of the U-shaped opening to accommodate supply vessels.
The 160-ft (49-m) tall drilling derrick is a dynamic bulge type on a 30 x 36-ft (9 x 11-m) base, with racking capacity for 90-ft (27-m) stands of up to 30,000 ft (9,144 m) of 3 ½-in. drillpipe or 10,000 ft of 8 5/8-in. riser. Hook load capacity is 450 tons (401 metric tons), with a heave-compensated draw-works, power swivel, elevated driller's control room, and spider to set tubular strings at derrick floor level.
The active section of the mud/chemical system is in the upper hull, comprising a regeneration unit; four 75-cu m (2,648-cu ft) pits, each containing a mixer and service pump; three 1,200 HP pumps; and a 10 x 12-m (33 x 39-ft) sheltered sack storage room with overhead crane. In the lower hulls, the system's passive section holds the industrial water/mud/brine tanks, all enclosed inside a double wall.
On the derrick's bow side, a 30 x 30-m pipe rack enables storage of 3,000 m (9,842 ft) of 27-m (88-ft) long, 8 5/8-in. riser joints and other tubular goods. On the 30 x 16-m (100 x 50-ft) cellar deck, a 100-mt (110-t) dolly/gantry crane system is capable of lowering 10-m (33-ft) high BOP stacks and other wellhead equipment through a 20 x 6-m (65 x 19-ft) moonpool. The cellar deck also has space for the mud regeneration unit, and two areas for storage of subsea equipment, including reels to hold 10,000 ft of umbilicals for connection to deepwater subsea systems. Elsewhere, a 50-t crane with a 35-m (115-ft) boom is stationed on the vessel's port side, with access to the cellar deck.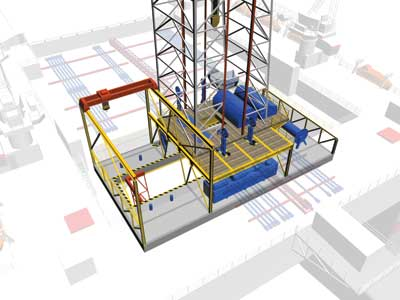 Derrick/drill floor and cellar deck area.
Power and propulsion are provided by four diesel engines (two in each lower hull) driving 4,500 kVA/g.6 kV, 60 Hz synchronous generators; one 600 kVA auxiliary gen set in the upper hull; four aft azimuthing 2 MW thrusters (two in each hull); and two bow fixed 2 MW thrusters (one in each hull). In the case of the diesel gen sets, air intake ventilation is 30 m (98.4 ft) away from the well corridor, minimizing the likelihood of hazardous gas ingress. The azimuthing thrusters are fitted flush with the vessel's keel, allowing sailing in shallow waters, and making drydocking easier (the horizontal bracings are high enough to allow use of a floating dock).
Auxiliaries including the air compressor, fire system, emergency generator and heave compensation power units, are all located in the center of the upper hull. Air intake for ventilation of this equipment is 36 m (118 ft) from and upwind of the derrick, making intrusion of explosive gases from a blowout unlikely. Accommodation is provided for 120 personnel on two levels in the upper hull, mostly in the form of single or double-bed cabins. The 250-sq m (2,691-sq ft) management center is also on two levels, including the marine control room. The 30 x 20-m (100 x 65-ft) helipad is at the front of the vessel.
According to Seamet, the ATLANTIC-CSP has numerous unusual or unique features for a semisubmersible rig. These include the U-shaped opening that allows supply vessels/barges to dock under the derrick, unload subsea modules such as pumps and separators using the drill pipe as a link, then run them down to or retrieve them from the sea floor. "The derrick capacity is 400 mt [441 t]," Rey-Grange noted, "but given the weight of the drillpipe, the maximum weight of the modules deployed would be around 100 mt [110 t]. Nevertheless, this mode of subsea installation would be far more economic than a dedicated crane, and the system is not limited by water depth."
They also include:
Location of the main generators, bulk material P-tanks and reserve liquids in the lower hulls, leading to increased variable load capacity and reduced congestion on the upper deck
Living quarters sheltered from engine noise
High mobility due to the ship-shaped lower hulls
Both columns and lower hulls are built up at the vessel's stern where the loads are concentrated. This puts the derrick close to the center of buoyancy, minimizing pitch-induced motions
The derrick has two opposite V-doors giving access on the bow side to the pipe rack, and on the stern end to third-party services (logging, soiled tubing, slick line)
The top deck provides 14,000 sq ft (1,300 sq m) of free space for unloading of cargo and deployment of third-party equipment items.
The modular construction concept favors prefabrication, with the upper hulls comprising eight, self-contained modules. The weight of the modules and the vessel's overall dimensions are suited to the STX/Saint-Nazaire assembly drydock.
"STX/Saint-Nazaire has made a very competitive quote for a newbuild version of the vessel, not including third party-supplied drilling items such as HP pumps and coiled tubing," Rey-Grange observed. "We think this is very attractive and compares favorably, for instance, with prices at yards in Southeast Asia."
Rey-Grange further commented that the STX shipyard is a "highly efficient facility, capable of constructing offshore vessels and platforms. The pre-fabrication plant is very well equipped, and the staff very well trained. The graving dock is 1 km [0.6 mi] long and 62 m [203 ft] wide, and served by a 750-mt [827-t] gantry crane which will be joined later this year by a new 1,250-mt [1,378-t] gantry crane. Pre-fabrication can be performed to such an extent that the modules are delivered for assembly virtually complete, then tested and assembled in the graving dock in a minimum of time." To accommodate local content requirements, it would also be feasible, for instance, to build part of the hull in Brazil and the remainder in St-Nazaire.
"The STX shipyard is able to undertake the construction immediately. We estimate a timespan of 27 months for delivery of a first ATLANTIC-CSP unit, and 24 months for a second unit," said Rey-Grange. "A viable business plan has been put together based on an attractive average day rate for the bare vessel with manning, although not including fuel and special third-party services such as downhole and subsea equipment, coiled tubing, HP pumping, production tests, ROVs and so on, all of which are usually contracted directly by the operator." Seamet has been in discussions with major drilling and subsea equipment suppliers such as Schlumberger and FMC concerning technical interface issues.