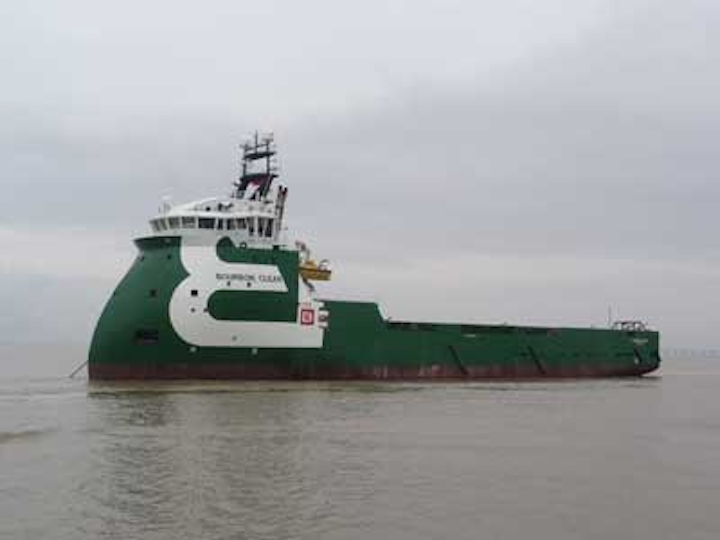 $2 billion in new vessels in the works
Jeremy Beckman
Editor, Europe
Offshore oil and gas marine services group BOURBON remains on course to meet the targets of its latest five-year plan. Between 2011 and 2015 this involves investment of $2 billion in new platform supply vessels, anchor handling tug supply vessels, specialist subsea, IMR, and other types of vessels to service drilling and field development programs in all water depths worldwide. The group is also pursuing average revenue growth during the period of 17% per year and to have a minimum 95% availability rate for vessels in 2015. CEO Christian Lefèvre outlined some of the highlights of the program to date during a recent Q&A session withOffshore.
Offshore: The 2015 Leadership Strategy calls for construction of larger and more powerful vessels to better serve the new generation of deepwater rigs and floating production systems. Can you provide more details?
Lefèvre: When drawing up our plans in 2010, we decided to invest in three series of new vessels – one was a mid-size platform supply vessel (PSV) targeting the deepwater segment. This was originally to be in the range 3,200 dwt, but market requirements have changed and so we now want a PSV of 3,700 dwt, with a larger deck space. We feel quite comfortable with these specifications for the largest and fastest-growing markets in the tropics, from Brazil eastwards through West Africa, East Africa, and India.
Most PSVs ordered by our competitors are over 4,000 dwt, but we are investing more in the mid-size range, which we believe will be a larger market. Our competitive advantages include larger accommodation areas and our onboard ROV capability, and 1,500 cu m (9,435 bbl) liquids-carrying capacity, which should cover most needs in areas remote from logistics centers. We also believe that the ever-increasing need for deepwater drilling rigs with advanced dynamic positioning will bring an attendant need for more of these types of PSVs.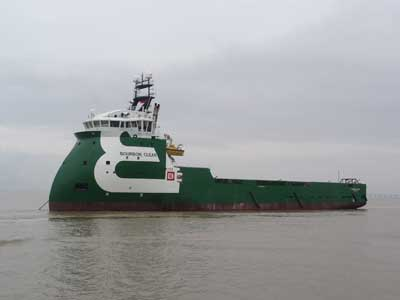 The PSVBourbon Clear (PX105 MACS series) during offshore trials. Copyright: Bourbon/Sinopacific.
Offshore: What are your plans for E&P support in more conventional water depths?
Lefèvre: For shallow water, we are investing more in the upper range of the anchor handler tug supply ship (AHTS) segment, which we feel is the future for this type of vessel.
Most orders for AHTSs are focused on AHTSs with 60-ton bollard pull, twin-screw (controllable pitch propeller), diesel-driven, some with no dynamic positioning, others with DP-1 or DP-2 thus not optimized for diesel-driven propulsion. Bollard pull capability tends to be limited for capex reasons.
BOURBON, in contrast, decided from 2005 onwards to invest in 80-ton bollard pull capability, as we see the future always in terms of increased safety. New regulations are coming, insurance companies are pushing for rig moves with more power and safety in operation, and these will require greater bollard pull. We decided to invest in 2008 in 22 Bourbon Liberty 100 PSV series vessels and 54 Bourbon Liberty 200 series AHTS vessels, of which the last one was delivered earlier this year. All are equipped with DP-2, diesel-electric propulsion, 80-ton bollard pull, twin-drive propulsion, more than 600 cu m (3,775 bbl) liquid mud capacity – far more than on other vessels – and with the engine room on the main deck.
The next range ordered is the Bourbon Liberty 300 series AHTS, of which 20 have been ordered. This offers the same propulsion setup, although the length has been increased to provide more deck space. The first one was delivered in March this year. Other shallow-water vessels we are constructing include 15 PSVs, the Bourbon Liberty 150 series, providing 400 sq m (4,306 sq ft) of deck space. We feel we are in the lead in this regard, as others are only building around four vessels in this category.
Offshore: BOURBON's 2011 review stated that the group continued to phase out "obsolete" vessels. How old are vessels in this category, and how many need to go?
Lefèvre: We have the youngest fleet in the industry, comprising 445 vessels with an average age of 5.8 years. We only have a few old vessels – some are shallow-water supply boats working currently offshore Brazil which came with our purchase of local operator Delba Maritima, but these are on long-term contracts. When the contracts come to an end, our strategy is to sell them onto other contractors – there is always a market for these vessels among start-up companies in Brazil.
We started investing seriously in deepwater vessels in the late 1990s, and their average age is therefore only 7.8 years. Nevertheless, we plan to sell our first two deepwater vessels which were built in the mid-1990s. We also own and operate 260 crew boats and 17 subsea vessels – the latter are 5.3 years old on average, so there are no "obsolete" vessels in that category.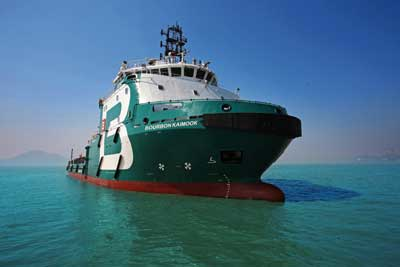 The anchor handling tug supply vesselBourbon Kaimook (ex-Bourbon Liberty 301, Bourbon Liberty series), and the AHTS Bourbon Liberty 254, the last to be delivered of the Bourbon 200 series. Copyright: Bourbon
Offshore: Can you provide details of the six newbuild seismic support vessels that CGGVeritas ordered last year from BOURBON? Which company is responsible for the designs, and what features did CGGVeritas ask to be incorporated?
Lefèvre: This investment was made on the back of a five-year contract from CGGVeritas. The vessels are under construction by Grandweld Shipyards in Dubai, with the first due for delivery in first half of 2013. This is a special type of support vessel, with a length of 53 m [174 ft], designed by IMT in Montrose, Scotland. CGGVeritas added the scope of the work, and we had to include their scope into the technical specifications. It also provides the capability for emergency towing of seismic vessels, if needed.
CGGVeritas was pleased with our proposal of a hybrid solution, comprising two diesel engines driven by two electrical motors. When escorting a seismic vessel steaming at 5 knots, you can stop the main engines and drive the electrical motors using very small generating sets – this arrangement saves a lot on fuel consumption. We also have work cranes and special work boats dedicated to CGGVeritas. These have good Yokohama fenders stored in the recess of the hull.
Offshore: Will the new vessels be allocated to individual seismic survey contracts, or will they exclusively support designated CGGVeritas seismic acquisition ships? And has there been interest from other seismic contractors in a similar arrangement?
Lefèvre: The six vessels will be on long-term charter for CGGVeritas seismic fleet, and they will operate in most regions of the world apart from the North Sea, where they use small supply boats in the region. But elsewhere, they generally have to rely on very old tonnage – they have therefore opted to charter new vessels to get better service and less downtime. As for other interested parties, so far there have been no approaches. However, at the end of our five-year exclusive contract with CGGveritas, we have the option to renew the time charter or offer them to others.
Offshore: Bourbon Baltic in St. Petersburg is one of your newer ventures. How big is the operation there, which region does it serve, and what type of service does it provide?
Lefèvre: This is a 100%-owned branch developed mainly to have ship management capabilities, and employing well-trained and well-qualified Russian officers. Our objective is to obtain a new source of appropriately qualified staff, in terms of engineers and technicians, to support a fleet of new high-tech vessels.
For this operation we decided to specialize in Bourbon Liberty series vessels. It is already managing two Bourbon Liberty 200 and one recently delivered Bourbon Liberty 300. For the time being, Bourbon Baltic does not operate in Russian waters, but works in West Africa.
Offshore: Is it easy to recruit and train Russian crews – would you consider establishing a new simulator in St. Petersburg?
Lefèvre: At present we only have two simulators for supply boat crews in France and Singapore. But potentially we could add another in Russia, if we feel this would hasten the growth of the company.
Offshore: Can you comment on your deepwater crane capability?
Lefèvre: On 10 of the new generation MPSV vessels ordered – the Bourbon Evolution 800 series – there are two AHC (active heave-compensated) cranes for lifting and installing loads of up to 150 tons and 40 tons in deep-sea applications. We also plan to have in service a total of 40 deepwater cranes on 27 of our IMR vessels.
Offshore: Have new capabilities such as your Multi-Application Cargo System solution been selected in response to client requests, and are these features likely to be included in any of your new vessels? (This involves use of combination tanks serving different types of cargo such as drill cuttings, synthetic fluids, fuel oils, and recovered oil.)
Lefèvre: We have ordered four vessels fitted with Multi-Application Cargo, but we need to really test it to evaluate the benefits and see what flexibility it can give to our clients. Then we will decide whether to develop this feature further for other vessels.