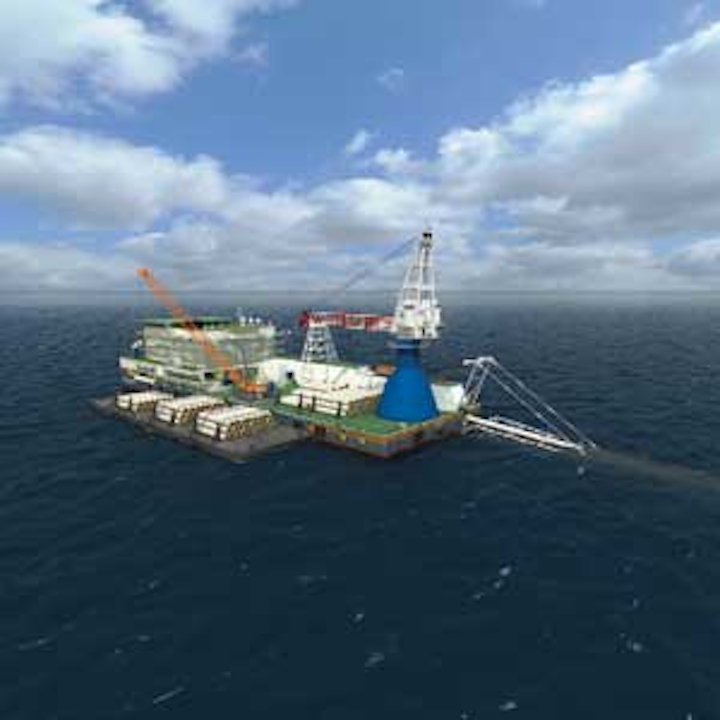 Bruce Beaubouef • Houston
Noble Corp. says three of its ultra-deepwater rigs have experienced delays in returning to work offshore Brazil following shipyard stays. This is due in part to a slowdown in the issuance of regulatory approvals by the Brazilian authorities.
The semisubmersibleNoble Dave Beard started to earn 90% of its full operating day rate in August, while the drillship Noble Leo Segerius should start to earn 90% of its full day rate this month. The drillship Noble Phoenix should start its contract and begin earning its full operating day rate by the end of the current quarter.
Other Noble-owned rigs have experienced higher than planned operational downtime of late due to the need to address maintenance and repairs. These include the drillshipNoble Duchess, operating offshore India, and the jackup Noble Charles Copeland, which was expected to start its three-year contract in the Middle East in October.
The jackupNoble Hans Deul, currently operating in the UK North Sea, has been awarded a minimum 18-month contract extension by Shell, with the extension period expected to start next February.
Revenues over the 18-month extension period are estimated at $132 million, or an equivalent day rate of $242,500 compared to $175,000 at present. Shell has the option to further extend the rig's contract, in which case the day rate will be correspondingly reduced.
Van Oord adds shallow water pipelay vessel
Van Oord Dredging and Marine Contractors' first shallow water pipelay vessel has undergone a naming ceremony at the COSCO shipyard in Nantong, China.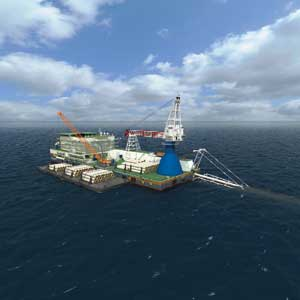 Stingray is designed to install pipelines from 6 to 60-in. (15.24 to 152.4-cm) diameter, and the company is targeting S-lay in combination with shore approaches and associated activities in shallow water. ">
Van Oord's pipelay vesselStingray is designed to install pipelines from 6 to 60-in. (15.24 to 152.4-cm) diameter, and the company is targeting S-lay in combination with shore approaches and associated activities in shallow water.
TheStingray is designed to install pipelines from 6 to 60-in. (15.24 to 152.4-cm) diameter. Van Oord is primarily targeting S-lay in combination with shore approaches and associated activities in water depths of 5 to 100 m (16.4 to 328 ft) or more. Additionally, the vessel can perform light offshore structure installations such as buoys and manifolds, hook-up, commissioning, piling, and midline tie-ins.
The company says that theStingray complements its more familiar offshore services, i.e. construction of landfalls, installation of rock, trench dredging and backfilling, and installation of single point mooring (SPM) systems and gravity based structures (GBS). Van Oord says that by offering these activities as one integrated package, it will provide a unique one-stop shop concept for shallow water oil and gas developments.
Some of the key particulars of the vessel include:
Length overall 120 m (393 ft)
Breadth overall 40 m (131 ft)
Design draft: 5 m (16.4 ft)
Classification ABS XA1 Barge
Accommodation up to 300 persons
Total installed power 6 x 1,230 kW
Mooring system 10 x 12 t Flipper Delta
Crawler crane 250 t Kobelco 2500CE, 42-m (138-ft) boom
Free deck area 2,000 sq m (21,528 sq ft)
Allowable deck load 12.5 t/m2
Tensioners 2 x 70 t capacity
Three fully automatic welding stations
NDT/repair station
Three ffield joint stations
Stinger fixed, fully adjustable, 55 m (180 ft) length in two sections, ABS certified
A&R winch 150 t capacity, upgradeable to 200 t
Main crane 500 t revolving crane (Liebherr)
Main hook capacity: 500 t@18 m (59 ft) radius
Crane pedestal suitable for upgrade to 2,000 t.
Ocean Yield to buy subsea construction vessel
AMC Connector AS, the joint venture between Aker Solutions and Emas Offshore, has agreed to sell the subsea construction and cable-lay vesselLewek Connector to Ocean Yield AS for $315 million.
In October 2010, Aker Solutions decided to sell its offshore construction and installation subsidiary Aker Marine Contractors to Ezra Holdings, which now operates as EMAS AMC. As part of this transaction, Ezra agreed to acquire 50% of the shares in AMC Connector, the owner of theLewek Connector.
Aker Solutions owns approximately 7.4% of Ezra, which is listed on the Singapore stock exchange. Ocean Yield AS is a wholly owned subsidiary of Aker ASA, which owns 28% of Aker Solutions through Aker Kvaerner Holding.
ExxonMobil books rig for deepwater frontier Ireland well
ExxonMobil Exploration and Production Ireland (Offshore) has signed a letter of intent with Ocean Rig UDW for the semisubmersibleEirik Raude.
Subject to approvals from various parties, the rig will start drilling the frontier deepwater Dunquin prospect offshore southwest Ireland during 1Q 2013. The location is in frontier exploration license (FEL) 3/04, with an estimated drilling duration of up to six months.
ExxonMobil operates the license in partnership with Eni Ireland, Repsol Exploracion Irlanda, Providence Resources, and Sosina Exploration.
COSCO delivers newbuild deepwater semisubmersible
COSCO (Nantong) Shipyard Co. Ltd has delivered its newbuild deepwater semisubmersible to Odfjell Drilling. TheIsland Innovator is 104.5 m (343 ft) in overall length, 65 m (213 ft) in breadth, and 36.86 m (121 ft) in depth.
Maersk extends FSO hire offshore Qatar
TI Africa has signed a new agreement with Maersk Oil for continued use of theFSO Africa on the Al Shaheen field offshore Qatar. The contract is fixed for five years from Oct. 1, with an optional extension of one or two years.
According to the FSO's co-owner Euronav, the new agreement allows Maersk Oil to use the vessel's full capacity and functionality. This will be offset against an increase of the day rate in each contract year equal to the day rate of sister vessel forFSO Asia, which has been operating on Al Shaheen field for two and a half years, six months longer than FSO Africa.
Both vessels, Euronav says, continue to operate at a high level of performance in terms of quality of oil produced, and without needing to go off-hire.