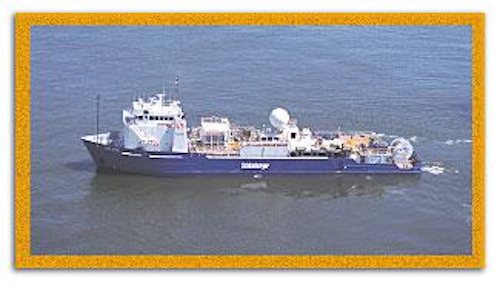 Stimulation vessel launched
Schlumberger Oilfield Services has launched an advanced stimulation vessel for deepwater service. The new-generation Galaxie design provides the ability to execute high-quality and large-capacity stimulation treatments including high-rate frac and packs, acidizing, and gravel-packing services. The stimulation systems built into the Galaxie are custom-designed specifically for the high-permeability sandstone and the carbonate formations found in the West Africa deepwater environment.
A large deck offers options for accommodating increased hydraulic-horsepower requirements to 8,600 and additional storage tanks for nitrogen and acid. The Galaxie also has a large capacity for proppant and fluids storage with upgraded continuous mixing capabilities of up to 40 bpm. A high-speed satellite communications package, coupled with the data acquisition and transmission system wellsite monitoring and control system, allows real-time transmission of critical wellsite data to multiple land-based locations.
The Galaxie uses a Class 1 dynamic positioning system for deepwater station keeping and has a sonar system that allows operations to continue in adverse weather to avoid downtime.
Two LNG carriers for Sn hvit
Two new companies have been created with Statoil participation to own and operate two LNG carriers that will transport LNG from the group's Sn hvit field in the Barents Sea.
The two companies, Northern LNG Transport Co. I Ltd. and Northern LNG Transport Co. II Ltd., are owned with Japan's Kawasaki Kisen Kaisa, Mitsui & Co. Ltd., and Iino Kaiun Kaisa Ltd.
The vessels will be built at Mitsui Engineering and Shipbuilding and Kawasaki Heavy Industries, in Japan. The first carrier is scheduled for November 2005 and the second for April 2006.
Statoil has chartered the carriers to serve Sn hvit for 20 years.
Statoil's partners on Sn hvit are Norsk Hydro, Amerada Hess, RWE-DEA, Svenska Petroleum, and Petoro.
Glas Dowr FPSO gets an upgrade
Bluewater Energy Services B.V. has awarded SA Five Engineering (Pty) Ltd. a multi-million-dollar contract to upgrade the Glas Dowr FPSO.
The upgrade includes the fabrication, design, bulk procurement, installation, testing, and commissioning of a gas compression module, process separation module, gas turbine generator, water cooling system, flare structure, and various modifications to existing topsides facilities of the FPSO.
Modules will be constructed at a berth in Cape Town Harbor. The successful completion of this project could make Cape Town, South Africa, the choice for similar future projects.
Upgrade work, which is already underway, is scheduled for completion by 4Q 2002. The Glas Dowr will operate for at least three years on the Sable field off South Africa, with the possibility of extending operations for up to ten years. Partners in the Sable field include The Petroleum Oil and Gas Corp. of South Africa (Pty) Ltd. and Pioneer Natural Resources South Africa (Pty) Ltd.
Shuttle tanker contract awarded
Husky Energy Inc. has awarded time charter contracts to Knutsen OAS Shipping A.S. for two newbuild shuttle tankers to transport oil from the White Rose project in the Jeanne d'Arc basin offshore Newfoundland in 2005. The field will be developed using an FPSO, for which Husky awarded contracts in April.
Delivery of the Suezmax-size vessels, each with a 1-MMbbl capacity, is planned for 2Q 2005. The shuttle tankers will be dynamically positioned, full double hull vessels, specially winterized, and equipped for operations on the Grand Banks. They will load at the White Rose oil field by tandem mooring to the stern of the FPSO.
Under terms of the agreement, one tanker will be time chartered for 10 years, with options to extend. The second vessel will be time chartered for five years, also with options to extend. Both vessels will be built by Samsung Heavy Industries, South Korea.
Ocean Rig takes delivery of the Eirik Raude
Ocean Rig has taken delivery of the Eirik Raude from the Irving Shipyard in Halifax. Mechanical completion of the Eirik Raude took place on June 21, and the rig has entered a new phase of commissioning and testing. The rig will undergo a series of tests, including sea trials, before drilling operations, which should start Sept. 1.