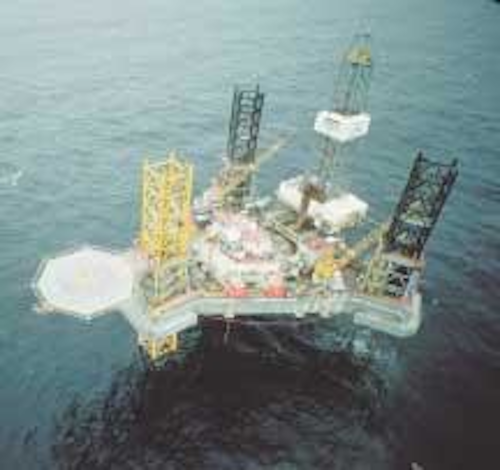 GlobalSantaFe—upgrades and repairs
GlobalSantaFe jackup Rig 136 arrived in the Keppel Fels yard in Singapore late in February for $30 million in upgrades. Work on the rig is expected to take about five months and will include installation of a larger, 1.3-million-pound bottleneck derrick, a fixed cantilever extension, a more powerful top drive, and a new mud-processing system. New crew quarters also will be built.
GlobalSantaFe said these enhancements would make this the most high-specification jackup in Southeast Asia. Following completion of the upgrades in late July 2001, the rig will begin a multi-well contract for TotalFinaElf in Indonesia.
Meanwhile, the Glomar Labrador is being enhanced to prepare it for work in the North Sea. Work was scheduled to begin in May, immediately following the completion of the rig's current contract offshore Trinidad. The jackup will undergo general maintenance and minor repairs and will be outfitted with upgraded living quarters. The upgrade should be complete by late July.
While planned upgrades are being carried out on Rig 136 and the Glomar Labrador, the Monarch jackup is having leg repairs following damage sustained when scouring sand on the sea floor caused one of the rig's three legs to shift during routine drilling operations.
This work took place at the Rotterdam-based Verlome Botlek shipyard and was to be complete by early April at a cost of $3 million. With repairs completed, the Monarch was to fulfill a term contract for Shell in the North Sea.
New semisubmersible for Iran
The National Iranian Oil Company held a ceremony in 1Q 2002 to mark the beginning of construction for a new semisubmersible, the Khazar. The semi is being designed to drill in 3,300 ft water depth in the Iranian segment of the Caspian Sea.
GVA, recently acquired by Halliburton, is responsible for design and construction of the semi, which is based on the company's GVA4000 design. The company heads a consortium with Iran Marine Industries Company, a shipyard that will build the Khazar at its yard in Neka on the Caspian Sea.
Construction cost is estimated at $226 million. The semi is due to be delivered in mid-2004.
New heavy-lift vessel in the works
Netherlands Maritime Agency is organizing an ownership consortium to build a super heavy-lift vessel. The NextGen will be able to carry loads weighing nearly 85,000 tons. The NextGen will be 904 ft long and 188 ft wide, with 825 ft of usable deck length. The vessel is designed to submerse to as much as 56 ft of water over the deck to load and discharge large semis, floating production, storage, and offloading vessels, and Spars for the next generation of deepwater field developments.
Daewoo, Hyundai Heavy Indu-stries, and Samsung have bid on the work, which is scheduled to begin in 3Q 2002.
NKK launches another tanker
In early March, NKK's Tsu shipyard launched a 150,000 dwt class double-hulled LRS oil tanker built for Venus Ocean Navigation S.A. The tanker is 274.2 m long, 48 m wide, and 22.4 m deep, with a 16-m draft. The ship will have a service speed of 15.4 knots. The new tanker will operate under a Panama/Greece flag.
Ensco 64 gets an upgrade
In late February, Ensco International Inc. completed the upgrade of the Ensco 64, an MLT class 53S jackup drilling rig, at the Amfels Shipyard in Brownsville, Texas. The upgrade allows the rig to drill in water depths ranging from 20 ft to 350 ft, and to a maximum drilling hole depth of 30,000 ft. The newly upgraded rig has 477-ft legs, 3,000 horsepower drawworks, a Varco TDS-8 top drive, and three 5,000-psi National 12-P-160 mud pumps, and can carry 15,000 ft of 5-7/8-inch drill pipe with handling equipment. The rig is also equipped with a new solids-control system. The upgrade also includes living quarters refurbishment and a complete overhaul of the main engines and generators. The Ensco 64 mobilized to East Cameron Block 36 to begin a drilling contract with El Paso Produc-tion.
New seismic vessel for ONGC
Oil and Natural Gas Corporation Ltd. India (ONGC) awarded Schiffko GmbH Forschung und Entwicklung maritimer Systeme a contract for the design of a new seismic survey vessel. The ship will have a length of about 85 m and will be equipped with the latest 3D seismic technology and data processing. Schiffko will prepare the tender and place it on the market, with a contract award to go to a builder within a few months. The vessel will be delivered in 2004.
Truss Spar for Murphy Oil
Murphy Oil Corporation has awarded a contract to J. Ray McDermott, Inc. to construct a floating production system for the Front Runner project on Green Canyon blocks 338 and 339 in the Gulf of Mexico. J. Ray McDermott subsidiary SparTEC Inc. will be the general contractor responsible for engineering, procure- ment, construction, and installation of the Spar.
The Front Runner partners have approved a plan for developing the area using a truss Spar capable of handling 60,000 b/d of crude oil and 110 MMcf/d of natural gas. First production is targeted for the first half of 2004.
Murphy operates Front Runner with 37.5% interest. Partners are Dominion Exploration & Production, Inc. with 37.5% and Spinnaker Exploration Company with 25%.