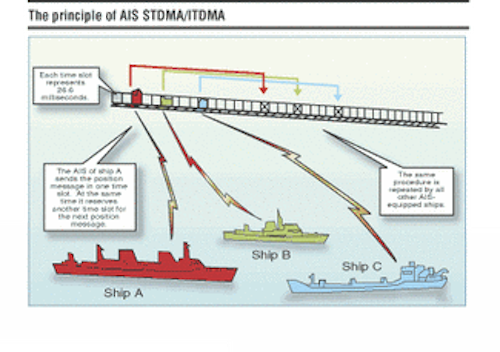 As sea and air-based activity increases to service the offshore sector, a communi-cations, navigation, and surveillance (CNS) system is needed to monitor traffic and keep aircraft and marine vessels at safe distances, so that overall efficiency of the seaways and airways is improved.
C.N.S. Systems specializes in very high frequency digital link (VDL) mode 4 and automated identification system (AIS) communications. These include both point-to-point and broadcast communications using a small amount of front-end information for data exchange. VDL mode 4/AIS data can be sent from either the mobile vessel or from a stationary point. This makes it especially useful for low-end transmissions like vessel location information (transponders) for ports and air service controllers.
High bandwidth capacity
VDL mode 4/AIS was designed as a self-organizing, time critical radio communication system for short repetitive messages. It is a narrow bandwidth communication (25 kHz) system that can operate with or without infrastructure on the ground. VDL mode 4/AIS offers higher capacity per bandwidth than other modes and is a distributed system. No centralized radio station is required, but functionality of the system can be enhanced substantially with the introduction of a fixed station mounted on an offshore unit. Many functions can be performed for both aircraft and ships, such as guidance of helicopters/ships to and from the unit, virtual channel markers, virtual safe/restricted areas, and many others.
The cost efficiency attained is due to increased availability for the offshore unit caused by an improved safety level both at sea and in the air. For example, a helicopter can be guided onto the deck in harsher weather conditions than before.
This mode is time dependent and divides the frequency into communication slots of equal slices, 13.3 ms for VDL mode 4 and 26.6 ms for AIS. All users are synchronized to the same time base and broadcast changes to their intended slot usage four minutes in advance. This allows time slots to be allocated in advance and allows for the movement of vessels and aircraft into and out of a VDL mode 4/AIS region without disrupting traffic tracking. It also minimizes slot collisions, garbled transmissions, and time gaps over the frequency.
100,000+ hr experience
The civil aviation standard is called VDL mode 4, and the civil maritime standard is called AIS. VDL Mode 4/AIS has been in development since 1992 and has been used by commercial aircraft (over 100,000 hr of flight time) and ships, with installations in countries such as Botswana, Denmark, France, Germany, Greenland, Iceland, Italy, Lithuania, Malaysia, Russia, and Sweden.
The system has several advantages over previous aviation data link modes including:
Automatic dependent surveillance broadcast
Support for data-link applications in remote areas, including time critical links
Growth capacity through adding more 25 kHz channels
High spectrum efficiency with robustness, redundancy, and long range.
For maritime operations, AIS was standardized internationally at 9.6 thousand bits per second (kbps). For aviation, a similar VDL mode 4 standard was set at a higher rate of 19.2 kbps. In mid-2002, AIS became the mandatory carriage requirement for Solas vessels above 300 GRT for maritime applications and is an added benefit to the system because it allows all vessels to be kept under surveillance.
Data transmitted by the system is far superior to radar, C.N.S. says. Typical data communicated includes craft identity, latitude, longitude, speed, true track, barometric/geographic altitude (for planes), vertical speed (for planes), turn indication, navigation figure of merit, call sign, and aircraft trajectory. The system offers additional benefits over radar including:
Lower cost
All users receive broadcast data
Unique identity for vessels/planes.
One of the system's key pluses is that voice communication can be kept to a minimum while maintaining an information stream to the unit with the data link. The system is weather tolerant and provides greater position accuracy than earlier services. This creates a safer and wider operational envelope for ships and planes.
C.N.S. Systems provides modules for ground-, vessel-, and air-based service. Personal systems using hand-held personal organizers are also available. A ground station for surface surveillance requires three major components: an AIS radio sub-segment, a GNSS reference receiver, and a data management system. For aircraft management, a similar set of equipment is needed, but at a different certification level. The company also builds VHF transmitters and receivers, power supplies, and network interfaces to support VDL mode 4/AIS operations.
For more information contact Anders Sjöström, C.N.S. Systems. Tel: +46 13 35 22 90, fax: +46 13 35 22 99, email: anders.sjostrom@cns.se.