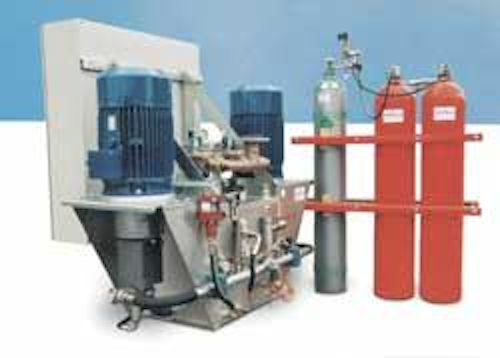 Shipboard and offshore platform fires are a major hazard for the marine industry. Machinery spaces, electrical control rooms, accommodations, and galleys are the areas that require fire detection and suppression equipment to ensure the safety and well being of crews and equipment. Fire protection systems must be self-contained, compact, and efficient to effectively control a fire before it grows and spreads.
Ultra Fog produces a fire extinguishing system that has proven to be effective in suppressing and extinguishing fires in marine applications in use on offshore platforms, accommodation units, cruise ships, and other marine vessels. The system meets all International Maritime Organization requirements for use onboard marine installations and vessels.
Fire suppression
Fires can be extinguished in one of three ways:
By removing the combustible source from the fire
By removing the heat of the fire
By removing oxygen feeding the fire.
The Ultra Fog system uses two of these methods. Since the combustion source is not easily removed from a marine vessel, cooling and oxygen deprivation are the main means of containing the fire. Traditional firefighting involves use of pumps and hoses directed by crews to flood the fire source and extinguish the blaze. While effective, this is a relatively slow process that places crews and equipment at risk. An automated, high-pressure water delivery system is a better choice.
Third-party tests have demonstrated the rapid cooling power of water mist and fog. Because of water's high calorific capacity, small water droplets, rapidly dispersed, can quickly absorb the heat of a fire. As the water vaporizes, the steam produced drives oxygen away from the source of combustion, damping the flames and cooling the source. When coupled with an automated fire detection system, a waterfog system quickly controls and extinguishes fires before major damage occurs.
Recently, a galley on an offshore platform experienced a fire that was contained within seconds using a high-pressure waterfog system. A major Swedish shipping line suffered an engine room fire that was contained within 10 sec by using their Ultra Fog local protection system. Damage was minimal, so a shipyard repair trip was prevented.
Special nozzles
Ultra Fog's patented nozzles are the key to achieving maximum water delivery at the optimal droplet size. These nozzles have been developed over the past 10 years to achieve a balance between:
Water mass delivered
Number of droplets produced
Size of droplets produced (mist or fog)
Speed of droplet delivery.
All nozzles are machined from stainless steel, AISI 316, for top performance. Nozzles are protected from clogging by double filters in the distribution system that block particles down to 25-micron size. An extra filter in the nozzle blocks particles 100-microns in diameter.
Detectors
The company has designed an automated, hydraulically-operated system that incorporates spray head nozzles controlled by heat sensitive glass bulbs. The bulbs are color-coded by temperature range and designed to shatter at temperatures ranging from 57° C to 142° C. When the glass bulb is shattered by heat, pressurized water is forced through the nozzle, producing a fire extinguishing fog. Ultra Fog systems can be designed with activation by sensors of different types to achieve fast activation.
Pressure system
Water is driven to the nozzle by compressed nitrogen stored in large cylinders in a protected area near the source of a potential fire, such as an engine room or a deep fat fryer in a galley. The system can include backup pumps to deliver additional quenching waterfog to protect large areas of the vessel/platform.
Depending on the application, the nozzles and pressure system can be optimized for the best fire protection in the space to be protected. Systems can be designed for a spacing of up to 6 m between nozzles. This can protect up to 125 cu m of volume or up to 25 sq m of deck area per nozzle.
The company is working to extend its nozzle technology. Its goals are to extend the distance between nozzles and to expand the volume coverage to 175-200 cu m per nozzle. This will be advantageous for both engine room and accommodation area protection. When the company achieves these goals, it will also reduce the system's cost and intrusiveness.
Offshore references
Offshore, the company's systems are used in the accommodation floatels Safe Brittania, Safe Caladonia, Safe Gothia, and Safe Lancia. Else-where, Ocean Rig has installed an Ultra Fog system to protect the Eirik Raude, its newest vessel recently completed at the Irving Shipyard in Halifax, Canada. Two alarm panels will be installed for the vessel's two safety stations. The panels will feature graphics showing the vessel's fire status and are redundant. A foam system connected to Ultra Fog's pump station is protecting the bilge space. It is capable of laying a 150-mm foam blanket if needed.
Ultra Fog's Waterfog system is rated Class 1 under the National Fire Protection Association Code (NFPA, USA) and has been tested by SP (the Swedish Testing and Research Institute), which is authorized by the IMO. The system is approved to IMO Res.A.800 (19) for accommodation spaces, stores, and service spaces. Ultra Fog has successfully completed testing for local application systems under IMO 913 with ceiling height up to 12 m, and is presently testing to increase the total flooding volume to 2,000-2,500 cu m under IMO 668.
Components are tested and approved by Underwriters Laboratories (UL, USA). American Bureau of Shipping, Lloyd's, and Det Norske Veritas have all approved the fire protection system. The US Coast Guard is currently reviewing the system and approval is expected soon.
For more information, contact Bo Kure, Ultra-Fog, tel: +46 31 98 23 70, fax: +46 31 98 23 70, email: bo.kure@ ultrafog.se or Steve Petagna, Coastal Fire Protection LLC, US toll free: 1 800 353 1652, fax: 1 504 837 4747, email: spetagna@coastalfire.com.