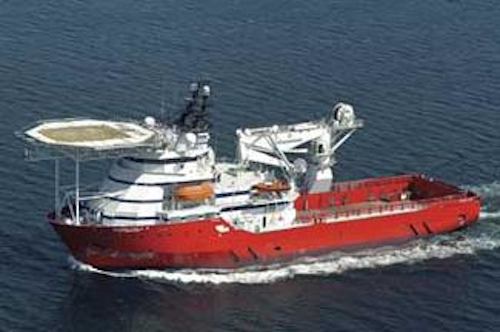 Fugro Group, founded in 1962, maintains today over 250 offices in 55 countries, employing 7,000 personnel. The company's clients are mainly in the oil and gas and civil engineering sectors.
For the offshore industry, the company collects, processes, and interprets data related to the earth's surface and soil composition and also provides advice based on the results. As an extension to these activities, it provides services such as precise positioning and reservoir engineering. The company operates around the globe at sea, on land, and from the air using specialized technologies, many developed in-house.
To further its geographical and technical coverage, Fugro has acquired 16 companies over the past two years, including Robertson Research Holdings, Jason Information Systems, Geoid, and Geo-Logic Consulting Services. These have been integrated into its three main divisions: Geotech-nical, Geoscience, and Survey.
The Geotechnical division's offshore services include seabed soil investigations, platform monitoring, collecting data for laying of pipelines, and advising on foundations for offshore structures. Within Geoscience, the Development & Prod-uction sub-division provides seismic surveys, reservoir characterization and modeling, and data collection/interpretation.
Offshore activities of the Survey division include geophysical and site surveys relating to positioning of drilling rigs, route surveys for pipelines, underwater acoustic positioning and Starfix satellite-based positioning, use of dyna-mically positioned vessels and ROVs to support offshore construction projects.
In addition to company acquisitions, Fugro has invested recently in a number of technological initiatives. Among the more significant are:
•The purchase and conversion of the deep-water geotechnical vessel Fugro Explorer for conducting investigations in water depths to 3,300 m. The conversion included lengthening the vessel by 13 m, installing a dynamic positioning system and a National Oilwell drilling system, and adding automated mud system and ancillary drilling equipment. The vessel is equipped with state-of-the-art drilling facilities and can accommodate a crew of up to 48, Fugro says. It has already been awarded several contracts for new deepwater developments in the Gulf of Mexico, the first being in water depths of 2,250 m
•Skandi Carla, the group's newest survey ship, launched in Molde, Norway, in June 2001. This is a multi-purpose vessel that can also provide ROV and construction support services, in water depths to 3,000 m. It is 84 m long with a 640-sq-m deck and a 50-ton, 15-m long heave-compensated crane. The vessel is working mainly in the North Sea and is currently on a five-year charter to Fugro-UDI. Projects this year include survey support to the Saipem pipelay vessel Castoro 6 for Shell's Penguins and Norsk Hydro's Grane and Heimdal fields
•Development of a new generation of auto-nomous underwater vehicles (AUVs), in association with Boeing and Oceaneering. These will provide bathymetry and geophysical survey services to the offshore sector, potentially in ultra-deepwater areas. The first of these vehicles entered service this summer in the Gulf of Mexico for a project for Dominion to provide detailed geophysical information in water depths to 1,700 m
•Re-engineering of Gambas, a high-resolution seismic refraction tool designed to investigate the first few meters of sediments below the seabed – the aim being to assess burial conditions along subsea pipeline/cable routes. The system is deployed from a standard survey vessel and is towed along the seafloor on a sledge. The package includes a data acquisition/transmission unit and a seismic source, and if required, a (hyd-raulic) stop/go motion device. A hydrophone streamer is pulled behind the sledge.
---
Networking potential
Fugro was brought into Eurogif via its president, G.J. Kramer, who is also chairman of the Dutch oil and gas contractors' association IRO. Its main interest in Eurogif was participation in new projects generated by the various thematic networks.
The Health & Safety Network, for example, may examine topics of interest to Fugro, such as safety issues associated with rig site surveys in shallow gas areas.
Now that the European Commission has decided not to include hydrocarbon-related activities for financial support under its Framework 6 program, the Eurogif board is looking for funds from other avenues, including targeting partners that would also be of interest to Fugro. Among Eurogif's existing members, Fugro sees potential for more joint research projects with Saipem and Schlumberger.