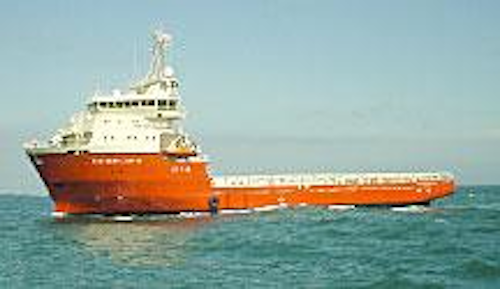 Judy Maksoud, Houston
Tanker becomes FPSO
Vanguard Floating Production Ltd. and Premuda SPA have purchased Premuda's 94,000-dwt tanker Four Lakes through their joint venture company, Four Vanguard SNL. A contract is in place to provide the 1993-built tanker to Agip Australia Ltd. for use as an FPSO vessel on the Woollybutt field offshore Western Australia. First oil from Woollybutt is expected in January 2003. The vessel has been renamed Four Vanguard and has entered Keppel Shipyard in Singapore for conversion.
New jackup for Mexico
Perforadora Central S.A. de C.V. has awarded an $8-million contract to Amfels in Brownsville, Texas, for a deepwater jackup. The Tonala will be the fourth MOD V "B" class ordered in two years. The first, the Chiles Discovery, was delivered in March. The Tonala is scheduled for completion in January 2004.
More tankers from NKK
NKK's Tsu shipyard delivered the Tateyama, a new 300,000-dwt oil tanker, to Aquamarine Shipholding Maritime S.A. in late April. The tanker is 333 m long, 60 m wide, and 29.6 m deep, with a 20.84-m draft. The vessel has a service speed of 16.1 knots, making it one of the fastest tankers in its class. A second tanker, the Shinsei Maru, was delivered to Tokyo Tanker Co. Ltd. in late May. The Shinsei Maru is 243 m long, 42 m wide, and 20.7 m deep with a 14.73-m draft.
In early May, NKK laid a double-hulled keel for a 150,000-dwt oil tanker for Venus Ocean Navigation S.A. at NKK's Tsu shipyards. It will be 274.2 m long, 48 m wide, and 22.4 m deep, with a 16-m draft.
New dive support vessel for GoM
In mid-2Q, Specialty Marine added its newly christened dive support vessel DSV Jean-Elaine to its Gulf of Mexico fleet. The Jean-Elaine is 180 ft long and is fitted with a 25-ton telescoping Pettibone crane and a four-point mooring system capable of operating to 1,000 ft. The vessel has accommodations for 34 persons. The Jean-Elaine is working on inspection projects in the GoM.
Horn Mountain deck completed
CSO-Aker Maritime Inc. announced the completion and sail-away of the Horn Mountain deck from the Gulf Marine Fabricators yard in Ingleside, Texas. The deck was mated with a spar hull moored in a record 5,400 ft water depth at BP's Horn Mountain field over Mississippi Canyon Block 126 and 127. The Horn Mountain Spar will set a new depth record for a production platform.
Tidewater contracts for supply vessels
Tidewater Inc. announced it has entered into a $45-million construction contract with Bollinger Shipyards Lockport LLC for the construction of four offshore supply vessels. The high-performance, high-capacity 207-ft platform supply vessels will be delivered between October 2003 and May 2004.
---
Canyon Offshore has taken ownership of the multi-service vessel M/V Northern Canyon, built in Bergen, Norway. The M/V Northern Canyon can be outfitted with multiple work-class ROV and trenching spreads from Canyon Offshore, and will include a 50-ton active heave compensated offshore crane, moonpool, and 58-person accommodations. The vessel was available for operations on June 15.
Sonsub has launched the HOS Dominator just as its sister rig, the HOS Innovator, completed its first year of service. The new vessel performs ROV surveys, light subsea construction, trenching, and subsea field development.
NKK-built new tanker, Tateyama. (Below) The Shinsei Maru undergoes sea trials.
null