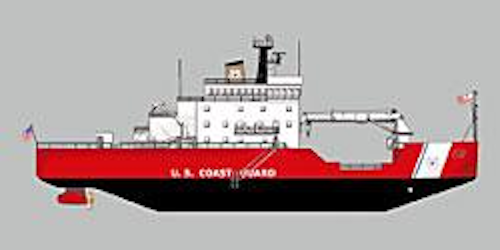 Kværner Masa Marine and Masa-Yards Arctic Technology Center (MARC) have jointly won a contract to provide ice breaking consulting services and model testing for the new US Coast Guard Great Lakes icebreaker. This vessel is being designed by Marinette Marine Corp., a division of the Manitowoc Marine Group.
The multi-mission icebreaker, to be named Mackinaw, will replace a heavy ice-breaker vessel of the same name. Its dual activities will include keeping the Great Lakes shipping lanes open in winter and providing service aids to navigation in the summer. In addition to its main duties, the 3,800-ton vessel will perform search and rescue operations, pollution control, and security and law enforcement duties.
The 73-m-by-18.3-m vessel will employ azimuthing podded electric drives developed by Kværner Masa-Yards in conjunction with ABB Industry. MARC has pioneered the use of Azipod propulsion for icebreaking ships such as the Caspian supply vessels Arcticaborg and Antarcticaborg for Wagenborg.
MMC's icebreaking consultancy services will include a hull form feasibility study and evaluations of the vessel's icebreaking, powering, stability, seakeeping, and maneuvering performance. One of the hull forms to be studied will be the double acting concept patented by KMY and being used on two 106,000-dwt, double-acting crude oil carriers for Fortum currently under construction in Japan by SHI.
In addition, MARC will carry out an extensive ice model test program at its model ice tank in Helsinki, and KMM will supervise the open-water model tests to be carried out at SSPA in Sweden.
News of the USCG icebreaker order followed the report that Kværner ASA, the parent company of KMY, had merged its shipbuilding operations with Aker RGI. The new joint management company, Aker Kværner Yards AS, will have 12 shipyards across Europe and one each in the USA and Brazil. These yards have a total of some 13,500 employees and combined revenues of NKr20 billion. Aker Kværner Yards will be owned 50/50 by the two parent companies and will coordinate the operations of the yards to identify and realize synergies.
At the end of last year, KMY established a separate company, Piikkio Works OY - previously operating as a separate business unit within the company - as a result of a transfer of assets to the yard. KMY's reasoning behind this move is due to the independent and different nature of the activities carried out at Piikkio Works that involve building prefabricated cabin and bathroom modules, including some offshore clients in the past.
---
Finnish company profiles
Belotron Logistics
Belotron Logistics, a member of the ILP-group in Finland, provides fully integrated logistics services covering sea freight and port handling, rail, road (both the latter including normal and oversize loads), and air transportation, consolidation, and warehous-ing, both in Finland and Russia. It also arranges customs clearance and other documentation services in Russia. All CIS countries are also served. The company has 50 years of experience in these markets, including the Caspian oilfield sector.
Kværner Masa-Yards
Kværner Masa-Yards operates two shipyards in Finland and is experienced in designing and building special tankers, gas carriers, FPSOs, FSOs, ice-going vessels, and other ships for the offshore oil and gas industry. Design and engineering services, such as ship design, consulting, engineering, R&D, and project evaluation are offered through the independent company Kværner Masa-Yards Technology in Finland and Kværner Masa-Marine, based in the US and Canada. The technology unit's Arctic Technology Group has more than 30 years' experience in developing marine projects for Arctic regions.
Marioff
Marioff is the world's leading supplier of water mist fire protection systems. The HI-FOG technology combines the extinguishing characteristics of water with the penetrative qualities of gases without any safety hazards to personnel or the environment. Penetration and extinguishing of all types of fires is achieved through high momentum discharge of small water droplets. Applications include land-based industrial gas turbines, machinery spaces, metros and traffic tunnels, vessels, offshore installations, computer and telecom facilities, hotels, offices, and historic buildings.
Larox Flowsys
Larox Flowsys manufactures reliable and functional pinch valves for the offshore and process industries worldwide for use in many different applications. Larox valves are designed for use with abrasive and corrosive media, dry and wet. The company's standard valve range is for diameters of 25-1,000 mm, pressure of 0-100 bar and temperatures of -50 to +160° C. Various sleeve, actuator, and valve body materials are available to handle a wide range of fluids and materials.
RR Offshore
RR Offshore (RRO) delivers offshore oil and gas exploration and production facilities for the Russian federation and the Caspian Sea. RRO provides overall project management combined with local operations that use modern technology, management models, and business tools. RRO's affiliated fabrication yards, Krassnye Barrikady and Astrakhan Korabel, are located in Astrakhan on the Russian Caspian coast. RRO is headquarted in Ulvila, Finland, and has personnel with over 25 years experience with Caspian projects.