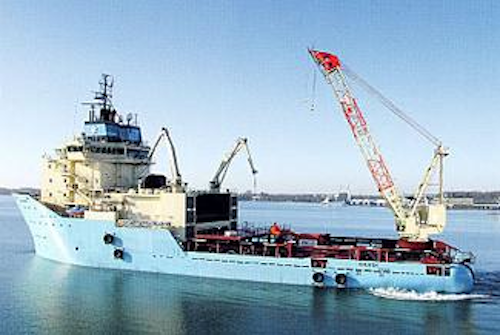 Ultra-deepwater projects are creating a need for new types of multi-role support vessels, with advanced capabilities in installation, maintenance, surveys, and repairs of subsea production equipment and mooring systems. Mærsk Supply Services is aiming to meet this demand with a new $50-million vessel under construction at the Volks-verft yard in Stralsund, Germany.
One of its stand-out features will be a 220-ton Kenz crane on the aft deck at the starboard side. This is designed for fully heave-compensated lifts of 220 tons in water depths to 1,000 m, using double fall wires; and 110-ton lifts in 2,000 m of water using a single fall. The crane can work over both of the vessel's sides and also over its stern. In-built ballast control is used to compensate the vessel's heel during lifting operations. Mærsk stresses that the crane's operating criteria are designed to dovetail with the vessel's stability and sea-keeping capabilities.
When not in use, the crane boom is stowed on top of the vessel's winch "garage." In this mode, there is ample height beneath the boom (7.5-10 m) to ensure full use of the deck's starboard side. The crane also incorporates several redundancy systems to guarantee safe operation, with maneuvers being handled by a dedicated team of qualified crane operators.
Another of the vessel's features is a centerline moonpool, measuring 5.2 x 4.38 m, situated forward on the main deck. This will have a built-in splash/wave damping system. It will be serviced by the crane of the main winch for heavy subsea lift operations and will also be used for ROV/guideline deployments. Bottom and top hatches will seal the moonpool watertight when it is not in use.
According to Mærsk, the vessel will also incorporate all capabilities of an ultra-deepwater anchor-handler. Its drum spooling capacities are intended for both conventional rig mooring systems and fiber rope installation and retrieval. Four large chain lockers (1,122 cu m in total) are stationed beneath the main winch. These can accommodate long chain lengths with diameters up to 7-in. High towing and cargo-carrying capacities also give the vessel flexibility for undertaking multiple tasks.
The Kongsberg Simrad SDP 21 dynamic positioning system uses differential global positioning system (DGPS) and Hipap hydro-acoustics system for referencing, ROV tracking, and array placement. The large installed horsepower (23,480 hp) and side thrust capacity (four thrusters at the bow and stern, 6,200 hp in total) allow the vessel to hold its position in rough weather. Rauma supplied the Waterfall towing/ anchor-handling winch system, which operates at speeds of 26-48 m/min. It is computer-controlled for constant tension, pay-out, heave in, and minimum and maximum load control.
Overall, the vessel is 90.3 m long, with a beam of 23 m and a maximum draft of 7.8 m. Deck area is 803 sq m, with a maximum deck load of 2,800 tons. Up to 86 people can be accommodated. The unnamed vessel should be available next June.
"We are marketing it to all our potential clients anywhere with deepwater, but particularly West Africa and Brazil," says Finn Essendrop, director, chartering and operations. "But it could also be employed off Israel or Egypt. It is a harsh environment unit. Maintenance of the vessel can be performed offshore, with normal drydocking operations only required every three to five years."
A-frame launch
Additionally, Mærsk has ordered a large A-frame from Hydralift to meet the growing requirement in deepwater for a launch system for large plows, trenching, and other subsea vehicles. The A-frame is designed for installation on all the company's large multi-purpose support boats. Its legs can be attached to the crossbeam in two configurations.
When the legs are at the outer position, width in between is 17 m, suitable for the new boat and the company's other A-class vessels, the Mærsk Attender and Mærsk Assister. At the inner position, the width is 12 m, sufficient for other classes of vessels in Mærsk's fleet. The lifting sheave is positioned under the crossbeam, allowing the wire to run from the main winch to the load. This enables use of wires up to several kilometers long.
Outreach over the stern is up to 13 m, allowing for launch of long length vehicles. The three-component A-frame is designed to be self-installing. This means it can be mobilized in ports where heavy lift cranes are not available.
The Mærsk Attender, which is two years old, was also designed for subsea construction. This is a 23,480 hp, DP-2 class vessel that has served in the North Sea and West Africa. Currently, it is dedicated to TotalFinaElf on the Girassol development, working continuously on a wide variety of tasks, mainly back-up for a Stolt Offshore ROV undertaking spoolpiece installatons using Stolt's Matis connection system.
"It's a very wide vessel, with very stable motion characteristics," says Niels Elmbo, general manager, Project and Subsea at Mærsk Supply Service. "The client wanted the vessel to be modified with an A-frame and heave compensator for this project. We were able to do this within two months, spending over $10 million on an upgrade at the Fredericia shipyard in Denmark. They wanted to compensate for motions incurred during installations." The heave compensator was bought second hand from a company in Norway and was modified to suit the weights typically handled on Girassol.
"We have also developed an anchor-handling simulator for our training facility in Svendborg," Elmbo adds. "This is the only simulator of its type in the world, and was designed by Mærsk, various control hardware vendors, and the Danish Maritime Institute. It can be used to practice in real time managing problems associated with any anchor or combination of mooring systems."