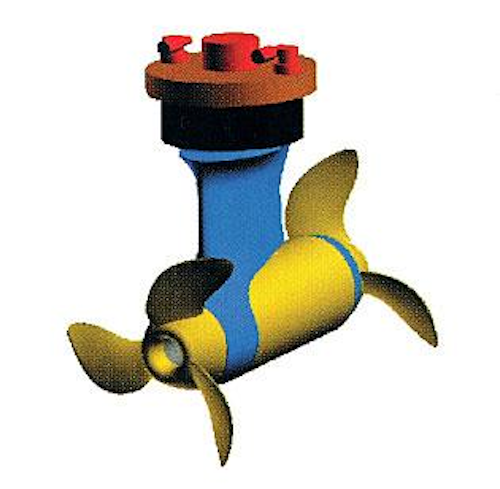 Schottel is a specialist manufacturer of steerable propulsion systems for medium- speed vessels including PSVs, DSVs, and tugs. The company's rudder propeller (SRP) range is rated at up to 6 mw, and provides 360° rotation of the underwater comp-onent. This facilitates use of full input power for vessel maneuvering and dynamic positioning.
The Schottel Twin Propeller is based on the same principle as the SRP, but it is equipped with two propellers mounted on a common shaft and rotating in the same direction, with integrated guide fins. The technology is designed to limit the action of load forces by distributing the load over both propellers. This configuration has improved propulsion efficiency by 26%, the company claims, in addition to lowering noise and vibration levels. Further improvements can be achieved through optimizing hull forms.
Schottel also claims that the STP provides:
Much higher efficiency than Z-drives with a single propeller
Higher power transmission than is ach-ieved by a single propeller
Lower risk of cavitation due to the lower load on the propellers
Lower pressure fluctuations and mechanical losses than competing two-propeller systems
Higher reliability, due to the STP's small number of moving parts
Adaptability to a wide range of operational requirements up to speeds of 28 knots.
For supply vessels operating over long distances, the technology's main advantage is claimed to be a fuel savings over conventional propulsion systems of over 10%. It is also suitable for all dynamic positioning classes. One of its newer offshore sector applications is the supply/diving support vessel Adams Nomad, in service in the Arabian/Persian Gulf since mid-2001 under a long-term charter from Thales/ Thomson. It also serves as a platform for remote control of maintenance ROVs.
The ship - designed by the Saudi shipping company Khalifa A. Algosaibi and built by Astilleros Balenciaga in northern Spain - is 60 m long, with a breadth of 13.3 m and a draft of 3.8 m. Its propulsion system comprises two Caterpillar diesel engines providing output of 954 kw each at 1,800 rpm. These engines drive two STP 1010s (reduction ratio 5.86:1, with a propeller diameter of 1.9 m). The two propulsion systems allow the vessel to reach a top speed of 12.5 knots, despite its shallow draft.
By the end of this year, Schottel also hopes to have completed development of a new range of pod-type electric drives rated below 5 mw.