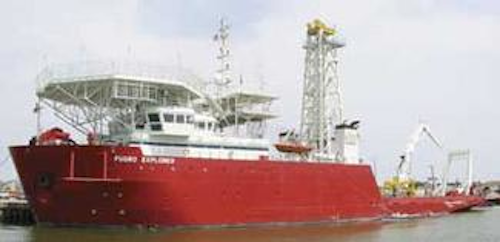 Judy Maksoud
Houston
Torch moves to deepwater
Torch Offshore Inc. recently re-equipped the Midnight Hunter for work on the Canyon Express project in the Gulf of Mexico.
In mid August, the 340-ft deepwater pipe lay vessel arrived in New Orleans, where it was prepared for subsea construction work. The vessel was outfitted with a 60-ton crane along with specialized equipment to allow it to carry out the pipelay project, which marks Torch's first venture in deepwater.
New geotechnical vessel for Fugro
Fugro-McClelland Marine Geosciences Inc. has built a new geotechnical vessel. Equipped with drilling, sampling, and in situ testing equipment, the DP-II vessel can work in 3,000-m water depths. The vessel is equipped with a full service geotechnical laboratory outfitted for onboard testing of soil samples.
Originally built in Singapore in 1999, the Fugro Explorer was completely refitted for geotechnical operations this year.
The GoM will be the Fugro Explorer's home station, but the vessel will work worldwide.
Ultra-heavy transport
Heavy transport shipping company Dockwise Shipping B.V. signed a letter of intent with Hyundai Mipo Dockyard of Ulsan, Korea, for the jumboization of the semisubmersible heavy transport vessel Blue Marlin.
The Blue Marlin conversion answers the need to transport heavier and ultra large floating production and drilling platforms and larger semisubmersible drilling units.
The vessel will be widened by 21 m to create a stable platform of 63 m breadth, creating an unobstructed deck area of 11,227 sq m.
The conversion, scheduled for the second half of 2003, will also include the installation of additional propulsion and upgrading of the ballast system.
After modification, the Blue Mar- lin will be able to carry structures up to 73,000 tons.
New AHTSs
Halifax Shipyard in Nova Scotia, Canada, launched the first of two anchor handling tug supply (AHTS) vessels in early September.
The Atlantic Kingfisher, 262 ft by 59 ft, is designed for stand-by rescue, ROV operations, stand-in communications center, and fire fighting, as well as multifunction anchor handling, tug, and supply.
This vessel is fitted out under deck to supply an offshore structure with all fluids required for operation and life.
Owner, Atlantic Towing Ltd., will take delivery of the Atlantic Kingfisher later this year. The company owns two sister vessels, the Atlantic Eagle and Atlantic Hawk, also built by Halifax Shipyard.
NKK keeps busy
In late 3Q, NKK's Tsu shipyard launched two new tankers. The first, ordered by Venus Ocean Navigation S.A., is a 150,000-dwt double-hulled LRS oil tanker. It measures 274.2 m long, 48 m wide, and 22.4 m deep, with a 16-m draft.
The second is a 300,000-dwt tanker built for Ocean Link Maritime S. A. The vessel is 333 m long, 60 m wide, and 29.6 m deep, with a 20.84 m draft.
NKK also laid a double-hulled keel the first week of September for a 150,000-dwt oil tanker for Horizon Trading Group S.A. When completed, it will be 274.2 m long, 48 m wide, and 22.4 m deep, with a 16-m draft.
Service vessel for the GoM
Moby Marine is repositioning its workboat fleet to be available in the Gulf of Mexico oil and gas services market. Three vessels were selected for this market. One, the M/V James Surveyor completed a refurbishment program, including the installation of a new DP system, before being reassigned to the Gulf.
---
FPSOs for Brazil
By 2005, industry analysts project that more than half of Brazil's oil production will come from ultra deepwater. That makes offshore Brazil a prime target for FPSOs.
Not surprisingly, Petrobras is moving toward FPSO development for a number of its giant offshore fields. Many of the newly classified FPSOs are conversions, including FPSO Brasil, Petrobras 43, Petrobras 48, Petrobras 50, and the Fluminense.
In August, the American Bureau of Shipping assisted the oil and gas industry with the classification of five major FPSO conversion projects with offshore Brazil as a final destination.
According to ABS, each of the converted FPSOs is an ABS-classed A1 floating, production, storage, and offloading unit. All five of the vessels incorporate ABS SafeHull technology, though the FPSO Brasil is the first to be awarded SafeHull converted ship notation.
The Brasil was installed in the Campos basin and was to produce first oil in October. It has a design capacity of 90,000 b/d of oil with up to eight production wells, of which five were previously operating.
Of the remaining four vessels, the P43, P48, and P50 are key projects for Petrobras. The ABS-classed VLCC Stena Concordia was chosen by Petrobras to become the P48. Sister vessel, Stena Continent will become the P43.
The Felipe Camarão will be converted to become the P50, which will be used on the deepwater Albacora Leste field in the Campos basin. Production at 180,000 b/d is to begin in 2004.
The final conversion will transform the Sahara, one of the 15 largest tankers in the world, into the Fluminense. The Fluminense will have oil storage capacity of 1.3 MMbbl and will process 70,000 b/d of oil and 75 MMcf/d of gas. This vessel, which will serve as a hub for the Bijupira and Salema fields in the Campos basin, is to be delivered in 1Q 2003.