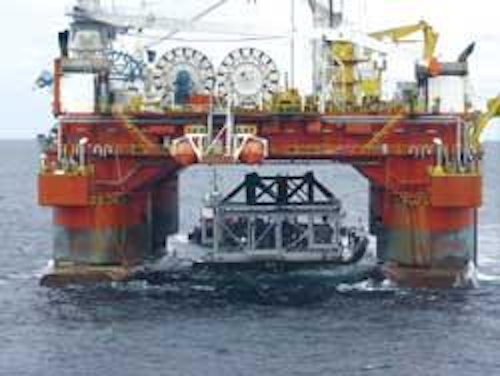 The Cal Dive International Q4000 comp-leted a milestone task when it performed a heavy lift operation for BP's Bombax development off Trinidad. Because the Q4000 hull is uniquely designed without cross members between the pontoons, Cal Dive was able to float a 240-ft by 72-ft barge between the pontoons while the vessel maintained position on location. The barge carried a 60-ft by 60-ft by 20-ft manifold to be installed at Bombax.
The Q4000 lifted the manifold through its deck with the Huisman multi-purpose tower (MPT). The MPT is the first of its kind and is fully heave-compensated and rated to 660 tons of dynamic loading. The Bombax manifold, which weighed 460 tons with lifting frame and rigging, was connected to a drill string handled by the MPT when the barge was moored beneath the Q4000. The heave compensation of the MPT kept forces on the vessel and rigging to a minimum.
The DP-3, $180 million Q4000 was built on spec at the Amfels yard in Brownsville, Texas, and first steel on the vessel was cut in January 1999. Once the multi-service vessel designed for work in water depths to 10,000 ft was nearly complete, Cal Dive upped the ante, asking Amfels to add the necessary structural modifications for future completions capability to the vessel. The upgrade began in November 2001, and the vessel was delivered in April 2002.
The Q4000's first deepwater well intervention assignment in the Gulf of Mexico was the permanent plug and abandonment of a Petrobras well in South Timb-alier block 315.
Finding a steady market
Even with deepwater wells designed to be "interventionless," the need for intervention work exists.
Cal Dive set the ultra-deepwater semisubmersible's schedule straight out of sea trials to include a variety of work in the GoM. The strategy was to prove up the newbuild's capabilities while also preparing for well intervention work.
The Q4000 set jumpers at Mariner Energy's King Kong field in 3,800 ft of water at Green Canyon block 472 and 516. It moved from there to ExxonMobil's Diana field in 4,790-ft water depth in East Breaks block 944 to set two flying leads and a jumper. Next up was work at Kerr-McGee's Boomvang-Nansen fields in the East Breaks area to set multiple pipeline end terminations and jumpers. The Q4000 also went to Brazil to provide transport and lifting services for two clients there before returning to the GoM in late June.
Ray Milne, Cal Dive well operations superintendent, said once the vessel begins to prove itself, it should gather increasing interest from companies seeking deepwater intervention work. He compared the Q4000 in the Gulf of Mexico to the dynamically positioned Seawell intervention vessel in the North Sea, which Cal Dive acquired in July. The 1987-build, then the CSO Seawell, worked intervention for only one week during its first year in operation, Milne said, but once it generated a track record, it became booked for its intended purpose most of the year.
"There aren't that many subsea trees yet, so while we do all the work (in the Gulf of Mexico), there isn't that much work," said Martin Ferron, Cal Dive president and COO. "If you look at the way the Gulf of Mexico is going in terms of development, the shallow water infrastructure is well established, but the deepwater has a lot of infrastructure just going in."
Because of this trend, Cal Dive wanted to make sure the Q4000 was more versatile than just capability for well intervention. At the outset, the Houston-based company expects more construction work to install infrastructure in the deepwater GoM and, later, more well intervention as the number of subsea trees increases, Ferron said.
"We hedged our bets in terms of addressing markets," Ferron said. "We intend to showcase her on a variety of different jobs for different customers so that we can show the industry that she's a flexible work platform."
The Q4000 runs with dedicated, cross-trained crews that can handle a variety of assignments. The Q4000 has both marine and drilling crew requirements in the majority of operations offered, said Kurt Hurzeler of Cal Dive's well operations business development team. The derrick crew is also certified for rigging operations, allowing the crew to work in both types of operation. This requires recruiting skilled drilling crews and providing rigger's training to them, Hurzeler said.
The vessel can support a complement of 136, with a bare-bones operation calling for 61 employees.
Taking pointers from the Uncle John
The idea for the Q4000 – Q for quantum and 4,000 for its variable deck load in tons – germinated while Cal Dive worked with its 1995-purchased Uncle John semi, which was constructed for Shell in 1978.
"I was stunned by her capability, and she was just doing diving then," Ferron said of his experience aboard the Uncle John in 1980. "She can do many things, but not anything like the Q4000." Milne agreed.
"The Uncle John was state of the art when it was built," he said. "This one's state of the art now."
The versatile Q4000 is "capable in a lot of areas, but the bulk of the money spent on this vessel was put into well intervention" capability and high-specification dynamic positioning, Milne said.
While it can move quickly from one field to another, the Q4000 was intended to perform a variety of activities on one field that would minimize the time a drilling rig would be needed. The vessel can perform construction, well intervention services as well as well clean up, extended well testing, and surface casing batch set operations. Construction covers tree installation, subsea equipment repair, and maintenance, pipelay, and suction pile installation and removal. Well intervention services include decommissioning, sub-surface safety valve repair, through tubing repair, stimulation, and clean out.
Able to work in 10,000 ft of water, the Q4000 was designed to perform well intervention, construction, and drilling for less than the cost of engaging a deepwater drillship. Those cost savings are appealing to clients like Mariner, ExxonMobil, and Petrobras, which have already taken advantage of the vessel's capabilities, and Schlumberger and FMC, which have arrangements with Cal Dive. Schlumberger likes some of the time-saving and safety factors associated with the new vessel.
Billy Greeson, Schlumberger's sales manager for oilfield services, said his company appreciates the efficiencies the giant vessel exhibited while it was mobilizing for a round of work in the Gulf of Mexico. Using a 360 MT revolving Huisman crane, it loaded a two-tiered, rigged-up pallet containing electric line, slick line, and coiled tubing tools, power packs, and other equipment, weighing in at 140 tons, from a barge to the Q4000's nearly one-acre deck in a 13-minute maneuver. With a lesser crane, the entire pallet, which was rigged up in Morgan City, Louisiana, would have been lifted piecemeal and re-rigged once the equipment was on deck. This could have taken up to 12 hours. One significant danger with well intervention work is often associated with loading and unloading the service equipment with the crane, Greeson said.
"The safety aspect is key because you're not under pressure to get it up and going," Greeson said. Previously interested in gaining efficiencies below the wellhead, Schlumberger has now recognized the additional opportunity for topside efficiency, he said.
Cal Dive and Schlumberger Oilfield Services have a non-exclusive alliance agreement dating back to 1997. Renewed in 2001, the agreement provides Schlumberger with a vessel capable of delivering their oilfield services to the well site. Cal Dive obtains engineering, technology, and logistic support from Schlumberger.
Adding depth to subsea focus
In early July, Cal Dive agreed to buy the Subsea Well Operations business unit of CSO Ltd. for $67.5 million. After the purchase is finalized, the new Cal Dive division will operate in the North Sea as Well Ops Ltd.
In the deal, Cal Dive gets all subsea well intervention activities and resources, including the dynamically positioned Seawell as well as current client and vendor contracts. Purpose built for well operations, the Seawell, a 111-m, DP-3 vessel, was recently upgraded for coiled tubing deployment and well testing.
Cal Dive, which is working to establish global market leadership in well intervention work, considered the purchase of the Subsea Well Opera-tions business unit as a logical choice, Ferron said.
"We're staking our claim," he said.
The company expects to leave the Seawell in the North Sea for its ability to perform well intervention work in depths to 450 m, which is the start of the Q4000's range. The Seawell is expected to perform over 300 days a year of well intervention work in the North Sea, Ferron said.
The acquisition also allows Cal Dive to combine Technip-Coflexip's subsea lubricator-based technology with the riser-based technology aboard the Q4000 to meet subsea well services needs.
Cal Dive's new subsidiary, Well Ops (UK) Ltd. will consist of 35 permanent employees, Ferron said, with the addition of further personnel as needed. The deal closed early July and, to further consolidate the skills, assets, and technology that make up the current state of the well operations industry, Cal Dive has also incorporated its well operations division in Houston. US-based subsidiary Well Ops Inc. is focused primarily on the Gulf of Mexico market.
Looking forward
Ferron said he doesn't expect Cal Dive to start making plans to add another newbuild to its fleet just yet. He said Cal Dive wants to show the market that the first deepwater well intervention vessel can be successful before the company considers applying itself to a new vessel.
"I like to think the market place and customers will support us in that, and so far it's been good," he said.
If the company opts to begin another newbuild, Ferron said, it won't think in terms of a vessel destined for Brazil or West Africa or even the GoM.
"We like to think in terms of growth depth-wise, rather than width-wise, as in geography," he said. "The market's going deeper. If we can prove ourselves here, then the technology will hopefully be applicable to other deepwater regions."