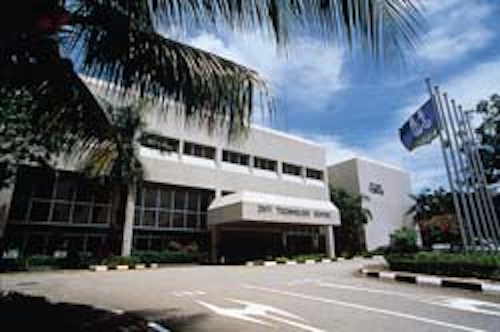 (Left) DNV's divisional head office in Singapore, its fastest growing division. (Right) Kaare Lindemann, head of offshore classification at DNV.
Classification society Det Norske Veritas has been active in the Far East offshore sector since the early 1980s, providing a range of services that embraces certification/verification /inspection, risk and safety, environment and quality management, technical/materials testing and advisory services.
Governments in the Far East traditionally take a less hands-on approach to classification matters, placing more responsibility on both the operator and the classification society to monitor the safe functioning of offshore units. They are now following the North Sea trend towards the safety case approach to evaluate safe functioning, according to Kaare Lindemann, head of the department for offshore classification. In addition to its work with traditional fixed platforms, DNV's activities in the Far East have benefited from the trend towards floating production, storage and offloading units (FPSOs). This is largely because many of the orders have emanated from Norway, the company's home country, and have been placed with yards in South-East Asia. DNV has the classification contract for about 75% of newbuild FPSOs, Lindemann says. Among the units on its books are:
Smedvig's SPU 380, now purchased by Esso Norge for use on its Balder Field;
Statoil's Norne ship;
Saga's Varg ship;
the three multipurpose shuttle tankers/production ships ordered by Statoil from the Samsung yard in South Korea;
Statoil/Saga's Aasgard ship which is to be built by Hitachi in Japan;
Rasmussen's speculative newbuilding at Mitsui in Japan.
The production ship represents an area of overlap between the marine and offshore sectors, and marine classification rules are used as a basis for classifying these offshore units. One advantage of this approach is that the classification rules allow yards to price such units very precisely.
But there are also important differences between a conventional ship and an FPSO, Lindemann points out. "Marine regulations do not accommodate the possibilities of the dangers arising from the presence of process plant, such as explosions, and the measures required to combat these dangers, such as fire protection, firefighting equipment, escape and evacuation facilities, and so on."
The safety case approach and the associated risk analysis technique are valuable for evaluating such situations. "But once this type of analysis has been carried out for several units, you start to learn how things should be and you can become more prescriptive," he says.
DNV's class notation for production ships is +1A1, which comprises a set of rules taking full account of the specific environment that the particular unit will work in. The requirements which must be fulfilled are primarily intended to protect the ship and its crew from threats, both from the environment and from accidents, Lindemann says.
The classification procedure consists of five main stages, running from design to operation. The initial step is concept evaluation, for example ensuring that the living quarters has not been placed on top of the process plant. In the case of new concepts, risk analysis can make an important contribution at this stage.
Then comes the process of design approval, at which point all safety-critical items and systems are subjected to close scrutiny. All the vital parts need DNV certification. This is essentially the application of the safety case approach now adopted in the UK and elsewhere, but which DNV has been practising for years, according to Lindemann.
During the fabrication phase, a DNV representative is present at the yard, ensuring that fabrication is in accordance with approved drawings, checking that welders have the correct qualifications, that pre-fabricated parts arriving at the yard have the correct certificates, and so on. The intensity of the monitoring process is adjusted according to the yard's quality system, Lindemann says.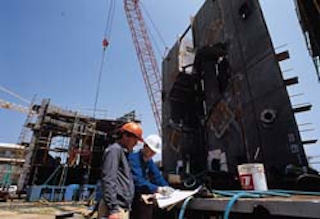 DNV representatives monitored fabrication of the TPG-500 platform for BP's Harding Field at the Hyundai Offshore yard in South Korea.
Once the unit is in operation, regular inspections are made to ensure that it is being maintained and operated in accordance with the rules. In the event of something unlikely happening, the final step comprises built-in safety in the form of requirements for a fail-safe system or redundancy in the critical elements - in essence, a return to the design philosophy as examined in the first stage.
"As we follow a unit into service life, the experience we have with it is fed back into our rules," Lindemann says. Some sets of rules, such as ISO standards, take a long time to change, he says, but DNV can generally make changes in six to 12 months. "We have technical committees with industry representatives at the hearing stage, so industry is closely involved in this process," he says.
For the offshore sector DNV has sets of rules applicable to mobile offshore units, ships, fixed platforms, flexible risers, cranes and pipelines.
The society's involvement with FPSOs is not restricted to newbuild units. In China, where it has become the second classification society approved by the government, it has classified two production ships: Bohai's newbuild Bohai Ming Zhu and Phillips' Nanhai Kai Tuo, a converted tanker.
DNV also classified Rasmussen's Polysaga floating storage unit, a ship-shaped vessel built at Mitsui and now in operation on Statoil's Yme Field in Norway. Among the semisubmersible production platforms it has classified is the Petrobras XVIII which was built at the FELS yard in Singapore.
Around the world it has classified some 100 mobile offshore units.
DNV also has a lengthy reference list of work related to fixed platform developments in the Far East. Among the countries where it has been most active are:
Indonesia, where it has certified 62 steel-jacket platforms, and provided loss management control and technical advisory services, to clients including Pertamina, Maxus, Unocal, Total, Vico, and Arco.
Malaysia, where it has done platform verification work and provided risk and environmental services for clients such as Petronas Carigali, Shell and Esso, and materials advisory/testing and weighing services to fabricators. Its most recent work has been for Esso's Lawit project, Shell's M1/M3 project, and Nippon Oil.
Vietnam, where it certified the topside modules for the BK-3, BK-4 and BK-5 platforms, and the water injection platform for Vietsovpetro's White Tiger Field, carried out a condition assessment of three platforms also belonging to Vietsovpetro, took five offshore vessels into DNV class, and recently won the contract to certify the White Tiger gas compression platform.
Singapore, where it serves industry suppliers such as Sembawang, FELS and ABB Vetco Gray.
Brunei, where it mainly provides risk and quality management services, its leading client being Brunei Shell.
Australia, where it is responsible for classifying that country's first concrete platforms, which are to be installed on Esso's Bream and West Tuna fields.
An unsolicited testimony to the quality of the society's services in the marine sector was provided by a recent survey of ships detained by the US coastguard - the proportion of DNV classified vessels was only 0.6%, the lowest of any classification society.
---
Electrical contractor seeks
place on Singapore yard bid lists
For P-Con Automation, a supplier of electrical products and contracting services to both the upstream and downstream sectors of the oil industry, the Far East represents a growth market of considerable potential.
The company is already active in the region through its office in Singapore, where it has an average of 150 employees engaged in contracting activities, according to managing director Tollak Melberg. Some of the projects it has worked on are newbuild production ships under construction at shipyards in the region for eventual deployment in the Norwegian sector. It has supplied products such as junction boxes, flashing beacons, warning lights and level gauge lights, as well as contracting services, to the FELS shipyard in Singapore for Statoil's Norne ship, Saga's Varg ship and Smedvig's SPU 380 ship which has now been purchased by Esso to produce its Balder Field.
It also provided electrical contracting for Allseas' Solitaire pipelay vessel while it was undergoing conversion at the Sembawang yard, also in Singapore. "We are still in the early stages of developing our relationship with FELS and Sembawang, and intend to become regulars on their bid lists," Melberg says.
P-Con Automation has also won an order to supply its Inergen inert gas fire-fighting system to Statoil's Aasgard production ship, which is to be built by Hitachi in Japan, and is now bidding to supply electrical products for the vessel.
Other projects which it has supplied out of Singapore include the production platforms for the ACT joint venture development in China and an Arco development in the same country.
The company places great importance on the development of new products, according to Melberg, and has just launched a new EEx junction box in which both box and contents are resistant to temperatures of up to 1100?C for up to two hours. The first sale was to Statoil's Norne ship.
Copyright 1996 Offshore. All Rights Reserved.