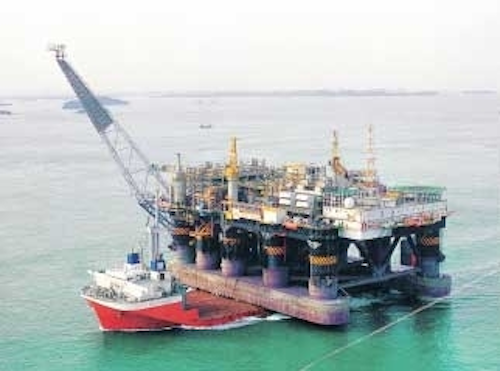 Tidewater launches newbuild program
Shortly after purchasing eight vessels from Sanko Steamship Co., Ltd., Tidewater Inc. has signed contracts totaling $305 million with two Far East shipyards. The contracts cover the construction of eight vessels, including five 280-foot anchor handling towing supply (AHTS) vessels and three 260-ft platform supply vessels. In addition, Quality Shipyard L.L.C., a Tidewater subsidiary, will build four platform supply vessels constructed to full Jones Act (US) compliance.
Tidewater Chairman, President, and CEO William C. O'Malley said, "the demand for the vessels we have previously purchased and that are already operational has been strong. We anticipate that these new ships will be working from delivery if market conditions remains stable or continue to improve, as we anticipate."
Scheduled delivery of the new vessels will begin December 2001and will continue through next year, with delivery of the final vessel scheduled for January 2003. These vessels will be added to the 570 others that currently make up Tidewater's fleet, which is the largest fleet of vessels serving the offshore energy industry.
Petrobras prepares for Marlim Sul production
Following conversion at the Jurong Shipyard in Singapore, the Petrobras Production Platform P-40 (formerly DB-100 semisubmerisble crane vessel) arrived in Guanabara Bay in Rio de Janeiro in January. The vessel was transported by Dockwise N.V.'s heavy transport vessel Mighty Servant 1, the only transport vessel capable of carrying the unit, which measures 123.75 meters in length and 83.82 meters in width.
The P-40 will remain in Guanabara Bay for a few months where complementary equipment is being added prior to its relocation to the Campos Basin. The P-40 is the first of four production system modules to be used in the Marlim Sul field. The P-40 is scheduled to begin production in July and to reach a peak of 150,000 b/d oil oil by November. Production for the entire field should reach peak production of 360,000 bb/d in 2007.
CSO Deep Blue gets pipelay system
Coflexip Stena Offshore's CSO Deep Blue, which was delivered by Hyundai Mipo Dock-yards on March 1 is enroute from Ulsan, Korea, to the Netherlands, where the vessel's CSO-designed pipelay equipment will be installed. This pipelay system will allow the vessel to lay rigid pipe (reeled and J-Lay), flexible pipe, and umbilicals down to 8,200 ft. The CSO Deep Blue is to begin operations on the Boomvang and Nansen field developments in the Gulf of Mexico this summer. There, the vessel will undertake the installation of the export pipeline systems located in 3,600 ft water depth. The vessel will start operations from the newly established CSO spoolbase, located in Mobile, Alabama.
CSO Aker Maritime provides spar platforms
CSO Aker Maritime, Inc. (formerly Aker Maritime, Inc.) was awarded a contract for delivery of multiple spar floating production platforms for BP's deepwater developments in the Gulf of Mexico. The spar hulls and mooring systems will be delivered under a program calling for up to five spars.
CSO Aker Maritime will design and build the complete hulls and mooring systems, which are contractually scheduled for delivery in 2003. The contract arrangement includes options for delivery of additional hulls and mooring systems for BP operated deepwater prospects in the Gulf of Mexico in water depths ranging from 4,000 ft to 6,000 ft. The "truss" spar platform solutions to be provided are based on CSO Aker Maritime Deepwater Division's (CSO Aker Maritime) licensed SPAR technology.
Stena Concordia to convert to FPSO
Keppel FELS Brazilian subsidiary FELS Setal SA signed a letter of intent with Halliburton Productos Ltd. for the marine conversion of tanker Stena Concordia into a Float-ing Production Storage and Offloading facility (FPSO). FELS Setal will convert the 1973-built tanker Stena Concordia into an FPSO with a production capacity of 150,000 bbl and 6 MMcm/d.
This project could re-vitalize the offshore and marine fabrication industry in Brazil creating thousands of new jobs for the state of Rio de Janeiro. FELS Setal, formed in March 2000 as a 60:40 joint venture between Keppel FELS and Brazilian PEM Setal is operating from a 360,000 sq meter yard in Angra dos Reis, about two hours south of Rio de Janeiro, and another 30,000 sq meter yard in Niteroi.
Mærsk builds up for Caspian contract
Exxon Azerbaijan Operating Company LLC awarded Mærsk a three-year contract for a drilling program in the Caspian Sea. The contract includes the construction of a semisubmersible drilling rig. Mærsk has a contract with Keppel FELS, Singapore, and Caspian Shipyard Company, Baku, for rig construction. The rig will drill in the deep water offshore Azerbaijan in the Nakhchivan and Zafar-Mashal Production Sharing Agreement fields operated by Exxon Azerbaijan and the Absheron Production Sharing Agreement field operated by Chevron Overseas Petroleum Azerbaijan Limited.
The new semisubmersible will be the largest and most powerful unit in the Caspian Sea, capable of drilling in the deepest areas of the Caspian to water depths of 1,000 meters. The variable deckload capacity is 4,000 tons, and the derrick and riser tension capacities are each rated at two million pounds. The rig will be equipped with three 7,500 pounds psi working pressure mud pumps and a top drive with 750 tons capacity. The new unit will be able to accommodate 130 people. This contract is Mærsk's first in the Caspian Sea.
Lukoil prepares for Russian NW transport
Following six months of sea and dockside trials, a new ice-going tanker, Kaliningrad, joined the Lukoil tanker fleet at the Admiralty Shipyards in St. Petersburg in the first quarter of the year. The Kaliningrad will supply oil products for RAO Norilsk Nikel to the sea port Dudinka. Ice-going tankers are critical to achieving full development of Russia's northwest region, and Lukoil is expanding its fleet to that end. Today, Lukoil's fleet is made up of 150 vessels, including nuclear power icebreakers, whose main task is to ship oil products to the Far North regions and to transport crude oil from the Timan Pechora province. Fleet management is carried out through subsidiary LUKOIL-Arctic-Tanker, which owns a controlling interest in the Murmansk Shipping Company.