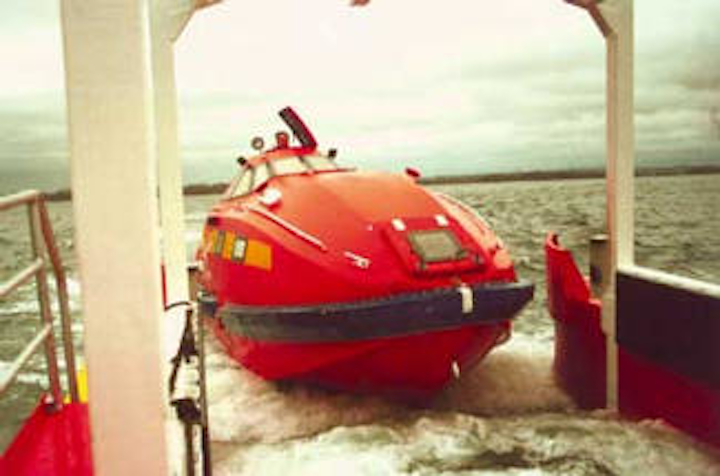 Marine Safety Systems (MSS) has completed testing of its patented system for launching and recovering rescue boats from offshore plat-forms, FPSOs, drilling rigs, and large ships. The system consists of a winch and cable controlling a davit, which holds a PVC foam-lined cradle and boat combination.
The rescue boat nestled in the cradle is suitable for North Sea conditions and can carry up to 18 people. The jet-driven boat is easily maneuvered and, having no prop, is safe for gathering people into it from the stern.
The high tensile steel cradle encloses the fiberglass rescue vessel on three sides leaving one opening for egress and ingress. The system presently weighs 3.5 tons with the larger rescue boat, but can be scaled to accommodate any size rescue vessel. Studies have shown that the total system weight can be reduced to two tons for smaller commercially available rescue boats.
Since most rescue situations occur in difficult heavy sea conditions, launching and recovering rescue vessels is an extremely hazardous task, even when done on the lee side of a large ship. In addition, it is difficult to safely train rescuers for missions under real-life heavy sea conditions because of this launch and recovery hazard.
Most rescue training occurs in mild sea conditions that do not fully prepare crews for the true challenge of heavy sea rescue missions. It is this reality that MSS of Sweden has overcome with this system.
While normal winch and davit systems serve to launch vessels well, they are limited in heavy sea conditions. When lowered, the boat has to be disconnected from the davit wire lines, and when returning the boat must be reconnected by crewmen fighting lines and seas. This is dangerous and crewman can be easily washed overboard while performing the final stages of a rescue.
By using a cradle system, the rescue boat is free in the water as soon as the cradle is lowered to the sea surface. On the boat's return with a load of injured, hypothermic people, it pulls into the cradle and is immediately hoisted to safety without endangering the crew or the injured.
This past spring, the cradle and vessel system was tested in two-meter seas which had short periods and irregular wave patterns. This is a more challenging environment than heavy North Sea conditions, which normally have large waves with long periods. The rescue boat passed the required drop tests and both the cradle and vessel performed well in simulated rescues.
For more information, contact Bengt Holm, Marine Safety Systems. Tel: +46 (0)42 26 01 40, Fax: +46 (0)42 26 01 65, E-mail: info@mssmarinesafety.com.