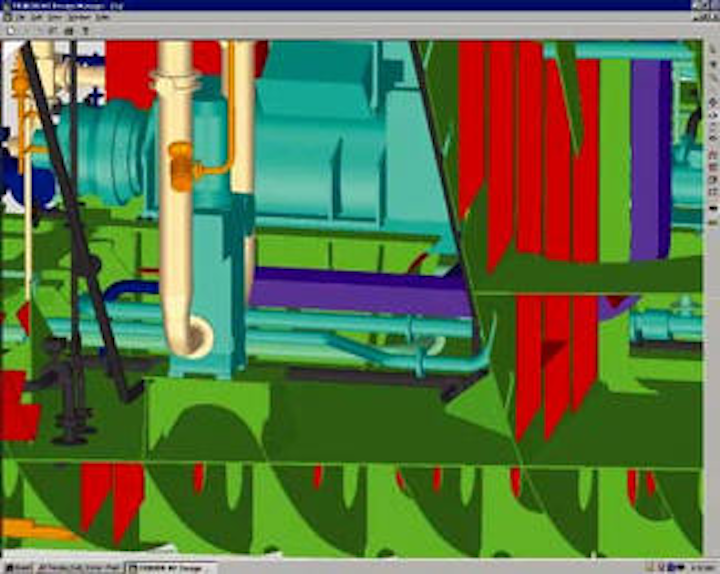 Developed originally from Kockums Computer Systems, Tribon Solutions has evolved into a worldwide design engineering and shipyard supply system to help companies efficiently develop and produce new vessels. At present over 340 shipbuilders and design engineering agencies in 42 countries use the Tribon Shipbuilding System computer software to produce over one-third of all new ships over 1,000 deadweight tons launched worldwide. Offshore vessels of all types, commercial ships and warships are being developed with the system.
Tribon has initiated a new concept by linking the commercial shipbuilding community through the Internet with a series of common databases and design tools to help ship designers, suppliers, and constructors minimize common problems and locate the best products for the needs of new vessels. The new M1 system offers a standardized, fast, and reliable flow of information to designers, suppliers, and shipbuilders through its Global Components Database.
This database contains standardized infor-mation about suppliers products and functions as a combined marketing and design database for users. This leads to internal process savings for suppliers from improved information flow and simplified communications with shipbuilders. Time savings for ship designers can be up to 30% over traditional processes.
Designers gain the ability to download and instantly integrate product information into an ongoing project. Suppliers can open technical dialogues with customers at an earlier stage of the design process than before. Shipyards have a common language in which to discuss construction issues.
The software system is fully integrated from the initial design concept to final production through a number of different modules:
Initial Design - hull geometry modeling and naval architecture calculations
Basic Design - hull structure design and major equipment items for the ship's build strategy
Hull - design and parts manufacture for the main hull structure
Outfitting - design and parts manufacture for piping, ventilation, electrical, and miscellaneous steel and equipment foundations
Equipment - defines all project equipment items
Drafting - a comprehensive 2D/3D drafting system for shipbuilding drawings based on the Tribon Product Information Model
Materials - materials control from purchasing to invoice clearance
Vitesse - automated design tasks based on a customer's specific knowledge and yard rules
Assembly Planning - defines the build strategy and creates assembly production information
Weld Planning - improves accuracy and reduces costs for planning, welding, and assembly operations
Factory Automation - supplies highly accurate production information for automated equipment such as cutting and welding robots
Production Manager - tracks assembly production information.
Several of the applications can be used together with existing M1 installations on UNIX or VMS. A new platform transparency mechanism allows an application to work directly on UNIX or VMS databases.
In the near future many improvements will occur with the Tribon Outfitting system. For data management, full support for access control and version/revision handling will be implemented, using Oracle as the database engine.
For improved outfitting, certain functions, such as pipe specifications and diagrams, are developed in the new versions with numerous additions and enhancements made to other parts of the system. And for increased openness, Tribon M1 Developer's Toolkit is being extended to cover outfitting applications. Combined with the Oracle database, this gives the users an excellent tool to develop their own programs for parametric modeling and production of manufac- turing documents.
Tribon also offers a wide range of consulting services covering management and implementation as well as post-implementation support and improvement programs.
For more information, contact Magnus Feldt, Tribon Solutions. Tel: +46 40 66 80 300, Fax: +46 40 66 80 301, E-mail: magnus.feldt@tribon.com.