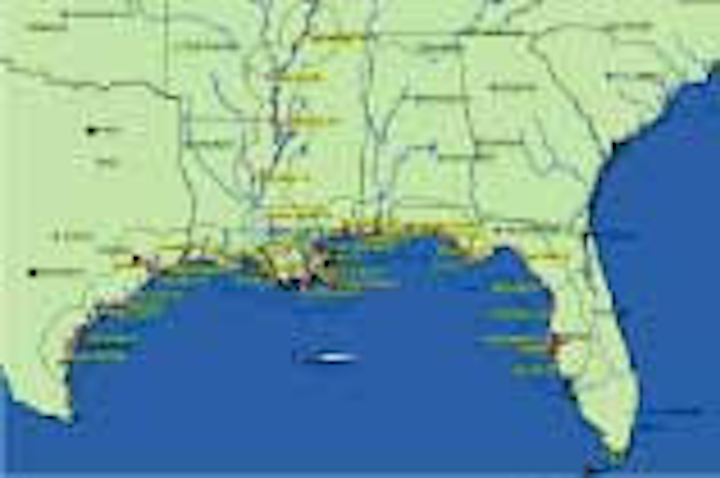 Ester-based drilling fluid
Halliburton Energy Services recently commer-cialized the low viscosity ester-based PETROFREETM LV fluid with the addition of two new rheological control agents. The drilling fluid enables operators to use ester-based fluids in deepwater and ultra-deepwater conditions while still providing environmental performance. Baroid Drilling Fluids, a product service line of Halliburton Energy Services, formulated two thinners, COLDTROLTM and ATCTM, to work in conjunction with ester-based fluids, specifically the PETROFREE LV system.
Ship-to-shore public telephone
MariTEL launched the Marine Wireless VHF Radiotelephone Network in the Gulf of Mexico and lower Mississippi River. The Radiotelephone Network offers mariners private and automatic telephone calls between the ship and shore public telephone network, vessel location services, data transfer, and more. MariTEL's VHF Network also uses Digital Selective Calling.
Valve actuator system
Designed to mount directly onto large valve actuators, Midland Pneumatic's introduces the IMPACT 2000 reduces extensive pipework and is able to close-couple the system to the actuator, eliminating the need for a mounting panel. Available in 316 stainless steel or brass, the IMPACT 2000 system offers increased integrity and reduces both CAPEX and OPEX for offshore oil and gas engineering projects.
LWD products
Among other LWD products, Pathfinder uses the Compen-sated Long Spaced Sonic (CLSS) and Drilling Formation Tester (DFT) for logging while drilling. With the two products, pore pressure can be calculated using real-time resistivity, density, and sonic data. CLSS tools are Sonic collars with two transmitters four ft above and below a four-receiver array, at one-ft spacings. An ultrasonic transducer at the center of the receiver array measures standoff. The DFT uses mud-pulse telemetry to transit real-time formation pressure data to the surface.
Pipeline and umbilical report
The World Offshore Pipelines & Umbilicals Report from Douglas-Westwood provides an overview of the two growth markets, describing the technologies involved and examining prospects. Offshore pipelines are forecast to total $50 billion within years 2001-2005 and control cable installations $2.4 billion. The future pipeline market is segmented by region and pipe diameter, while the umbilicals market is segmented by region and cable type. The report contains more than 190 pages, 90 figures and 89 tables.
Pipe repair system
The STOP IT® Pipe Repair System by Indumar Products, Inc. is used to repair leaks and for corrosion control in marine and offshore applications. STOP IT® can be used on cargo, ballast, steam, fuel, lubricant, and potable water lines, underwater cable or pipelines, fire systems, electrical conduit, and other applications. It can be applied over a rusty line and can be applied underwater or buried underground. The included FIX STIXTM hand-moldable epoxy is NSF certified and safe to use on potable waterlines. Pipes are wrapped with a knitted fiberglass tape, pre-coated with a water activated urethane system that can be applied by one person with no mixing, measuring, or hot work. STOP IT® sets in 5 minutes, cures fully in 30 minutes.
Geo surface panel
Avalon Sciences Ltd launched its next gener-ation GeochainTM Surface Panel (GSP), which incorporates a self-calibra-tion and test facility for complete automation of pre-survey instrumental tests. The GSP incorporates both digital and analogue interfaces and, providing from 2 to 16 seismic quality analogue channels at up to 1/4 ms sample interval, the GSP operates with 24-bit delta sigma converters and is controlled from any windows based PC or notebook.
Subsea sensor module
Kongsberg Simrad launched the subsea sea sensor module, the SSM301. The system capitalizes on equipment that is already installed in most vessels with dynamic positioning systems by allowing data from up to six external sensors to be transmitted directly to a ship's HiPAP® or HPR system instead of using multiple cables or other acoustic systems deployed from the vessel. The advantages are no need to mobilize a separate, temporary, and less reliable acoustic telemetry/positioning system with over-the-side transducer poles, which reduces mobilization, demobilization, engineering, and personnel costs. The sensor module is capable of operating in depths of up to 3,000 meters.
Oil well casing centralizer
Centek developed the Centek Centralizer in assoc-iation with the Production Engineering Research Assoc- iation. The spring steel oil well casing centralizer is manufactured from one piece of specialized steel using a new cutting and heat treatment process. The metallurgy resulted in a product that is less vulnerable to damage, while also making it easier for the casing to be moved through the wellbore. The centralizer is able to withstand extreme loads.
Scale/corrosion inhibitor
Donlar Biosyntrex Corporation launched a biodegradable scale and corrosion inhibitor for down-hole, squeeze treatment in oil production. Donlar's patented multifunctional polyaspartate product maintains oil formation pressure and prevents scaling, enabling oil production to continue at a steady pace.
Vessel/operations management
Strategic Software Ltd. launched Strategic VesselOps, an integrated vessel operations and voyage management system. The system, developed in close cooperation with the Armada Group, is a combination of Strategic's systems design expertise and ship owning and operating experience of the Armada organization. The system has been sold to ship owners and operators engaged in dry, tank, gas, and reefer trades.