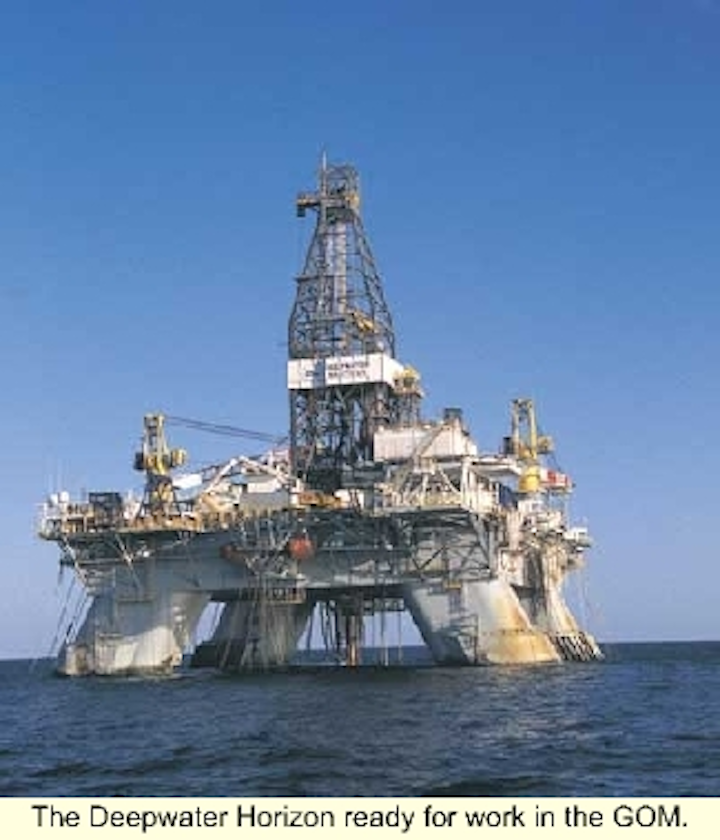 Deepwater Horizon launched by TSF
Transocean Sedco Forex's ultra-deepwater semisubmersible Deepwater Horizon has left the shipyard at Ulsan, Korea, and is headed toward the Gulf of Mexico, where it is expected to begin work during the third quarter of this year. The vessel is scheduled to arrive at Freeport, Texas, in July and will complete commissioning and acceptance testing before beginning work for BP under a three-year contract. The dynamically positioned rig has a water depth capability of up to 10,000 ft and features high variable deck and column load capacities, low motion characteristics, and high- specification drilling systems.
Sembcorp Marine buys stake in PPL
Sembcorp Marine has invested $16 million to acquire a 50% stake in PPL Shipyard Pte. Ltd., Singapore. The yard primarily builds oil rigs and vessels and performs steel fabrication. Santa Fe International's two high-performance jackup drilling rigs currently are under construction at the PPL yard. The first jackup is scheduled to be completed by the end of next year. The second should be built by the end of 2003. The contract in place between Santa Fe and PPL contains an option for four additional jackups.
World's largest FPSO en route to Girassol
The Girassol FPSO (floating production, storage, and offloading) unit, the world's largest unit of its kind, left a Korean shipyard in late March and headed for Angola, where it is scheduled to arrive in early July. The Girassol unit will be used to develop the world-class Girassol Field. The 50,000-ton hull supports 24,000 tons of topsides.
The FPSO has an oil production capacity of 200,000 b/d and a 2 million bbl storage capacity. It also houses the largest "de-sulphatation" unit in the world, which can treat 400,000 b/d of seawater for water injection. The Mar Profundo Girassol 50/50 joint venture, between Stolt Offshore and Bouygues Offshore Construction, carried out construction of the Girassol, completing topsides construction within 21 months. The FPSO will be moored in a water depth of 1,400 meters. First oil is expected toward the end of the year.
Western vessel goes to Fugro-McClelland Marine
WesternGeco recently sold two of its seismic vessels. One moved outside the seismic industry, and the other, the Western Magellan, went to Fugro-McClelland. The Western Magellan was built for Western Geophysical in 1999, but was never placed into service.
Horizon gets another construction vessel
Horizon Offshore, Inc. subsidiary Horizon Vessels, Inc. purchased the Atchafalaya Bay bury barge, which will undergo conversion to a combination lay/bury barge at Horizon's Port Arthur facility. Upon completion, which is scheduled for later this year, the barge will be re-named the Pecos Horizon. It will be capable of laying 20-in. pipe in 500 ft water depth and will be able to bury 60-in. pipe to a depth of 16 ft below the seafloor.
Tidewater expanding global fleet
Tidewater Inc. has been building up its already-large fleet in a strategic move to get into deepwater. The company did not build during the last market up-cycle, but construction in the past few months and the many acquisitions indicate the company is trying to catch up.
Tidewater announced $305 million in newbuild commitments in January with the signing of a contract with two shipyards for the construction of eight vessels. In April, Tidewater reported that it had taken possession of its first two anchor-handling towing supply (AHTS) vessels, specifically designed and equipped for deepwater work. The AHTS immediately began term contracts. Tidewater also took delivery of two platform supply vessels.
Leiv Eiriksson begins sea trials
In early May, Ocean Rig ASA announced that the company's first mobile drilling unit, the semisubmersible Leiv Eiriksson, would leave Friede Goldman's Pascagoula, Mississippi, yard to begin sea trials. Ocean Rig is negotiating a contract for the Leiv Eiriksson to work offshore Angola and expects the contract to be in place when sea trials are completed.
Ocean Nomad gets makeover
Diamond Offshore's Ocean Nomad was recently revamped to convert 4-man living quarters to 2-man quarters, expand office space, and increase the onboard personnel capacity to 100. The rig was repainted and underwent a general maintenance overhaul.