Robin Dupre • Houston
ZPMC and OTL form joint venture
ZPMC Offshore Services Group, a subsidiary of Shanghai Zhenhua Heavy Industries (ZPMC) and OffshoreTech LLC (OTL) have formed a strategic joint venture, ZPMC-OTL Marine Contractor Ltd. The new JV is slated to pursue top-tier offshore T&I projects and decommissioning projects, while providing access to unique niche vessels and engineering for execution of a broad range of complex offshore projects.
Leveraging the complementary capabilities and experience of both companies, the alliance will open up further opportunities by combining ZPMC's fleet of 23 transportation vessels, five shear leg cranes (1,600-5,000 MT), 18 tugs, 22 barges, three jackup barges, and ultimately the Zhen Hua 30, the largest single floating crane in the world with a lifting capacity of 12,000 MT, with OTL's expertise in offshore transportation and installation engineering design and proficiency.

TheZhenHua 30 heavy-lift vessel can accommodate 380 persons and is suited to meet deepwater development demands. (Photo courtesy ZOMC)
"TheZhen Hua 30 with the supporting fleet of assets combined with specialist engineering knowledge will allow ZOMC to execute projects 100% in-house, and we provide the complete service by combining transportation with the installation," said Ryan Rush, vice president Sales and Marketing for ZOMC. "This significantly reduces interface risk and ultimately reduces project costs which is critical in today's market."
PGS to take third Ramform vessel offline
PGS says it will cold-stack its seismic acquisition vessel Ramform Viking after it completes a multi-client project offshore east Newfoundland in late October. The vessel was originally due for a yard stay and classing in 1Q 2016, which will be deferred. Ramform Viking's in-sea equipment will now be deployed on vessels in operation. This should cut PGS' capex related to maintenance in 2016 by around $50 million.
Earlier the company announced it would cold-stack the Ramform Explorer and Ramform Challenger after the end of this year's North Europe acquisition season.
Cold-stacking the three vessels should reduce its quarterly cash costs by $25-30 million from 1Q 2016.
Damen workboat headed to Middle East
Damen Shipyards has delivered a Damen Fast Crew Supplier 2610 workboat to Atlantic Maritime Group.
TheAOS Swiftwill be the first Damen Twin Axe vessel in the Middle East. It will be used for passenger transfer and delivery of materials and equipment to unmanned offshore platforms in the Strait of Hormuz. The vessel is going to be chartered to a Norwegian oil and gas company for its platform operations offshore Oman.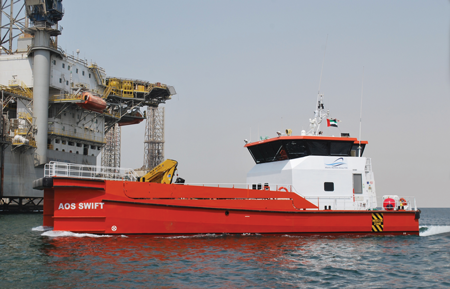 Damen Fast Crew Supplier 2610 namedAOS Swift. (Photo courtesy Damen)
The vessel was shipped from Damen Shipyards Gorinchem to Damen Shipyards Sharjah for further outfitting. A gas detection system has been installed and extra air-conditioning units were needed for the Middle East climate zone. This FCS workboat is also equipped with an additional hydraulically-operated 2,200 kg (2.45 ton) crane with a reach of 8.6 m (28 ft) and has deck space for two 20-ft (6-m) containers. The vessel is also equipped with a GPS Plot self-managed man overboard system and a Jason cradle for emergency personnel recovery.
Fugro Americas unveils newbuild survey vessel
Fugro's geophysical survey vessel, the Fugro Americas, was showcased to clients at the Martin Midstream Dock in Galveston, Texas. Fugro gave guided tours of the newbuild vessel, with geophysical, geoscience, survey, and HSE professionals on hand to demonstrate its state-of-the-art equipment and features, along with the working parts of a geophysical survey.
TheFugro Americasdeparted the shipyard in Louisiana on April 13, and was immediately mobilized to the Caribbean for a geochemical coring campaign. Measuring 193 ft (59 m) in length, the multi-purpose vessel is well suited for high-resolution geophysical surveys and seafloor mapping and is permanently mobilized for rapid deployment to locations throughout North and South America. Fugro also owns and operates three Hugin AUV systems, two depth rated to 9,843 ft (3,000 m) and one to 14,764 ft (4,500 m), all of which are portable and able to be mobilized onto the FugroAmericas or other vessels of opportunity.
Fifth Sapura-series pipelay vessel nears completion
Royal IHC has launched the pipelay vessel Sapura Rubi at its shipyard near Rotterdam.
This is the fifth vessel with a 550-ton top tension capacity that IHC is supplying to Sapura Navegação Marítima, a joint venture between SapuraKencana and Seadrill.
Like sister vessels, Sapura Diamante, Sapura Topázio, Sapura Ônix and Sapura Jade, Sapura Rubi will be used to develop oil fields in waters up to 2,500 m (8,202 ft) deep for Petrobras.
The new vessel will be equipped with a pipelay spread designed and built by IHC, and two below deck storage carousels, respectively with capacities of 2,500 tons and 1,500 tons of product.
A vertical (tiltable) flex-lay system will be permanently installed - the tower orientation is said to allow for maximum deck space.
An IHC-designed control system integrates each aspect of the pipelay spread to ensure required levels of performance, safety and reliability, the company added.
Ultra Deep orders another newbuild DSCV
Ultra Deep Group has contracted China Merchants Heavy Industry to build an Ultra Deep Installer multi-purpose diving support construction vessel.
The vessel, which is based on the proprietary Red Class 6027 MT design DSCV, will be a DP-3, 142-m (466-ft) diving support construction vessel, with planned delivery in 1Q 2018.
This new Ultra-Deep DSCV will be equipped with Flash Tekk's 24-man twin bell saturation dive system.
Other vessel design features are a 400 VLT in the reinforced moon pool area and equipped with twin 24-man SPHL. The vessel also has 2 x 250 hp work class ROVs with 3,000-m (9,842-ft) working depth installed in ROV hangers inside the vessel. •