Sarah Parker Musarra
Editor
The publishing ofOffshore magazine's 2015 World Survey of Stimulation Vessels coincides with a down market, one that has remained depressed along with the price of oil. Although prices have stabilized somewhat for the time being, they are still far from the standard industry benchmark of $100/bbl.
It is in markets like this that projects are shelved or delayed, or canceled entirely. Expensive, complex offshore operations, however, cannot necessarily be delayed or halted, and operators might focus on shaving exploratory drilling campaigns or taking extra measures to ensure that their existing assets are producing as long as possible, as efficiently as possible.
Offshore contacted the stimulation vessel contractors participating in the survey to gain greater insight into their fleets and the market in general. This year's survey finds that vessel contractors of all sizes are still investing in and adding to their fleets - perhaps a positive indicator of how they view the market's future potential.
Schlumberger
Yet even while investment in this specialty market is ongoing, it has also felt the impact of lower oil prices. Brian Goddard, global vessels group manager for Well Services for Schlumberger, said that the stimulation market has been somewhat dampened.
"Obviously, the oil price environment's affecting everybody," said Goddard. "In a stimulation vessel, what we're seeing is that there are some clients that have been reducing work scopes. There have been some high-end projects that have been canceled or shifted to later. We are seeing, in many cases, more conservative types of operations in many places such as Angola." He added that the company still saw a great deal of opportunity and was optimistic in the longer-term future.
Like most companies included in this survey, Schlumberger has tinkered with its fleet over the past year. According to Goddard, the company claims the number one global market share for stimulation vessels.Big Orange 25 was decommissioned and Ramya was added. The Indian Register of Shipping, also known as IRClass, reported in July that it converted Ramya from an offshore supply vessel to a well stimulation vessel in a timetable of around seven months. The vessel is now operating in the Middle East.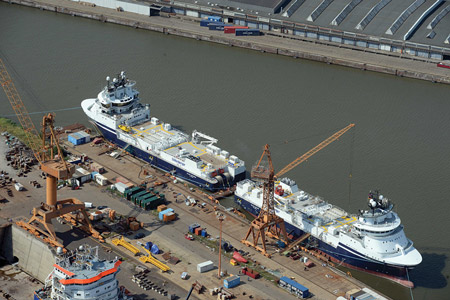 Schlumberger officials say that 60% of its dedicated fleet has been converted to stimulation vessels since 2009, making the majority of the fleet around five years old or less. (Photo courtesy Schlumberger)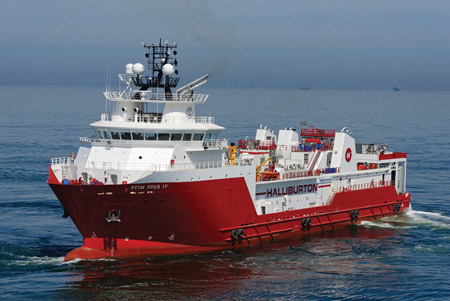 Halliburton'sStim Star IV is a new addition to its fleet, and is designed for the GoM's Lower Tertiary. (Photo courtesy Halliburton)
Goddard said that 60% of Schlumberger's dedicated fleet has been converted to stimulation vessels since 2009, making the majority of the fleet around five years old or less.
Some of the technology aboard the vessels was tested in the unconventionals market before migrating offshore.
"UltraMARINE seawater-based fracturing fluid makes use of seawater [when possible] for our fracturing fluid solutions," Goddard explained. "Since seawater is readily available, UltraMARINE dramatically reduces the number of trips that we need to make back to the port and makes operations more efficient."
With the offshore market's extensive spread rates, Goddard said that the company strives for operational excellence and minimal downtime. To this end, the company introduced its Global Vessels Group in 2009, which oversees the fleet and maintains consistent standards.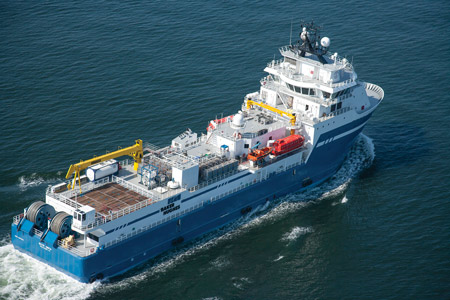 Baker Hughes'Blue Orca is designed for North Sea conditions, and can perform a series of well stimulation and sand control operations without the need to return to port and resupply. (Photo courtesy Baker Hughes)
Automation technology aboard the vessels allows products to be process-controlled to mix on-the-fly.
Halliburton
As part of an industry whose technology is constantly evolving, stimulation vessel technology has also changed over the years. Halliburton says its focus has been to increase the flexibility and capacity of its fleet, noting that by being in the unique position of designing and manufacturing its own equipment, it is well equipped to meet changing market needs. One advantage of this flexibility is that vessels that were designated for a particular market in the past are now able to shift markets.
Halliburton currently has the largest well stimulation fleet surveyed with 13 vessels, having augmented their line-up with two vessels while decommissioningSkandi Fjord. Since last year's survey, Rami Yassine, Halliburton's global operations manager of Production Enhancement, explained that the company has added the Stim Star IV in the Gulf of Mexico, and will add the Stim Star Brasilat the end of the year.
Stim Star IVfeatures an extended capacity to stay on station for extended periods of time without returning to shore to refill, which the company points to as one feature specifically designed to tackle the risks associated with the GoM's Lower Tertiary play. The new design incorporates a larger material capacity with equipment redundancy to enable increased efficiency and reliability while performing multiple treatments in a single voyage. Additionally, it has enclosed equipment, acid-on-the-fly capability, and added redundancy of blenders, horsepower, and three hose reels.
Halliburton also performed a number of upgrades to theStim Star in West Africa. The vessel received a new control house, with its proppant handling system automated and its acid blender brought up to current control design. Real-time remote monitoring and control is now available, and the vessels are capable of utilizing Halliburton's latest stimulation technology, including its KelaStim acidizing service, AccessFrac stimulation service, and Conductor fracturing service.
As an example, theStim Star Angola recently completed a KelaStim chelant-based acid treatment in Pinda field in offshore Angola. Halliburton says that the result was an increased incremental production of 31,000 bbl over the first 90 days, increasing the average daily production by more than 35% during this period.
Baker Hughes
Like any region, the GoM presents its own highly specific sets of challenges. Baker Hughes' Chris Malbrel, product line manager for Sand Control Pumping, explained that the company modified some of its fleet specifically to address these challenges.
"One of the classic trends we are seeing for the Gulf of Mexico is that we are looking to develop deeper wells, bringing new challenges," Malbrel said. "Moving from shallower waters to deeper waters bring you further out from the ports, where you need bigger vessels and higher pumping capabilities. We have increased horsepower and storage to address these trends."
Baker Hughes'Blue Dolphin and Blue Tarpon are fit-for-purpose for the GoM market.
As another example, Malbrel said that for the offshore Brazil market, the company has seen an increased need for acidizing because of the region's vaunted presalt layer and have been reacting accordingly.
"We have upgraded the storage and acid capabilities on our vessels, and are modifying the vessels to fit the requirements," he said.
Baker Hughes vessels have the ability to pump acid and frac fluid on-the-fly, so that clients do not need to prepare the fluid prior to pumping and only pay for fluid that is pumped.
While Malbrel sees that the drop in oil price has affected the stimulation market, he explained that, overall, he still sees reasons for optimism in the present and future markets.
"Deepwater is continuing on track," he said. "The shallower waters have seen some contraction, but not nearly as much as you see on land. What we see is that our customers are trying to work with less money, so that it brings different work from a stimulation standpoint. We see less completion work, and see more rejuvenation and stimulation of existing wells.
"For the customer, these barrels are more economical to recover. They don't need to drill a new well. There is a shift from conventional frac packing to remediation work. It is clear that we will see more of that and that our people are looking at options for existing wells."
Mehran Engineering and Well Services
Mehran Engineering and Well Services'Northern Genesis has received a number of major upgrades over the past year. Among other work, some of which was related to HSE, a DP system was installed and a 20-ton (18- metric ton) safe working load crane was placed on the vessel's aft. It has also received classification from Bureau Veritas. A stimulation control room was also added, with programmable logic control systems and related equipment.
Although it is currently operating in the Middle East, Mehran says that the vessel is able to perform global operations.
StimWell Services
Island Patriot, which BP regards as its global emergency response vessel, has also seen some modifications since last year's survey.
Currently working out of the North Sea, but capable of working in any region, StimWell designed and fabricated what it says is the world's first set of umbilical flotation buoys. These buoys are designed to remove the potential for damage to wellheads and pipelines from falling hoses should there an emergency disconnect while stimulating subsea wells.
The company has also installed electric heating elements in the main process fluid tanks to aid in brownfield stimulation work, providing the capacity to heat large quantities of water at sea.
A high-pressure downhole pump was also installed, raising the total available HHP to 14,000.Island Patriot's station-keeping abilities were improved through the installation of a second bow-thruster.•