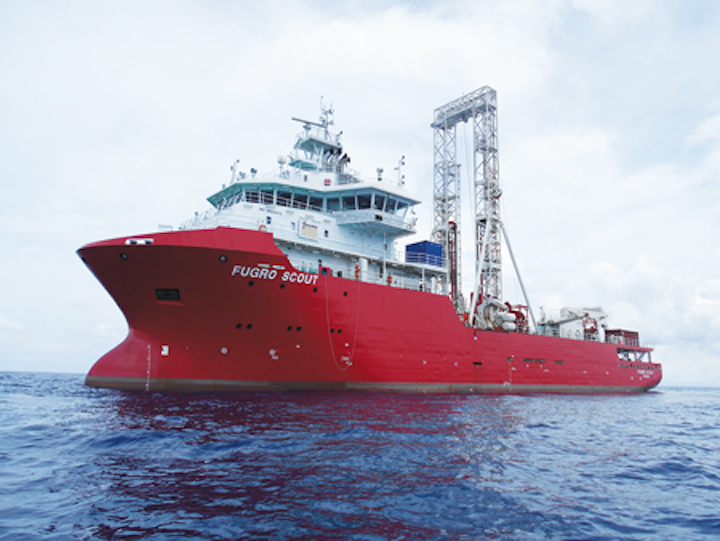 Robin Dupre • Houston
Floating LNG industry set for landmark project start-ups
The capex for FLNG vessels is expected to amount to $35.5 billion over 2015-2021, reported Douglas Westwood (DW). Spending on FSRUs will total $22.8 billion over the same period, taking the combined expenditure for the floating LNG market to $58.3 billion. There are huge interests in the pioneering projects that will drive market spend over the coming years, its analysis stated, with future commitments by operators to the FLNG market hinging on the success of these pioneering projects.
The delivery of Petronas'PFLNG 1, also known as thePFLNG SATU, will be the world's first FLNG vessel, with operations to start by the end of 2016. This will be followed by Shell's Prelude FLNG vessel, a significantly larger project. Construction of the 488 m (1,601 ft) long facility started in 2012 (the unit is being built by Samsung in Korea) and is expected to start up by 2017.
Following these is a second wave of new projects that are yet to be sanctioned but are expected to drive a growth in expenditure from 2019 onward. This includes major projects in frontier regions such as East Africa.
DW anticipates more floating regasification units are to be sanctioned, with Asia and Latin America being the dominant regions. Upcoming projects are visible in Indonesia, China, Pakistan, India, Vietnam, Bangladesh, and Sri Lanka, mostly led by national oil companies. Latin America will see deployments of floating regas units in Chile and Puerto Rico.
New DNV GL ship classification rules now available
DNV GL's new ship classification rules are available online for the first time. The new rules come into effect on Jan. 1, 2016.
Through the process of developing the new DNV GL rules, the group said more than 7,000 pages were reviewed, both internally and externally. In all, more than 2,000 detailed comments by yards, manufacturers, owners, academics, flag states, and other maritime stakeholders were submitted. This consultation resulted in more than 700 rule adjustments triggered by industry expertise.
One of the most significant advances in the new rules is the introduction of equivalent design waves (EDW) to calculate environmental loads. DNV GL said EDW enables a more accurate representation of these loads and consequently a more precise stress description of a vessel's structure.
DNV GL said that the reworking of the rules has allowed it to incorporate and integrate more modern tools and software, making them responsive to future developments. The rules also support the application of the latest technologies, including battery installations and hybrid propulsion concepts, gas-fueled readiness, and LNG bunkering vessels through additional class notations.
Maersk Resilient to drill in Danish North Sea
Maersk Drilling has won a $110-million contract from Maersk Oil for the jackup rigMaersk Resilient. The firm contract is for three years.
The rig will work at various fields in the Danish sector of the North Sea. It has been stacked at Invergordon in Scotland, where the rig has undergone various maintenance work.
The rig is equipped for high-pressure/high-temperature drilling, said Maersk Drilling, and is designed for year-round operation in the North Sea, in water depths up to 107 m (350 ft) with an available leg length below hull of 148 m (485 ft). The rig can accommodate 120 people.
Fugro Scout completes maiden project in the Middle East
The 83-m (272-ft) geotechnicalFugro Scoutdrilling vessel has deployed in the Arabian Sea and the Red Sea, completing several geotechnical and geophysical survey scopes for various clients. The vessel is currently in transit to the Netherlands to execute a geotechnical survey for an offshore windfarm in the Dutch sector of the North Sea.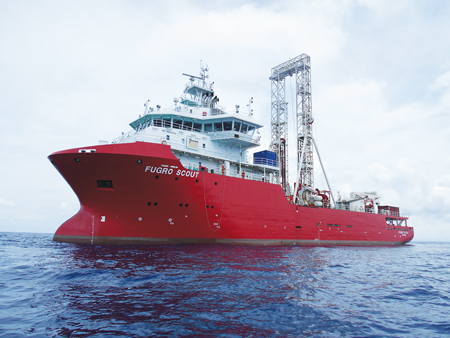 The 83-m geotechnicalFugro Scout drilling vessel is currently in transit to the Netherlands. (Photo courtesy Fugro)
The new vessel is specifically designed to address the varied demands of both the shallow and deepwater survey markets. With a twin tower drilling derrick over a centrally located moonpool, theFugro Scoutsupports automated pipe and tool handling equipment to promote safe drill floor operations. A large soil laboratory provides an open plan working environment for geotechnical operators. Other equipment includes both downhole and seabed sampling and testing systems rated for 3,000 m (9,843 ft) water depth. The vessel is equipped with a dynamic positioning station holding capability and is built to Comfort Class COMF-V(3) standards with quarters for up to 60 operational staff.
ABS grants AIP for MES FPSO design
ABS has granted Mitsui Engineering & Shipbuilding Co. Ltd. (MES) approval in principle (AIP) for a floating production, storage, and offloading (FPSO) vessel design and an epoch-making construction concept.
This work is the result of an ABS/MES joint development project that began in March 2015. The "noah-flex modular design" for the FPSO and the flexible construction procedure, "noah-flex modular construction," were granted AIP on Sept. 15. "ABS is working with the industry to develop and employ new technologies," said ABS Chairman, President, and CEO Christopher J. Wiernicki. "To effectively support Class of the Future, ABS has to provide the services the industry needs to make adjustments as operating conditions and markets change. Granting AIP to new technologies is an essential element of that future." "MES recognizes that ABS is our dependable partner and plays an indispensable role in developing and realizing such an epoch-making concept as our 'noah-FPSO hull,'" said MES General Manager Dr. Taketsune Matsumura.
The noah-flex modular construction processes consists of multiple steps that take place in parallel to shorten the construction time efficiently, with keel laying marking the commencement of construction. The first step of the project is FPSO design and hull construction, including propulsion and relevant machinery equipment/systems, which will be carried out by MES, Japan, while construction of the oil storage component takes place at another yard, outside Japan for example. Following this process, the topsides facilities will be fabricated and installed on the elongated hull, after which the completed FPSO will move to the specified operation site for hookup and commissioning. The FPSO design will be reviewed for compliance with the ABS rules and applicable international/national regulations to make sure the unit is in full compliance, particularly when executing transits from one shipyard to another during construction.