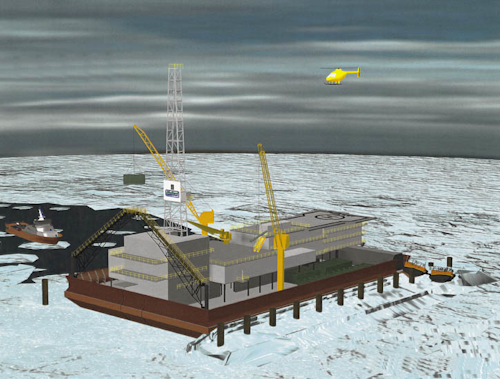 Marshall DeLuca
Houston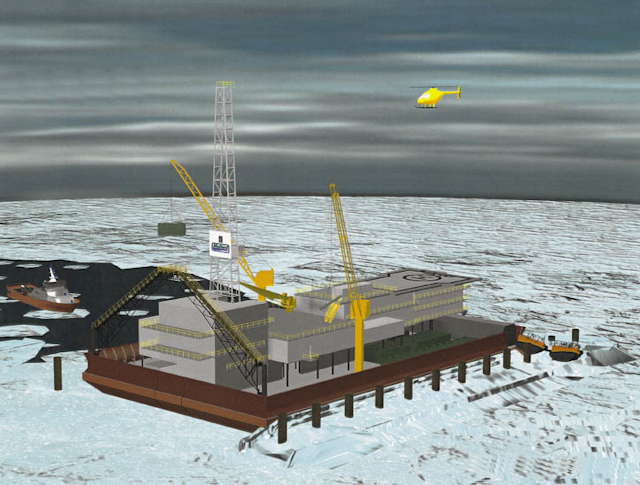 A computer-generated impression of the barge OKIOC will use to drill off Kazakhstan.
Caspian drill barge to begin operations this month
The nine-member international consortium Offshore Kazakhstan International Operating Company (OKIOC) will begin drilling its first well in the Caspian Sea next month. The company will drill on the Kashagan structure off Kazakhstan in four meters of water. To perform the drilling operations, the group contracted with US-based Parker Drilling for the world's first arctic-class high capacity, zero-discharge, posted drilling barge, which will be delivered to the consortium this month.
In order to meet the operational challenges of drilling in the Caspian, where ice pile-ups can reach several meters during severe winters, the barge underwent extensive icebreaking modifications based on a design by Hamburg-based IMPaC Offshore Engineering. Two sponsons, port and starboard, measuring 84.5 meters long by 16 meters wide by 5.5 meters high, were designed for the barge in order to withstand the ice loads. Each sponson has a 32-mm maximum plate thickness and weighs 1,100 tons. The sponsons were built at the Lindenau shipyard in Kiel, Germany and were towed to the Astrakhan shipyard on the Caspian Sea mid-last year.
The barge was working previously in Nigeria before undergoing modifications in Louisiana. The initial work was completed in mid-1998, and the vessel was towed to Astrakhan where it was mated with the sponsons. Now, final outfiitting is being performed. Delivery and first drilling was originally scheduled for the fall of last year, but the shipyard experienced delays with the mating. The vessel is due out later this month and is expected to begin drilling within 20 days of delivery.
The OKIOC is led by Royal Dutch/Shell and includes British Gas, Agip, Phillips Petroleum, the BP/Statoil alliance, Mobil, Total, and Indonesia Petroleum of Japan.
First Hoover/Diana hull section arrives
The first of two 17,000-ton hull sections for Exxon's Hoover/Diana deep-draft caisson vessel (DDCV) has arrived at the Aker Gulf Marine fabrication yard in Corpus Christi, Texas, with the second section on the way. The hull sections were fabricated at the Aker Mantyluoto yard in Pori, Finland and transported to the Texas yard. The second section is expected at the end of the month at which time the two sections will be mated together.
The completed Deep Draft Caisson Vessel will be 75 stories tall, weigh about 62,000-tons, and will be outfitted with both drilling and production facilities. The production facilities will be designed to handle 100,000 b/d of oil and 325 MMcf/d of gas.
The vessel will be delivered later this year with first production next year. It will be installed in 4,800 ft water depths located over the Hoover Field on Alaminos Canyon Blocks 25 and 26 in the Gulf of Mexico. The Diana field will be tied into the DDCV via six subsea wells. Production will flow through two pipelines 150 miles to shore. Once online, the DDCV will set a world water depth record for a drilling and production platform with an associated subsea development. The utilization of surface production trees in this water depth will also be an industry first.
P-35 on location
Petrobras has taken delivery of its latest production platform for the Campos Basin. The P-35 production platform is now moored on location on the Marlin Field in the Campos Basin off Brazil awaiting first oil, which is expected next month. The P-35 was converted from the tanker Jos? Bonifacio into a production platform by Hyundai Heavy Industries at shipyards in China and Korea. Construction was completed in mid-December and the vessel was transported in 80 days from Korea to Brazil. Once in Brazil, Petrobras underwent final modifications before sending it out to Campos.
The platform measures over 300 meters in length and more than 30 stories tall. The unit has a processing capacity of 100,000 b/d of oil and 3 MMcf/d of gas, storage capacities of 2 million bbl of oil, and accommodations for 100 people. The P-35 will operate in 860 meters of water on the Marlin Field. It will assist existing production infrastructure in bolstering production to 500,000 b/d of oil.
Largest US anchor handling vessel
Aker Marine Contractors (AMC) ensured that the legacy of their long-time mooring expert and president, Peter Dove, will live on in infamy offshore. The new anchor-handling vessel Seabulk Aker Dove was launched in February at Halter Marine's Moss Point facility in Pascagoula, Mississippi, and is jointly owned by Hvide Marine of Florida and AMC. The vessel was designed for conventional ultra-deepwater anchor handling operations and rig move operations.
The vessel has the capability to transport and install the new anchors being planned for deepwater, including both suction piles and AMC's patent-pending suction embedded plate anchor (SEPLA). It can handle extremely long lengths of the wire rope, spiral strand wire, chain, and/or polyester lines used in moorings for the drilling and production segments of the industry. The vessel has below deck chain lockers for storage of 30,000 ft of 3-in. diameter chain. Also, the vessel can perform light construction work, such as subsea manifold transportation and installation.
The Seabulk Aker Dove is the largest US-flag anchor handling vessel ever built, measuring 279 ft in length with a beam of 65 ft. The vessel is equipped with a triple-drum, 500-ton anchor winch on its centerline that has polyester handling capability. This winch is one of the largest in the world, with a storage capacity of 52,000 ft of 3.5-in. wire.
For overboarding mooring components, the Dove has a slotted stern arrangement and three independently-mounted stern rollers, one for each of three winches. It also has two side-mounted rollers at the sides of the slot for cross tensioning pre-installed moorings. The Dove is DP class 1 with the capability of DP Class 2. It has full azimuthing propulsion units in the stern and two bow thrusters, one of which is a 1500 bhp drop-down, azimuthing unit. The vessel also has an integrated 150 hp ROV with cursor system capable of operating in 10,000 ft of water, and accommodations for 52 people. The vessel will be operated by Seabulk Offshore, a division of Hvide Marine and will be commissioned for service in this summer.
Atlantic Marine to build platform support vessel
US-based Atlantic Marine and Astro Offshore of Brazil have signed a contract to build a 233 ft by 54 ft by 20 ft platform support vessel (PSV). The PSV will be dynamically positioned using two Ulstein 2000H Z-Drives, one Ulstein retractable Z-Drive bow thruster, and one Ulstein transverse tunnel bow thruster. The vessel will have 1,400 metric tons of deck load capacity and accommodations for 14 crew and six passengers. It will be used to support drillships, rigs, and FPSO's in the deepwater and harsh weather environments. Delivery is expected in December of this year.
Copyright 1999 Oil & Gas Journal. All Rights Reserved.