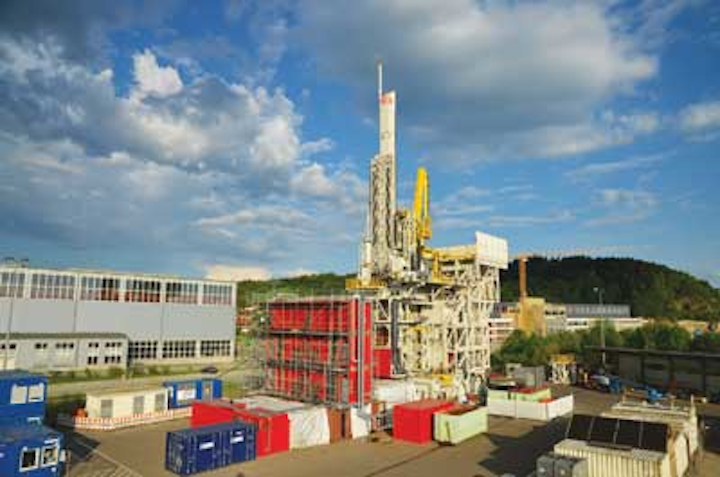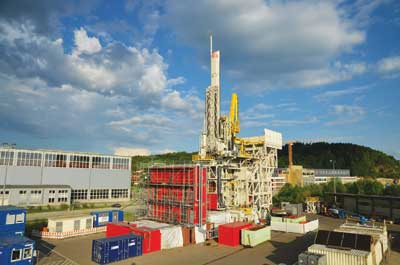 The newArcher Topaz modular rig fully assembled at the Streicher yard in Deggenau, Germany. (Courtesy Archer)
Crew-light rig eases platform personnel constraints
Jeremy Beckman
Editor, Europe
Statoil is preparing theHeimdal field platform in the Norwegian North Sea for an extensive well abandonment campaign, using an onboard modular drilling rig. Archer's new VDD 400.2 rig, the second in the company's fleet, will P&A 12 redundant gas production wells over a two-year period starting in late-2014.
Archer Topaz is a further development of the VDD 400.1 ArcherEmerald, which began its first assignment early last year drilling production wells from Shell Todd's Maui A platform offshore New Zealand, and which is scheduled to mobilize to the UK central North Sea early in 2016 for development drilling from Talisman Sinopec's new MonArb platform. Max Streicher's drilling division built both rigs in Deggenau, Germany.
Archer's modular rig is designed for swift assembly on most offshore platforms, typically over a period of up to three weeks, using the platform's cranes. Once assembled, the rig can undertake most standard tasks ranging from tophole to cased hole drilling, managed pressure drilling, through tubing rotary drilling, coiled tubing/e-line/slickline intervention, and P&A workover. However, it is lighter and more compact than existing modular or platform rig options, according to Archer, and therefore easier to accommodate on the space-constrained decks of most of the olderNorth Sea installations.
It is also more cost-efficient, the company claims, for most conventional drilling/intervention tasks compared to reactivating or replacing a disused platform rig (along with the associated re-certification issues), or hiring a jackup or mobile offshore drilling unit. The drill crew compliment is relatively light, with 17 people needed to assemble and operate the rig, freeing more bed space on the platform for simultaneous maintenance and other programs. In Heimdal's case, there is a high level of congestion at present as the platform will also receive gas produced fromStatoil's Valemon field development toward year-end.
The VDD 400 Super Single Rig series comprise three main components: the drill floor and associated equipment, the active mud system, and the power generation system. The rig and mud system typically occupy a footprint of 14 x 12 m (45 x 39 ft) and weigh around 890 tons. The footprint (and weight) of the power generation system varies depending on the available power supply on the platform. On Heimdal, the power package, including control rooms and HVAC equipment, weighs 128 tons.
Both the existing VDD 400 rigs are driven by rack-and-pinion systems, a new concept for North Sea drilling. Streicher, previously a specialist in land rigs, originally developed the technology early in the previous decade for horizontal drilling, including under river crossings, and later worked with Shell on a vertical format suited to onshore oil and gas wells in the Netherlands. Design and construction of the first modular offshore version, VDD 400.1, began in 2008.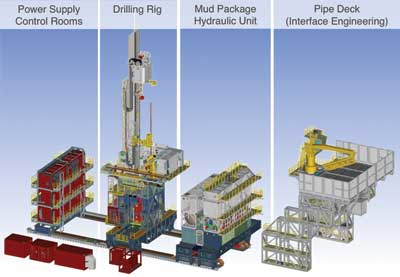 Overview of modular drilling rig VDD 400.2. (Image courtesy Streicher Group)
Aside from Deggenau, Streicher maintains yards near Berlin and in the Czech Republic that supply skids for the rigs. "This spread of facilities allows us to meet tight order schedules," said managing director Peter Romanow. "We also engineer and produce our own top drives (up to 200 tons) and our own hoisting systems."
According to Andreas Beck, Streicher's head of design and development, the VDD 400 series features an automated pipe handling system that can deploy single drill pipe Range 3 lengths, up to 14.5 m max, with 400-ton pull capability below the 190-rpm top drive. "Construction of the rig is fully modular, with a maximum module weight of 12 tons, so it is easy to lift the equipment onto a platform even in bad weather. If the platform's crane allows for heavier loads, complete packages can be lifted to save rig-up time, which is typically around three weeks."
All modules, including the self-erecting mast system, are certified and tested according to DNV's 2.7-3 standard for offshore lifting.
Displaying 1/2 Page 1,2, Next>
View Article as Single page