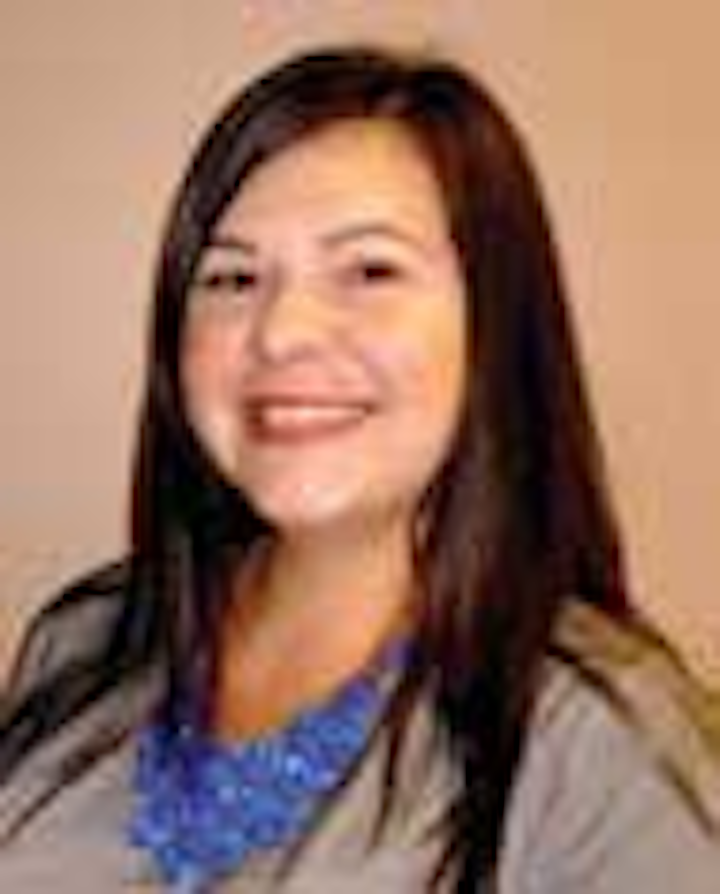 | | | |
| --- | --- | --- |
| | | Robin Dupre • Houston |
Ceona has successfully floated theCeona Amazon, the company's new fully owned field development vessel, in Bremerhaven, Germany. The vessel was towed-out from the Crist yard in Poland, last April.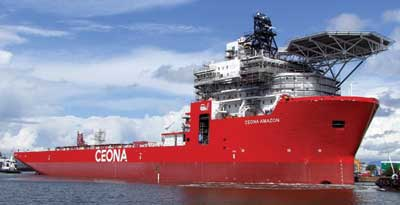 Ceona Amazon (Photo courtesy Ceona)
A major construction milestone was reached at the Lloyd Werft yard in Bremerhaven, and is set for completion at the end of November 2014. All machinery, equipment, and the helideck have been installed, with accommodation, piping, and electrical outfitting in progress. System commissioning is due to commence in the next few weeks. Once work in Germany is completed, the vessel will move to the Huisman yard in Schiedam for installation of a 570-ton (517-metric ton) pipelay tower and the two 400-ton (363-metric ton) cranes before entering into service in early 2015.
CeonaAmazon is a 653-ft (199-m) deepwater field development vessel. With a carrying capacity of 5,000 tons (4,536 metric tons) of flexible or 8,500 tons (7,711 metric tons) of rigid pipe stored on and below the 4,600-sq m (49,514-sq ft) deck, the vessel is equipped with twin 400-ton AHC cranes capable of working in tandem lifting mode, innovative on-vessel pipeline fabrication capabilities (welding, NDT, and FJC), and a drillship-design hull operability.
Rowan Viking rig upgrade completed
Damen Shiprepair Vlissingen has completed an upgrade of a Keppel Fels N-Class drilling rig, theRowanViking, one of the largest in the North Sea, in 30 days less than was initially projected by the client.
The scope of the project involved extending three legs by 33 ft to 591 ft (10 m to 180 m), a five-yearly special periodic survey, and bringing the rig up to standard for the acknowledgment of compliance (AoC) certification required by the Norwegian authorities.
To achieve this goal, Damen Shiprepair Vlissingen adopted a new approach: a project execution plan that allowed the three aspects of the contract to be undertaken simultaneously. To enable this to happen, changes had to be made both to working practices and to the organization of the yard itself, Damen stated.
The use of a Mammoet crane and Palfinger's JUMP system were also critical elements. The PTC crane was delivered on more than 100 trucks and was erected to a height of 656 ft (200 m) on special permanent foundations installed to bear the loads. This allowed the rig to remain at sea level and the leg extension pieces to be lifted directly from the shore on to the legs for installation. Palfinger supplied the platforms that allowed the engineers to move up and down the legs at heights of up to 525 ft (160 m) for fitting and welding.
Oceanteam Shipping partners with Pacific Radiance
Oceanteam Shipping ASA has secured, through its joint venture DOT Holdings AS, an interest in a newbuild offshore support vessel, resulting in a partnership with Pacific Radiance Ltd. Closure of remaining conditions are expected to be finalized in the coming month.
Once full closure is reached, the initial interest of DOT Holdings AS is 50%, but the investment comes with an option to buy the remaining 50% after a period of seven years against agreed terms.
Ulstein Group introduces design for harsh conditions
Ulstein Group has introduced the X-STERN, a vessel design feature that increases operability through positive effects on station keeping, wave response, comfort, and safety in harsh conditions.
An X-STERN vessel can stay on position in harsh weather with the stern toward waves, wind, and current. For vessels where the best possible motion characteristics are vital, positioning the X-STERN toward the weather instead of the bow will be the captain's natural choice.
The X-STERN leads to reduced pitch and wave drift forces, and also eliminates slamming. Positive effects are reduced power and fuel consumption while on DP, or the possibility of operating in a wider sector with the same power consumption.
The X-STERN has several of the same characteristics as the X-BOW, and additional ice operation capabilities. Its gentle displacement reduces acceleration, pitch, and heave, improves comfort and safety, and increases the operational window. There will be no sea on deck, and reduced ice buildup in cold climates, due to the stern shape and enclosed nature of the aft deck.
Strategic Marine unveils Generation 3 vessel
Generation 3 (Image courtesy Strategic Marine)
Strategic Marine has unveiled itsGeneration 3 crew transfer vessel for international offshore markets. The new 40-m (131-ft) design has been in development since 2013. In assessing areas to upgrade the model, Strategic Marine focused on a more efficient hull; increased passenger, fuel, and water capacities; higher payload; and increased comfort.
"The key benefit we can pass on is the major saving in fuel achievable at speeds from 20-30-plus knots," said Reece Newbold, head of Group Business Development. "An actual saving in horsepower of 10% at all speeds below 25 knots and even greater reductions in horsepower over 25 knots have been realized. What this means in real terms is a reduction in horsepower and fuel consumption to achieve the 25 knots currently specified by a large number of charters."
The hull has been designed with adaptability in mind, and the propulsion packages can vary with a client's engine preference. The seating cabin has been increased in size and can cater for 100 passengers. Improvements to the cargo deck area have also been made, featuring a clear deck area of 120 sq m (1,292 sq ft).
TheGen 3 can also serve security/patrol boat duties, emergency response, oil spill recovery, firefighting, general workboat duties, or as a shadow vessel.