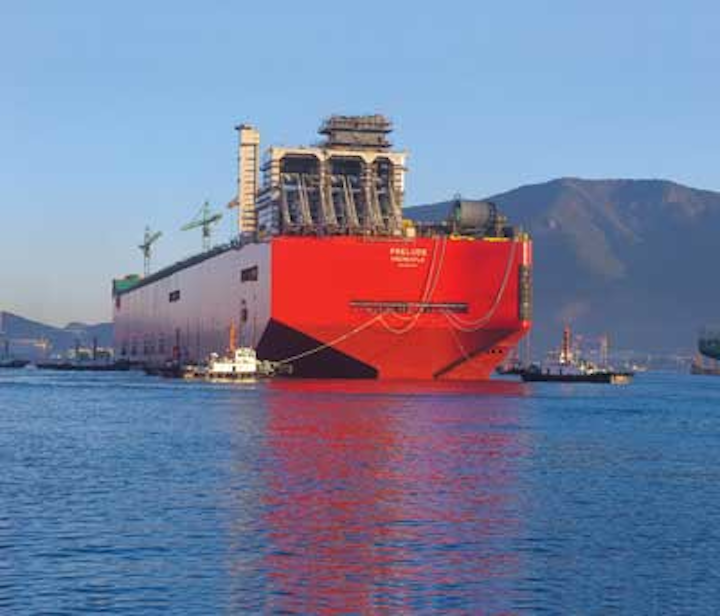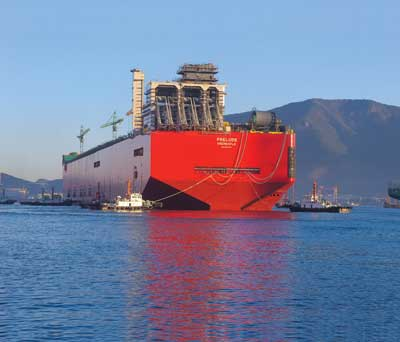 The hull of Shell's Prelude FLNG project is under construction at the Samsung Heavy Industries shipyard at Geoje, South Korea. (All photos courtesy Shell)
Equipment will moor the FLNG facility off northwestern Australia
Gene Kliewer
Technology Editor, Subsea & Seismic
Shell's Prelude FLNG project offshore northwestern Australia continues to push the technology boundaries with a number of "firsts." The mooring turret system for the vessel is no exception. At almost 100 m (328 ft) in height it is the largest in the world. This part of the system weighs 4,300 metric tons (4,740 tons) alone.
The turret construction contract is held by Dubai Drydocks World and consists of five parts, all shipped from Dubai to Geoje, South Korea.
"The first module was completed in September 2013 and loaded onto a ship for transport to Geoje, where it was installed into the hull before it was floated," said Marjan van Loon, VP Development LNG & Integrated Gas for Shell. "Once complete, the 93-m (305-ft) high turret will be the largest non-disconnectable internal turret in the world."
One design target is the ability to stay on location in all sorts of weather up to and including Class 5 cyclones. The turret is designed to swivel, or "weather vane" as the prevailing winds and ocean currents change direction, while the turret moorings remain fixed to the ocean bottom.
The turret mooring system consists of four groups of four lines, a total of 16, that reach from the vessel to anchor points in about 250 m (820 ft) of water depth. The lines are made of a chain and wire combination that connect the turret mooring system to seabed anchor piles that are 65.5 m (215 ft) long and 5.5 m (18 ft) in diameter. The chain links are about 1 m (3.2 ft) long and are among the largest ever manufactured. The chain connectors are designed to affix the vessel substructure to the mooring lines for 25 years.
The turret also connects the subsea flowlines/risers between the subsea production equipment and the Prelude vessel. The vessel is 488 m (1,600 ft) long, 74 m (243 ft) wide, and will weigh 600,000 metric tons when its cargo tanks are loaded.
Theturret was designed by SBM Offshore in Monaco and built at Dubai Drydocks World starting in 2012. It will join the FLNG vessel at the Samsung Heavy Industries shipyard in Goeje, South Korea, where the facility is under construction.
Once complete, Prelude FLNG will operate in a remote basin around 200 km (124 mi) off Australia's northwest coast, for around 25 years. It will produce about 3.6 MM metric tons (3.96 MM tons) of LNG a year, along with 1.3 MM metric tons (1.43 MM tons) per year of condensate and 0.4 MM metric tons (0.44 MM tons) per year of LPG.
The vessel topsides processing installation will turn the natural gas produced by the subsea wells into liquid natural gas for delivery into specialized ships that will take the gas to shore. In this manner, there is no need for a pipeline to shore and the dredging that would accompany it, nor for a shore-based processing facility to turn the produced gas into LNG. It will be the first-ever application of Shell's FLNG technology.
"An FLNG requires a somewhat different approach compared to conventional LNG carriers," said van Loon. "Normally, LNG carrier cargo tanks at sea are either completely full or empty, whereas an FLNG facility will fill over time as the gas is processed on board and stored, and will only partially empty when an LNG carrier loads.
"Therefore, the LNG tanks have been designed to withstand cargo liquid motion forces, or sloshing forces, when only partly full."
From 2005-2011, Shell participated in a joint industry program looking at the fundamentals of sloshing.
"We performed full scale (1:1) and large scale (1:6) focused wave impact studies in flume tanks," said van Loon. "Scaling and hydro-structural effects were investigated. The studies delivered new insights into physical phenomena of sloshing, revealed complexities of fluid interactions against actual LNG membrane systems with raised elements, and advanced industry knowledge and methods."
As a result of this study, Shell's FLNG design has a dual row of tanks based on GTT MKIII containment system, with a reinforced primary membrane and a triplex secondary barrier. Sloshing damage prevention measures and enhancements to the design reinforce the containment system integrity. Instead of the standard single row of membrane tanks that one might find on an LNG carrier, an FLNG facility will have pairs of side-by-side tanks.
Displaying 1/2 Page 1,2Next>
View Article as Single page