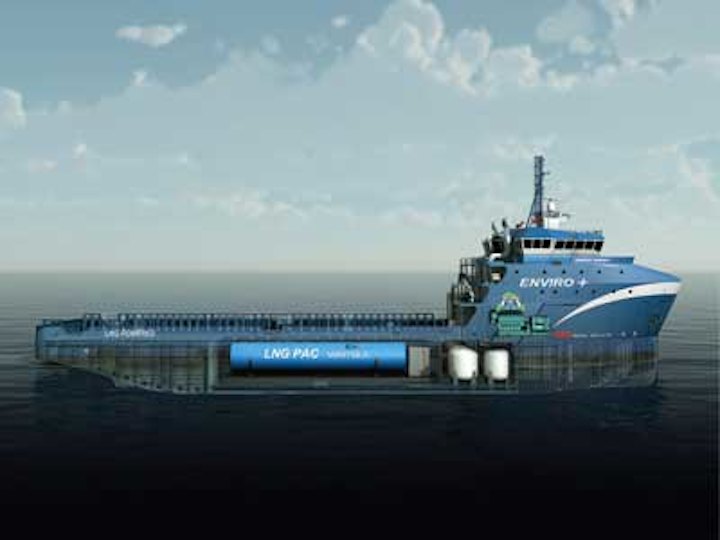 Roy Bleiberg
ABS
Chad Verret
Mike Carroll
Harvey Gulf International Marine
John Hatley
Wärtsilä
New regulations will soon require vessels operating within the North American Emission Control Area (ECA) of 200 nautical miles of the US, Canada, Puerto Rico, and the Virgin Islands to meet a 0.1% fuel sulfur emissions content limit. With Jan. 1, 2016, set to ring in the world's strictest emissions content standard, vessel owners operating in these areas must identify solutions to lower emissions or face the consequences of noncompliance. This includes owners of offshore support vessels (OSVs) in theGulf of Mexico (GoM).
Options for meeting compliance include using ECA-compliant blends of ultra-low sulfur fuel, using exhaust gas scrubber systems to remove pollutants from the emission stream, or switching to an alternative marine fuel such as LNG. While all of these solutions are effective to some degree in reducing NOx, particulate matter, and SOx discharges, using LNG as fuel shows the most promise as a "best available technology" with long-term economic and environmental benefits. US regulators, classification societies, and early movers in industry are all onboard in the first wave of LNG-as-fuel initiatives under the US flag.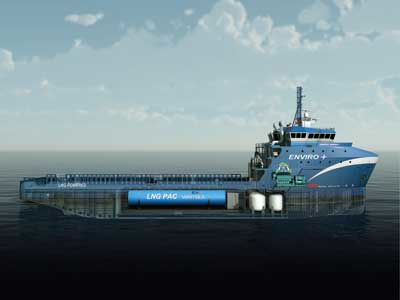 The first LNG-powered OSV vessel is expected to begin working in the Gulf of Mexico in late 2014 using dual-fuel engine technology to reduce emissions and costs. (Image courtesy Harvey Gulf)
"Going green" in the GoM
Green initiatives aimed at building dual-fuel fleets and using LNG propulsion technology are providing the framework and best practices for gas-fueled vessels operating in US waters. In 2011, Harvey Gulf International Marine LLC decided to build a new generation of Jones Act-compliant OSVs that have the capacity to burn both diesel and LNG as fuel to service the US GoM offshore market. These OSVs are the first LNG-powered vessels to be built in a US shipyard under the auspices of the US Coast Guard (USCG) and classification society ABS.
In addition to the work involved in vessel design, the project scope for the first six dual-fuel OSVs required developing regulations and processes to address the technical challenges related to their design, construction, fueling, and operational capabilities.
It is important to recognize that LNG propulsion technology is not new. Finland's Wärtsilä developed the concept and implemented it 11 years ago on a platform supply vessel (PSV) working for Statoil in the North Sea. The PSV has since benefitted from hundreds of thousands of hours of sea experience accumulated from several hundred dual-fuel engines operating in ocean trades onboard LNG carriers. Dual-fuel diesel electric propulsion also has been the technology of choice for LNG carriers for 10 years, with 81 of these carriers in operation (23 under ABS class) and 102 on order, of which 33 will be under ABS class. Nearly three-quarters of LNG carriers on order today will be built with dual-fuel capabilities. In the GoM, however, the application of dual-fueled LNG-powered propulsion on OSVs will be a step change in energy economics and efficiency that can improve environmental stewardship, and reduce fuel costs and consumption over the lifetime of a vessel.
At the time Harvey Gulf made its decision, there were no US regulations in place for vessel owners and operators to understand and evaluate the risks associated with using LNG as fuel. Classification societies assist regulators and industry with addressing operational safety and performance issues that may arise when existing technologies are used in new applications. ABS brought its experience with dual-fuel propulsion LNG carriers and 50 years of experience in the safe and efficient use of LNG. With input from industry and US regulators, the class society developed guidelines and technical standards for the arrangement, construction, installation, and operation of machinery components and systems for these first LNG-capable vessels.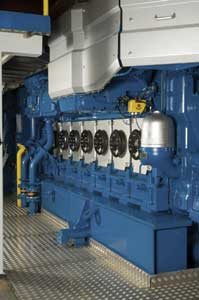 The Wärtsilä 6L34DF dual-fuel technology provides 100% redundant backup should a switch from one fuel to another occur without any interruption in power generation. (Photo courtesy Wärtsilä)
Establishing a design basis
Because US regulations were not yet in place, Harvey Gulf and designer Vard Marine submitted a proposal to the USCG that would help the federal agency establish an equivalent level of safety comparable to that which is required for traditional OSVs found in the published regulations of 46 CFR Subchapters I and L. In determining a baseline for developing design criteria, the companies turned to the published standards applicable to gas-fueled vessels, namely the International Maritime Organization (IMO) Resolution MSC.285 (86), or the "Interim Guidelines on the Safety for Natural Gas-Fuelled Engine Installations in Ships" (Interim Guidelines), and the ABS Guide for Propulsion and Auxiliary Systems for Gas Fueled Ships (ABS GFS Guide). After receiving the formal request to use the above standards as a design basis, supported by specific arrangement plans, the USCG accepted the proposal and provided a design basis letter outlining the requirements to establish an equivalent level of safety.
The USCG has since established a formal policy letter currently applicable to gas-fueled vessels – the CG-521 Policy Letter No. 01-12, dated April 19, 2012, and titled, "Equivalency Determination – Design Criteria for Natural Gas Fuel Systems" (USCG Policy Letter). As such, the regulatory framework was set for a US-flagged LNG-fueled vessel.
Displaying 1/2 Page 1,2Next>
View Article as Single page