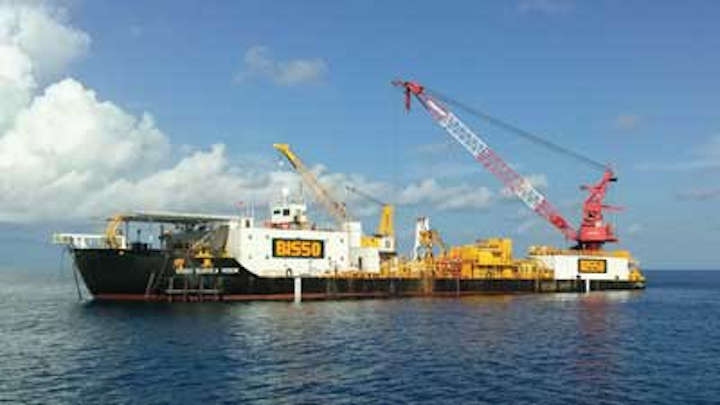 Ted Moon
Special Correspondent
Offshore's 2014 Heavy Lift Vessel survey includes a few new names and several new vessels since the last survey in 2012. The total number of heavy-lift vessels on this year's survey is 107, a sizable increase from the 84 vessels listed in 2012's survey.
For inclusion on the survey, vessels have to meet a lifting criterion of at least 100 tons. The uptick in new vessels on the market—vessels that not only can lift greater loads but also provide other services—is in response to the increased level of heavy-lift demands and activities in deepwater fields across the globe.
The companies who have added the most new heavy-lift vessels to their fleets include Big Lift Shipping, who only had one vessel,Happy Buccaneer, listed in 2012. The company added two Happy S-type vessels, the Happy Star and Happy Sky, to its fleet in 2013 and 2014. Both ships have a lifting capacity of two times 900 m tons (992 tons), combinable to 1,800 m tons (1,984 tons), and extended cranes to provide more lifting height and outreach. Big Lift also added five Happy D-type vessels, each with two times 400 m ton (441 tons) main cranes and 120 m ton (132 tons) forward cranes that provide a combined lifting capacity of 800 m tons (882 tons).
Several other new vessels are available from EMAS AMC, which has five vessels on the list, each with multifunctional capabilities. TheLewek Crusader, for example, is a multi-purpose construction vessel equipped with DP3 dynamic positioning, two remotely operated vehicles (ROVs) and a heavy-duty crane capable of lifting 400 m tons (441 tons). The latest addition to the EMAS AMC fleet, the Lewek Constellation, is an ice-class, DP-3 vessel with a 3,000-ton crane and a multi-lay system that can support both rigid and non-rigid pipelines.
SapuraKencana Australia is another new entry to the heavy-lift survey this year, with four vessels positioned to serve the Asia Pacific market. The company most recently took receipt of theSapuraKencana 1200 from Singapore's COSCO Nantong Shipyard Co. The ABS-classed vessel has a lifting capacity of 1,432 tons and a 10-point mooring system for working in shallow waters up to 200 m (656 ft) in depth. It is also equipped with a DP-3 dynamic positioning system, which allows it to carry out operations in water depths of up to 1,500 m (4,921 ft).
Vessel owners in the Gulf of Mexico (GoM) have also added to their fleets. Bisso Marine added theBisso 800 and Bisso Subsea Vision, both large vessels capable of installing platforms, platform risers and moorings and of conducting both surface and underwater pile driving. The Bisso 800 employs a stiff leg crane capable of lifting up to 800 tons at 75 ft over stern, while the Subsea Vision is equipped with a static main revolving crane with a 250-ton lift capacity.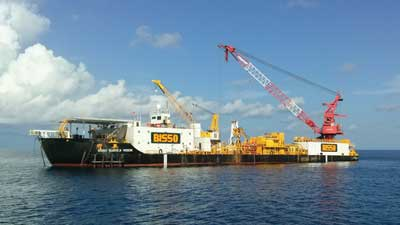 Bisso Marine'sBisso Subsea Vision is an ABS-classed vessel with a pipe storage capacity of 4,250 sq ft (395 sq m), pipelay and pipe burial equipment, and a lift capacity of 250 tons from its static revolving crane. (Courtesy Bisso Marine)
Saipem recently added theWei Li to its ranks, an ABS Ice Class B vessel with DP-2 station keeping capabilities and a lift capacity of 3,306 tons at 131 ft over stern. And Heerema Marine Contractors added the Aegir to its fleet in 3Q 2013. A deepwater construction vessel, the large craft is 692 ft long by 151 ft wide (211 m x 46 m), has accommodations for 305 personnel and a lifting capacity of 4,400 tons from its static main revolving crane. The size and capacity of the Aegir make it well suited for a range of installation and abandonment activities in water depths exceeding 10,000 ft (3,000 m).
New vessels coming
By the time this survey is conducted in 2016, the global heavy-lift vessel fleet should be markedly larger, both in terms of the number of vessels and their physical dimensions. Not only will these new vessels be larger, but also they will have to offer wider range of lift, pipelay, and subsea installation capabilities to execute complex projects more quickly and cost effectively.
Swiss-based Allseas aims to take delivery of thePieter Schelte single-lift platform installation/decommissioning and pipelay vessel in late 2014 and have it ready for offshore operations early 2015. The 382 m long by 124 m wide vessel (1,253 ft by 407 ft) will have a topsides lift capacity of 48,000 tons and a jacket lift capacity of 25,000 tons. In November 2013, Allseas announced plans to build a second single-lift vessel larger than the Pieter Schelte, which is to be delivered in 2020.
Petrofac is ready to move into the deepwater engineering, procurement, installation and construction (EPIC) arena with the commissioning of its first owned offshore construction vessel, thePetrofac JSD 6000. The vessel, which is still under construction by Chinese shipyard ZPMC, will be 216 m (708 ft) long and 49 m (161 ft) wide, with accommodations for up to 399 personnel and revolving crane with a 5,500-ton lift capacity. The vessel should be available to undertake contracts in early 2017.
Anticipating continued global growth in subsea production over the next 15 years, Subsea 7 has commissioned the construction of theSeven Arctic, a deepwater flexlay/subsea construction ship with a 3,000-sq m (32,292-sq ft) deck area and a 4,500-mt (4,960 st) deckload capacity. The vessel will include a knuckle-boom crane configured to install structures of up to 900 mt (992 st) in water depths up to 3,000 m (9,842 ft). The vessel's design will make it specially suited for installing heavier subsea manifolds, templates and caissons; larger and more complex subsea pipe spools; and deeper water flexible pipes. Subsea 7 plans to take delivery of the Seven Arctic from Hyundai Heavy Industries in South Korea sometime in 2016.
To learn more about this year's current global fleet of heavy-lift vessels, please see the insertedHeavy Lift poster, which can be found in this issue of Offshore.