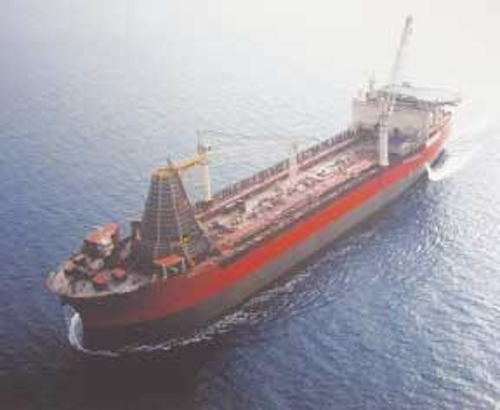 Judy Maksoud • Houston
FPSO heads for Newfoundland
In early 2004, Husky Energy named the FPSO that will produce the White Rose field in the Jeanne d'Arc basin off the coast of Newfoundland. TheSeaRose was officially named on Jan. 9 at a ceremony in Samsung Heavy Industries shipyard in South Korea.
"As all final facility components of the FPSO come together in Marystown, Newfoundland and Labrador, we are on schedule to expect producing our first oil by late 2005 or early 2006," John C.S. Lau, Husky Energy's president and CEO, said.
null
Installation of the topsides and hook-up and commissioning will take place when the SeaRose reaches Marystown. The turret and living quarters have already been installed on the vessel.
TheSeaRose has an ice strengthened hull and a detachable mooring system to ensure safe operations in the harsh environment of the Grand Banks. The double-hulled construction, based on a proven Samsung tanker design, has a storage capacity of 940,000 bbl of oil, which is about 10 days of production capacity. Peak production from White Rose is expected to reach 92,000 b/d.
The White Rose development is the third major oil field project in the Jeanne d'Arc basin, following Hibernia and Terra Nova.
White Rose partners are Husky Energy with 72.5% interest and Petro-Canada with 27.5% interest. Husky Energy is the operator.
Keppel units secure $65.4 million in contracts
Keppel Corp. Ltd.'s offshore and marine units clinched some significant contracts for work to be done this year.
The work covers an FSO conversion, construction of four anchor-handling tug/supply (AHTS) vessels, and upgrading a semisubmersible drilling unit.
Keppel Shipyard will convert the 1988 Aframax tankerM.T. Namsan Spirit to FSO Pattani Spirit for Teekay Shipping Corp. The FSO is to be completed in 2Q 2004 and deployed in the Gulf of Thailand for Unocal Thailand.
Keppel Singmarine will also build two 70-metric-ton bollard pull AHTS for Gulfmark Offshore Inc. and another two 65-metric-ton bollard pull AHTS for Hadi H. Al-Hammam Est (HHE). The vessels for Gulfmark and HHE are scheduled for delivery in 1Q 2005 and the 4Q 2004 respectively.
Meanwhile, AmFELS has won a contract to upgrade Diamond Offshore's semisubmersibleOcean America.
Based in Singapore, Keppel Offshore & Marine has a network of 16 yards around the world.
Keppel FELS signs rig agreement
In late January 2004, Keppel FELS Ltd. signed an agreement with a wholly owned subsidiary of the Skeie Group AS of Norway to build a Keppel FELS MOD V B class enhanced jackup. The jackup will be able to operate to 350 ft water depth and will be able to drill to 35,000 ft. Construction is expected to take around 26 months.
The owner has an option to order within the next four months an additional unit with the same technical specifications as the first unit.
Icebreaker deal advances
Kværner Masa-Yards and Far-Eastern Shipping Co. have signed a contract for construction of the first icebreaking stand-by and supply vessel. It will be 100 m long and will have a dead weight of 4,000 dwt. A second vessel is under consideration.
The icebreaker is to be delivered in May 2005 and will operate in the Okhotsk Sea near Sakhalin Island.
China to build new survey vessel
China's ministry of land resources received state approval to build a comprehensive geophysical survey vessel. It will have electric propulsion and dynamic positioning and will be outfitted with an ROV.
This vessel will be the first one of its type to be built from a Chinese design.
New liftboat for the GoM
Danos & Curole and Semco LLC have made the M/VDixie Patriot available to Gulf of Mexico operators. According to Danos & Curole, the M/V Dixie Patriot is the largest and most technically advanced liftboat in the world.
null
The 280-class vessel can work in water depths to 200 ft and is outfitted with two Seatrax 200-ton-capacity cranes mounted on its forward leg towers, allowing for a tandem lift of 400 tons at a 40-ft radius. The ABS classed and USCG certifiedDixie Patriot has over 11,000 sq ft of usable deck space, making it a unique platform to perform a wide variety of offshore project applications, specifically decommissioning and heavy-lift projects.
The companies are investigating contract opportunities for the vessel that will expand availability to emerging overseas markets.