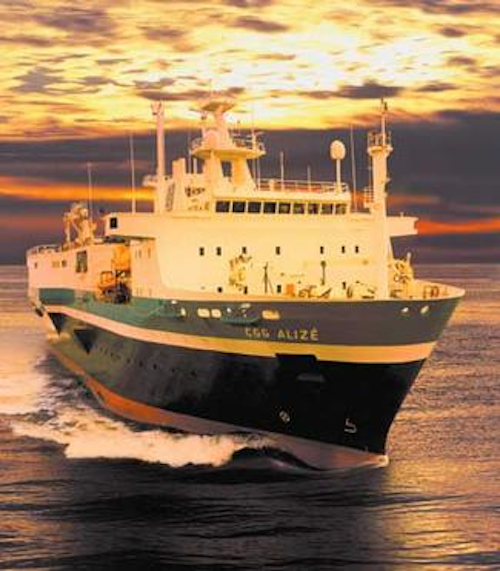 Vessel fleet reductions completed
Victor Schmidt
Exploration Editor
Collapse, compression, sorting, and realignment – these are all words that describe the painful sifting process that is occurring across the marine seismic industry. The industry is undergoing an equipment retrenchment in its continued search for the best economic mix of vessels and technologies to meet the seismic data needs of oil companies. The volatile history of the fleet records the changing technologies and shifting vessel types needed to service exploration programs.
The sharp increase in the number of new, enhanced vessels throughout the 1990s became economically unsustainable as the market changed. Now the fleet is being winnowed. The mix of vessels and capabilities is still in flux, but is led by a sharp upturn in the 2D seismic market, while older 3D-capable vessels are being removed from active service.
The past three years have been painful for seismic contractors in their struggle to keep vessels and crews busy. They responded to the smaller seismic acquisition market by retiring vessels, selling vessels for tasks outside of the seismic industry, and taking vessels off charter to return them to their owners.
null
With the shrinking fleet comes a concentration of seismic acquisition effort. Each company has focused its expertise as it competes for the available work. Each has kept its newest vessels and upgraded equipment to meet the anticipated needs of future surveying, whether for exploration or production purposes. Though the number of active vessels has dropped, the range of their capabilities is exceptionally wide and fully capable of meeting the acquisition challenges faced by the oil industry.
Offshore's survey covers 135 seismic vessels, including 36 vessels that have been removed, leaving 91 active vessels in the 2004 Seismic Vessel Survey.
Fleet reductions
As evidence of this change, WesternGeco has designated vessels that were removed from its fleet. Of its 51 listed vessels, 30 are permanently de-rigged or returned to their owners.
This 58% fleet reduction leaves WesternGeco with a younger, technically sophisticated fleet, similar in age to the other major competitors. Most of its remaining vessels were built in the 1990s. By removing so many vessels from the active fleet, the company has made a major effort to balance supply and demand. Four of its vessels use steerable streamer technology, showing that the company is not lessening the technology pressure on its competitors.
PGS Exploration has also helped balance the market by de-rigging six of the 18 vessels in its fleet listing. This 33% reduction leaves PGS with a 1990s age fleet, including theRamform vessels that energized the 3D seismic market throughout the 1990s.
Fugro has evolved into a significant fleet operator with 16 vessels. The company is dedicated to ocean bottom surveys (OBS), so its fleet is configured differently from the towed streamer contractors.
As oil regions mature, they gain many platforms and other marine obstructions that interfere with towed streamer operations. The OBS acquisition approach uses smaller vessels to move radio-telemetry systems in and around crowded producing areas. Ten of Fugro's vessels are dedicated to bottom-referenced surveying.
Veritas maintains its six-vessel fleet built in the late 1990s and early 2000s. It recently augmented its new-built fleet with solid streamer technology.
CGG Marine also has a fleet of 1990s era new-builds and upgraded older vessels. Its fleet has five vessels rigged for 3D towed-streamer surveying.
Market dynamics
Changing investment patterns by oil companies forced hard choices on the leading edge of the seismic industry's technology. Operators are expecting seismic contractors to tow streamers shallower and closer together for production operations. They expect contractors to return to single-source acquisition and to do this with new, expensive, low-noise streamers.
The "more is better" conventional wisdom no longer holds true for streamer surveys. Often the surveys shot are much smaller – less than 100 sq km – compared with the thousands of square kilometers shot in multi-client or speculative surveys. Eight or 10 streamers, if deployed efficiently (and with a vessel's ability to turn quickly at the end of short lines), may be more relevant for small surveys than towing the broadest deployable arrays used for regional 3D seismic acquisition.
Other streamer technologies are required for very deep investigations. Long-line 2D surveys are being collected with towed streamers over 10 km in length. Such deep acoustical probing is revealing basin reflections from 50-60,000 ft in the Gulf of Mexico. Towing such a long streamer is one thing, but keeping it aligned, in one piece, and processing the very long records collected creates another set of issues.
OBS is the most direct way to collect high- specification 3D seismic for understanding reservoir characteristics and tracking production efficiency. But it is expensive to gather.
The number of crews devoted to this work has dropped to only a handful; even though the industry can use the detailed data such surveys produce for tracking fluid boundary movement within the reservoir. Time-lapse (4D) seismic is easier to process if the receiver locations are consistent from one 3D survey to another.
Active fleet
A study of fleet changes over the last 25 years done by Jim Thompson, Fairfield vice president of operations, illustrates the industry's active response to oil companies' needs and the underlying drivers that forced change on the business.
The active fleet is defined as all seismic vessels that are fully equipped and ready for work, whether they are on a job or waiting for their next program. Vessels that have come off charter, are de-rigged, or are marked for sale are not counted in Thompson's tallies.
As of 2004, his active fleet is comprised of 106 vessels. The fleet expanded throughout the 1980s and 1990s with the addition of new 3D vessels and OBS crews. From a low of 33 vessels in 1980-1981, the active fleet grew to a maximum of 178 in 1994-1995.
The number of 2D vessels peaked at 45 in the 1994-1995 period, reached a minimum of 29 in the 1996-1997 period, and has rebounded to 31 vessels.
During the broad growth period and as the need for 3D surveys expanded, several larger 2D vessels were upgraded to 3D capability (2D/3D vessels). This is the main reason the population of 2D vessels diminished. Extra equipment and stronger engines were added to the larger 2D vessels, so that they could pull up to three streamers for 3D surveys. Now there are only 12 vessels in that portion of the fleet, which is down from a high of 26 in 1994-1995.
The remainder of the active fleet is composed of OBS vessels, including those that only tow air guns. OBS crews experienced a strong increase in use from 1991 through 1995 when that fleet expanded from 13 to 45 vessels. Use of OBS has diminished, so that only 17 vessels are active in the market.
Purpose-built 3D vessels eventually became the preferred platform because larger, more powerful vessels were needed to tow more and longer streamers. Enhanced computer power and navigational capability also required larger vessels to deal with the increasing complexity of multi-streamer 3D surveying.
WesternGeco'sEagle and four of PGS' Ramform vessels claims the current maximum tow of 20 streamers. Most regional 3D surveys are gathered by towing six or eight streamers. High definition production surveys over existing fields use tows of 12 or more streamers to record a larger number of smaller data-bins for greater reservoir resolution.
Mergers
The rise of 3D vessels and the decline of 2D vessels coincided with a business model dependent on multiple sales of speculative 3D data. This business strategy collapsed with the oil industry's consolidation, especially with the mergers of major oil companies in the 1990s. The mergers reduced the client base for multiple sales of multi-client speculative 3D surveys. This reduction forced a decline in the use of all vessels, with 3D and OBS vessels experiencing the largest drop.
The changing client market sent many acquisition companies into mergers or bankruptcy. Eagle Geophysical, GSI, Geosource, Geoteam, Grant/Norpac, Horizon, Seismograph Service, and Teledyne are the major players that disappeared from the market in the 1992-1995 period. Several oil companies sold their seismic fleets during the 1980-1990s including Arco, Gulf, Mobil, Shell, and Texaco.
The drop in 3D vessels in the 1998-1999 period was countered by a rise in 2D vessels beginning in 2000-2001. The reduction in seismic competitors and the increasing availability of vessels encouraged new players to enter the 2D market, primarily new Russian and Chinese firms: Caspian Geophysical, China Offshore Geophysical, DMNG, Large, MOG, and SMNG. State-of-the-art streamers and recording equipment were readily available from equipment manufacturers to facilitate their market entry.
Cost
Another telling element is the annual cost to operate a vessel. For purposes of general analysis, Thompson assigned monthly operating expenses (opex) to the different vessel types and annualized the monthly values across the fleet. A 2D vessel was assigned $750,000/month, a 2D/3D vessel's opex was estimated at $1,800,000/month, the newest 3D vessels need $2,800,000/month, and OBS crews require $5,500,000/month because three or more vessels are involved in each survey.
With 3D vessels costing three times the opex of 2D vessels, it is easy to understand why oil companies backed away from 3D vessels in favor of adequate 2D technology. Oil companies have focused on cost containment and use of surveys already in-house.
This does not mean that the oil industry is moving away from 3D data acquisition, only that is it is being selective in its use of 3D vessels for new surveys. The cost-conscious focus over the past few years has overshadowed some of the advantages of 3D surveys. The value of the 3D survey surpasses the 2D survey because of 3D's order of magnitude increase in bin density and its connectedness of data points. The added value of a high-tech 3D survey can be found in the reduced dry hole risk – a potential savings of $50-60 million per deepwater hole drilled.
The oil industry has had a remarkable improvement in its success rate offshore since the broad application of 3D seismic technology, both from better surveys and improved imaging. A new balance is beginning to develop between 2D and 3D vessel use. Operators are applying their monies more selectively and will establish what that new equilibrium will look like.
The process is painful for vessel owners. Many vessels are for sale only if they are sold to work outside of the contract seismic business. Other vessels are being offered for charter, or are de-rigged and stacked, waiting for an upturn in the market.
Seismic contractors are not renewing charters for leased vessels, but are focusing on keeping their newest, highest technology vessels active. Since these vessels comprise about 40% of the fleet, the contractors with large fleets feel the greatest economic stress.
Future fleet
For the first time in 10 years, 2D vessels are approaching the number of 3D vessels shooting seismic programs. The major commercial contractors are focusing their efforts on the high technology 3D market, where their newer vessels bring the latest technology to bear on exploration and production problems. Russian and Chinese vendors have taken over the 2D market using readily available older technology that is still suitable for regional 2D surveys.
Exploration spending on seismic surveys has declined, but the oil industry is beginning to see the value of production seismic for reservoir monitoring. Four-dimensional seismic can be gathered with towed streamers, bottom-referenced surveys using moveable equipment, or permanently emplaced trenched sensor nets. It is still undetermined which approach will be come the preferred technology, and it is still an open question whether 4D seismic will become the new norm.
Oil companies are still sorting through their future needs. How they use the fleet will determine its configuration. It is their decisions that ultimately shape the character and technology used by the fleet.
Oil companies have a full range of tools available to them to tackle any marine seismic acquisition project. If towed streamers can produce the data needed at an acceptable price, the fleet of 3D vessels will find expanding work in high-density 4D seismic. Once the oil industry expands the exploration of the world's oceans, these vessels will find their place gathering data for the 21st century's new marine oil provinces.
null
Editor's Note:De-rigged vessels are designated with (d), and vessels redelivered to their owners are marked with (r) after their name. SS denotes vessels using steerable streamers. An asterisk (*) following a company's name indicates that the company did not provide an update and that the contractor did not provide the listed information. Limited information is presented for companies that could not be contacted.