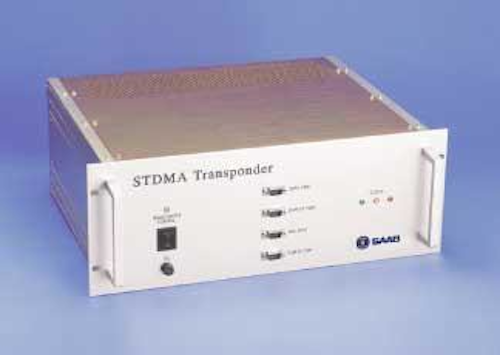 Saab TransponderTech is a leading supplier of AIS transponders and associated equipment that enable ships and mari-time administrations to participate in the automatic identification system (AIS). The technology is also relevant to the offshore industry, and can be used not just by vessels on the move such as shuttle tankers and supply boats but also by operators on an offshore plat-form to monitor maritime traffic in the vicinity.
AIS is becoming mandatory for most maritime traffic. The International Maritime Organ-ization (IMO) has made installation of the sys- tem part of the carriage requirements of the SOLAS (safety of life at sea) regulations. For most categories of vessels engaging in international voyages, including tankers, the deadline for installation is end 2004. Categories of vessels not affected by the IMO ruling may be obliged by local regulations to take AIS on board.
The primary objectives of the system are to enhance safety at sea and improve the safety and efficiency of navigation and protection of the marine environment. It achieves these aims by helping to identify vessels, assisting in target tracking, simplifying information exchange.
null
null
Situational awareness
The system also offers numerous advantages in situational awareness compared with radar-based systems, according to Anders Hellman, area sales manager for Saab TransponderTech. For example, it is quicker than ARPA radar in detecting the direction of turn of large vessels. Unlike radar, it can "see" around bends where a headland obscures radar coverage.
AIS is based on line-of-sight communication, so that ships within 25-30 nautical miles of each other can exchange information. This includes dynamic data such as position, course and speed, heading, rate of turn, and navigational status; static data such as MMSI number, IMO number, name and call sign, length and beam, and type of ship; and voyage related data, such as draught, type of cargo, destination, estimated time of arrival, and number of persons on board. Short safety-related messages can also be broadcast.
The system is a universal one, and the communication equipment must comply with an international standard. The equipment consists of a transponder with three main components: a GPS receiver, a VHF transceiver, and a controller. The GPS receiver provides accurate time synchronization. The controller then packs this information, together with position, course, speed and heading, static and voyage-related data, for subsequent broadcast on a digital data link via the VHF transceiver.
All ships within VHF range equipped with an AIS transponder can receive the message and unpack it. The position of the transmitting ship, its speed, name call sign, and other relevant information can be displayed on an electronic chart system on the bridge.
At the heart of the AIS system is the unique SOTDMA – self-organized time division multiple access – technology, whereby each participating vessel is automatically allocated its own time-slot for transmitting its data. Each one-minute frame in the VHF channel is divided into 2,250 time-slots, giving each slot a duration of 26.5 millisecs. Synchronization is achieved by reference to the universal time coordinator.
The system, therefore, makes it possible to update the dynamic information very rapidly. For a ship traveling at 23 knots or more, the update rate is two seconds, at 14-23 knots six sec, and up to 14 knots 10 sec. A ship at anchor will only transmit once every three min.
Using a different type of transponder, base stations can be established at fixed locations onshore, for use by bodies such as maritime administrations, coastguards, and port authorities. The base stations can be connected in a network. A base station can also be used by a fixed offshore platform. Saab was responsible for supplying the first offshore installation to a Mærsk platform in Qatari waters, where it is used to monitor supply vessel movements. The AIS transponder costs only half as much as the radar beacons currently deployed for this purpose on offshore platforms, Hellman claims.
Malacca Straits network
In addition to its sales of ship-based trans-ponders, the company has extensive experience of installing base stations. It has supplied 35 base stations in five regions in Sweden, which are operated by a private company on behalf of the Swedish Maritime Administra-tion. It has also supplied the equipment for 30 base stations in Finland.
The company is currently supplying an order to Poland. All countries in the Baltic region are required by the Helsinki Commission, an international body responsible for regulating maritime matters in the Baltic region, to implement the AIS system by July 2005.
Saab is also a leading supplier of AIS technology elsewhere in Europe, in the US, and in the Far East. Last year it supplied equipment for a network of base stations on the Malaysian side of the Malacca Straits, where it is installed at seven base stations and on nine offshore buoys. It has also made deliveries to Hong Kong and Korea, and is currently supplying systems to Japan and Singapore. Altogether it has supplied around 400 base stations worldwide.
Saab's ship-based transponder system is the R4 AIS, the fourth generation of Saab AIS. In addition to the small transponder unit, it includes a high-resolution 6-in. graphic display, which provides a radar-like presentation of up to 500 targets in the vicinity of the ship. The base station transponder is the R30 AIS, also a compact unit.
In practical terms the AIS system gives both officers on watch (OOW) on board ships and shore-based vessel traffic services (VTS) operators improved awareness of the position of ships and thus the ability to detect potential collision situations and avoid them.
In an offshore context, the system could be beneficial for slow-moving or stationary support vessels such as pipelay barges or construction vessels operating close to busy shipping lanes. Saab produces a portable ship-based transponder, the R3 Pilot Portable, which could be used as required – for example by tugboats operating in VTS areas. Such transponders could serve a number of vessels.
The system can also include helicopter movements, in which case collision avoidance and Search and Rescue (SAR) operations are two of the most significant applications. Accor-ding to Hellman, this could be applied in monitoring and controlling helicopter movements around production platforms. Later this year Saab aims to have approval for a transponder for use in helicopters and aircraft.
Once the system is in general use, it will also be possible to use it for national security purposes, by detecting unidentified or suspicious traffic.
For more information, contact Anders Hellman, Saab TransponderTech. Tel: +46 8627 4929, fax: +46 8627 4949. anders.hellman@transpondertech.se, www.transpondertech.se.