| | | |
| --- | --- | --- |
| | | Jessica Tippee Houston |
Royal Dutch Shell'sPrelude floating liquefied natural gas (FLNG) facility departed the Samsung Heavy Industries shipyard in Geoje, South Korea, at the end of June. The facility, constructed by the Technip Samsung Consortium, is being towed about 5,800 km (3,600 mi) to the Prelude gas field in the Browse basin, 475 km (295 mi) offshore Broome, Western Australia. On arrival, 16 pre-positioned mooring chains will be lifted from the seabed and secured to the vessel's 93-m (305-ft) high turret. Once secure, the hook-up and commissioning phase of the project will begin, which is expected to take nine-12 months.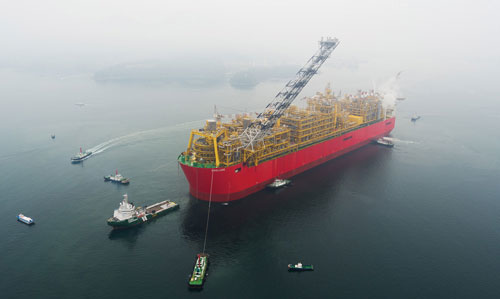 Prelude FLNG vessel began in October 2012. (Courtesy Shell)">
Construction of thePrelude FLNG vessel began in October 2012. (Courtesy Shell)
ThePrelude is 488-m (1,600-ft) long and 74-m (243-ft) wide. It is being towed by three tugs, each more than 75 m (246 ft) long. A fourth tug acts as an escort.
The FLNG facility is operated by Shell in joint venture with INPEX (17.5%), KOGAS (10%), and OPIC (5%).
Keppel updates conversion projects
Keppel Offshore & Marine's wholly-owned subsidiary, Keppel Shipyard Ltd. is preparing to deliver the world's first converted floating liquefaction vessel (FLNGV) to owner Golar LNG Ltd. The vessel, which measures 294 m (965 ft) LOA and 62.6 m (205 ft) in breadth, was namedHilli Episeyo at a recent ceremony in Singapore. It will soon sail to Cameroon to operate offshore Kribi for Perenco and Société Nationale des Hydrocarbures, and will be the first FLNG project in Africa.
Converted from a 1975-built Moss LNG carrier, theHilli Episeyo has a storage capacity of 125,000 cu m (4.41 MMcf). Sponsons measuring 206.3-m (676.8-ft) long x 10.5-m (34.4-ft) wide were fitted on both sides of the hull to house the topsides equipment comprising pre-treatment systems, four PRICO single mixed refrigerant liquefaction trains, boil-off gas compression, and offloading equipment. The vessel has a liquefaction capacity of about 2.4 MM metric tons/yr (2.64 MM tons/yr).
Oscar Spieler, CEO of Golar LNG, said: "Hilli Episeyo represents a game changer in the LNG industry with its fasttrack, low cost project execution."
In addition, Keppel Shipyard recently won three contracts for the conversion, repair, and modification of offshore vessels.
Dixstone Holdings commissioned the shipyard to convert theM/T Tempera into an FPSO for deployment on Perenco's Yombe field offshore Republic of Congo. It will replace the FPSO Conkouati which operated at the field for more than 25 years and was also converted by Keppel Shipyard in 1991. The scope for the replacement vessel includes installation of topsides process skids and a new accommodation module, amongst others. Work will start soon, with the vessel due to be delivered in 3Q 2018.
For MTC Engineering, the shipyard will perform repair work for the life extension and conversion of an oil tanker into the FPSOMTC Ledang, which will be deployed on the Ophir field offshore Peninsular Malaysia. Here the work includes fabrication of a flare tower and foundation; lifting and integration of the crude stabilization unit; and other refurbishment tasks. The completed FPSO is expected to leave the yard later in the current quarter.
Finally, Royal Boskalis Westminster has commissioned the shipyard to convert a semisubmersible heavy-lift vessel,Finesse, into a crane vessel, equipped with a 3,000-metric ton (3,307-ton) crane, DP-2 dynamic positioning, and accommodation for up to 150 people. The vessel, already berthed at Keppel Shipyard, will also be capable of transporting and installing offshore wind turbine foundations upon its completion in 3Q.
Shell acquires Stones FPSO for $1 billion
Shell Offshore Inc. affiliate Shell E and P Offshore Services B.V. has exercised its right under the charter agreement to purchase the FPSOTurritellafrom SBM Offshore. The vessel is contracted for the deepwater Stones field development in the Gulf of Mexico, which began production last year. Shell and SBM will work over the next several months to achieve a safe, smooth transition of the vessel operations.
The company selling the asset is a joint venture owned by SBM Offshore with 55% interest, Mitsubishi Corp. with 30% interest, and Nippon Yusen Kabushiki Kaisha with 15% interest. The transaction comprises a total cash consideration of c. $1 billion. It is expected to close in early 2018.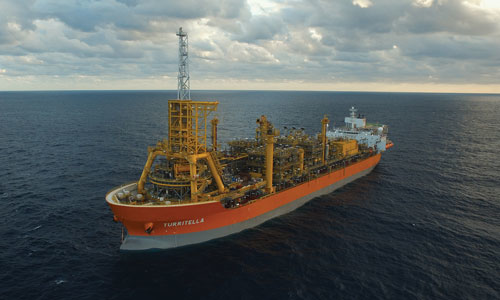 Turritella has a production capacity of about 60,000 b/d of oil and 15 MMcf/d of natural gas. (Courtesy SBM Offshore)">
The FPSOTurritella has a production capacity of about 60,000 b/d of oil and 15 MMcf/d of natural gas. (Courtesy SBM Offshore)
The net divestment proceeds, after taking into account the unwinding of the JV ownership and partner commitments, will primarily be used for project finance redemption and as such will decrease SBM Offshore's proportional net debt position.
The purchase allows a Shell affiliate to assume operatorship of the Stones development in its entirety, creating additional efficiencies through integration of subsea to surface operations.
The Stones development is located in 2,896 m (9,500 ft) of water about 320 km (200 mi) offshore Louisiana in the Walker Ridge area.
According to Shell, Stones is the world's deepest offshore oil and gas project and is expected to deliver about 50,000 boe/d by the end of this year.