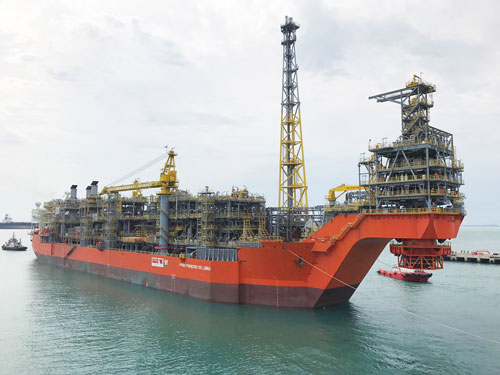 | | | |
| --- | --- | --- |
| | | Jessica Tippee Houston |
Teekay Offshore Group has reported that the FPSOPioneiro de Librahas arrived in Brazilian territorial waters following a voyage from the Jurong Shipyard in Singapore. The FPSO departed Singapore on March 28 and arrived in Brazil on May 17.
Since the christening of the FPSO in December 2016, the vessel has undergone commissioning and sea tests. During this period, more than 1,000 activities were carried out, including inclination and propulsion tests, in addition to other process systems.
The company says that during the trip to Brazil, other tests were carried out and, upon arrival, the vessel will undergo approval processes by inspection bodies and Petrobras. Then the anchorage and connection of the risers will take place. First oil is scheduled for July.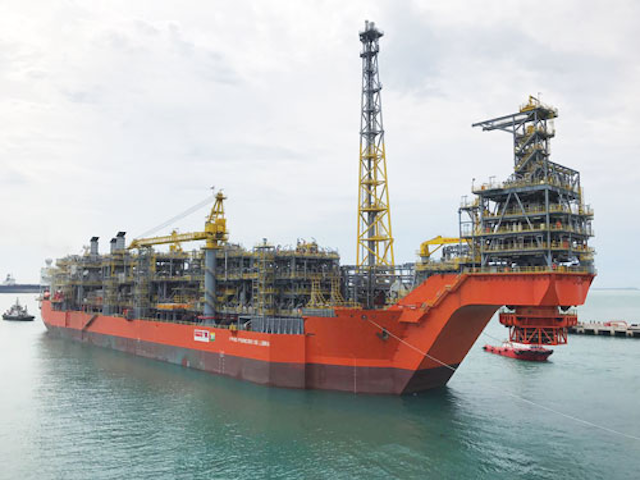 Pioneiro de Libra was converted from the 1995-built Suezmax tanker Navion Norvegia at the Jurong Shipyard in Singapore. (Courtesy Teekay Corp.)">
The FPSOPioneiro de Libra was converted from the 1995-built Suezmax tanker Navion Norvegia at the Jurong Shipyard in Singapore. (Courtesy Teekay Corp.)
The FPSOPioneiro de Libra will be the first to produce oil from the giant Libra field which covers more than 1,500 sq km (579 sq mi) in the presalt Santos basin. The field has estimated reserves of 8-12 Bboe. The unit can operate at water depths of up to 7,874 ft (2,400 m), with a production capacity of 50,000 b/d of oil and compression capacity of 4 MMcm/d of gas.
More than 4,000 people were involved in the project over the last two years, including more than 19 million man-hours of shipyard activities, without a single lost-time injury, according to Teekay.
OOGTK Libra, a joint venture between Brazil's Odebrecht Oil & Gas and Teekay Offshore, owns the FPSOPioneiro de Libra under charter to Petrobras.
Shelf Drilling acquires three jackups
Seadrill has agreed to sell three jackups to Dubai-based Shelf Drilling for $225 million. Seadrill adds that debt outstanding on the three rigs is $102 million, providing excess sale proceeds of $123 million.
TheWest Triton and West Resolute were due to have been delivered last month and the West Mischief during 3Q, after completion of its current drilling contract with NDC offshore Abu Dhabi.
Shelf Drilling claims to be the world's largest independent leg cantilever (ILC) jackup fleet contractor, with 36 ILC jackups and one swamp barge. It operates in shallow-water regions in the Middle East, North Africa and Mediterranean, Southeast Asia, India, and West Africa.
The company's main activity is development drilling and workovers on producing fields in water depths of up to 400 ft (122 m).
Recently the company took delivery of its second newbuild jackup, theShelf Drilling Krathong, which was due to depart Lamprell's yard in Sharjah in late April for a contract for Chevron offshore Thailand.
Its first newbuild, theShelf Drilling Chaophraya, started operations for Chevron Thailand in December 2016.
New drillship design garners ABS approval
Diamond Offshore Drilling's new Floating Factory drillship concept has received approval from ABS. According to the drilling contractor, the Floating Factory is a drillship designed with input from operators, third-party service providers, and equipment manufacturers that brings a production-line approach to deepwater drilling operations. The drillship was conceptualized as an asset that could adapt to carry out different functions for the entire life cycle of the well, changing from one operational phase to the next and reducing transition times between phases by carrying out some of the necessary functions off the critical path. It features deck space optimized for drilling and completions, 180-ft (54.9-m) drilling stands, advanced automation and robotics to reduce bottlenecks and controllable flat time, and an operating envelope of 13,200 ft (4,023 m) water depth.
"We understand the need to reduce well delivery times and improve economics to try to drive down the costs of offshore development," says Diamond Offshore Senior Vice President for Technical Services Karl Sellers. "We're rethinking designs and making enhancements based on input from customers and equipment providers, and we're relying on classification societies like ABS to help us validate our concepts."
Harvey Gulf expands fleet
Harvey Gulf International Marine has taken delivery of two vessels.
The first, theM/V Harvey Freedom, is the company's fourth LNG-powered offshore supply vessel. Built at Gulf Coast Shipyard Group in Gulfport, Mississippi, the vessel is 310 ft x 64 ft x 24.5 ft (95 m x 20 m x 7 m), US flagged Subchapter I and L, and is SOLAS (Safety of Life at Sea)-compliant. In addition to being powered by natural gas, the vessel is certified ENVIRO+, Green Passport by ABS.
TheHarvey Freedom will be based out of Port Fourchon, Louisiana, and will immediately begin a five-year charter with a major oil and gas company.
The company also took delivery of the first of two, large capacity multi-purpose support vessels (MPSV). TheHarvey Sub-Sea is a Jones Act-compliant 327-ft x 73-ft x 29-ft (100-m x 22-m x 9-m) MPSV, equipped with a 250-ton knuckle boom, heave compensated crane with 4,000 ft (1,219 m) of wire. The crane's winch is below deck, expanding her lifting capacity and enabling loads of 107 metric tons to be delivered to water depths of 12,000 ft (3,658 m). In addition, the vessel has 150 berths, all in one- or two-person rooms, 13,000 sq ft (1,208 sq m) of deck space, and a 24-ft x 24-ft (7.3-m x 7.3-m) moonpool. It has a S61 (Heavy) helideck and meets ABS DP2, SPS Code and MLC 2006 certification requirements.