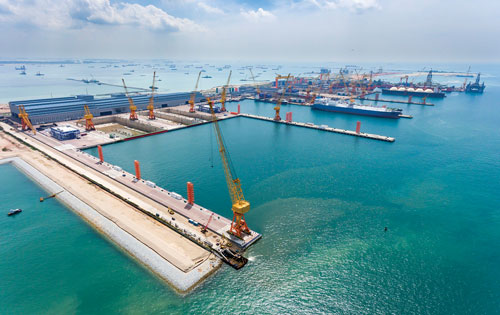 Singapore is the world's largest transshipment hub, with connections to 600 ports in more than 120 countries. The Port of Singapore includes terminals located at Tanjong Pagar, Keppel, Brani, Pasir Panjang, Sembawang, and Jurong. The four container terminals - Brani, Keppel, Tanjong Pagar, Pasir Panjang - and a multi-purpose terminal, Sembawang, are solely operated by PSA Singapore Terminals while one terminal, Jurong, is operated by Jurong Port. Singapore is also home to major shipyards including Jurong, Keppel, and Sembcorp Marine that specialize in jackup drilling rig construction and FPSO conversions. While the industry continues to grapple with an oversupply of rigs, the Port of Singapore and the shipyards are looking to capitalize on the growing liquefied natural gas (LNG) market.
In May, Pavilion Energy held the first capability demonstration of LNG bunkering in Singapore and Southeast Asia at Jurong Port, the country's main port of entry. The company demonstrated a truck-to-ship transfer of LNG from a shore-side tank to a 12-m (40-ft) ISO tank on board an offshore vessel. Bunkering time was between two and three hours, including set-up, safety checks, and de-mobilization. At -163°C (-261°F), the liquids were transferred through a cryogenic hose, with three trained operators on the shore-side station.
At the event Dr. Koh Poh Koon, Senior Minister of State, Ministry of Trade and Industry, said: "As the world's largest bunkering port, Singapore remains committed to ensuring that the maritime industry has access to cleaner marine fuels. We plan to be LNG bunker-ready as early as 2020."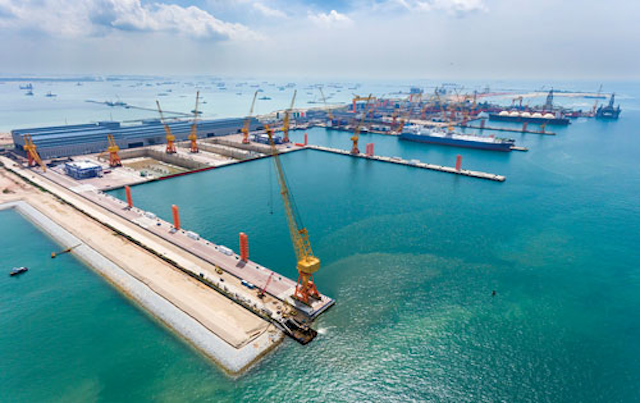 Phase II of the Tuas Boulevard Yard added three dry docks including one dedicated to rig building and repairs. (Courtesy Sembcorp Marine)
Besides the main terminal, Jurong Port operates the Offshore Marine Centre (OMC), a purpose-built common user waterfront facility for the offshore and marine industry. Established in 2011, the OMC provides a "single-stop" for wharf-side services, staging areas, transportation and logistics, and auxiliary services. Covering a total land area of 13 hectares in Tuas South Avenue 8, the facility features three heavily reinforced berths with a total wharf length of 320 m (1,050 ft) and a maximum draft of 5 m (16 ft).
Late last year, Keppel Offshore & Marine subsidiary Gas Technology Development signed a memorandum of understanding with Shell to jointly explore potential opportunities catering to the demand for LNG as a fuel in coastal areas, inland waterways, and the international marine sectors. Keppel Corp. has an existing joint venture with Shell, FueLNG, and has also secured its first two contracts from Shell as it looks to provide solutions for vessel owners turning to LNG as a marine fuel.
In January 2017, Sembcorp Marine completed Phase II development of the Tuas Boulevard Yard. Phase II spans 34.5 hectares, consists of two 150,000 dwt dry docks and one offshore dry dock dedicated to rig building and repairs, and has a quay length of 1,900 m (6,234 ft). It also features a 120,000-sq m (1.3 million-sq ft) steel fabrication facility that began operations in 4Q 2015.