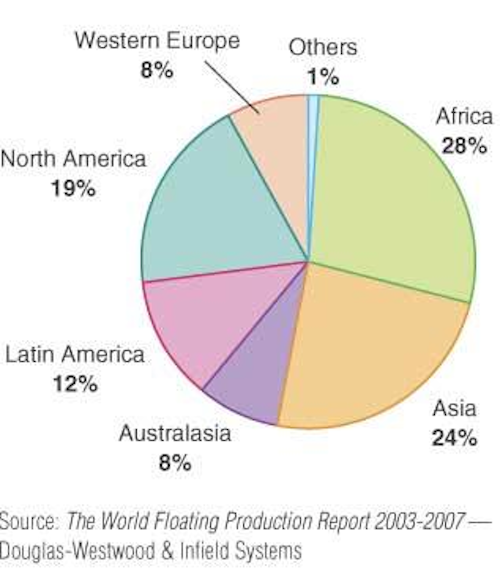 Dominic Harbinson
Steve Robertson
Douglas-Westwood Ltd.
Dr. Roger Knight
Infield Systems
The third edition of "The World Floating Production Report" recently published by energy industry analysts Douglas-Westwood and industry data specialists Infield Systems forecasts strong growth in FPSO, Spar, and TLP installations over the next five years. This article presents some of the thinking behind their views.
FPSOs dominate the global floating production scene. As of year-end 2002, there had been 118 FPSO deployments worldwide – more than all the other floating production systems (FPSSs, TLPs, and Spars) put together.
Recent years have seen a rapid expansion of the world's FPSO fleet. This growth was prompted in part by an increased demand for drilling units, which has reduced the number of semisubmersible rigs available for conversion to production platforms. International legislation, introduced largely in response to the Exxon Valdez disaster, that phases in requirements that tankers be fitted with double hulls provides further stimulus, since conversion of otherwise obsolete single-hull tankers into FPSOs enables the profitable re-utilization of depreciated assets.
Floating production systems
The first installation of a floating production system (FPS) occurred in 1975 when the Transworld 58, a converted semisubmersible drilling rig, was deployed on the Argyll field in the UK sector of the North Sea. Since then, a number of different floating production systems have evolved, including FPSOs, floating production semisubmersibles (FPSSs), tension leg platforms (TLPs), and Spars. Production barges have also been deployed in the benign environments of the Asia Pacific and off West Africa.
FPSOs are ship-shaped vessels deployed to produce subsea wells or wells located on offshore platforms. Their main distinguishing feature relative to other forms of FPSs is the ability to store produced fluids, which are then offloaded into shuttle tankers. Most FPSOs are converted oil tankers.
The key components of an FPSO are:
The vessel itself, which can be a newbuild or (more usually) a tanker conversion
The mooring system, which on many modern FPSOs is built upon a geostationary turret mounted inside the hull, leaving the vessel free to rotate to head into the prevailing weather. Such mooring systems are based on patented technologies and comprise a promising niche market
The processing plant, which is configured largely on the basis of reservoir characteristics and environmental factors. Water and/or gas injection and gas-lift facilities are commonly included.
A number of companies are now proposing FPSOs that incorporate drilling facilities (FPDSOs). Designs tend to target deployment in remote and/or harsh environments such as the Norwegian Sea. Although the FPDSO concept holds attractive possibilities, there are no indications that it will be adopted in the near future.
The world's first FPSO was introduced in 1977, on Shell's Castellon field in 117 m of water in the Spanish Mediterranean. The Brazilian operator Petrobras followed this lead by converting the Presidente Prudente de Moraes tanker and deploying it on the Garoupa field in 1978.
null
null
The reasons for the popularity of FPSOs as host facilities are not difficult to fathom. They offer large deck areas for processing facilities and plenty of vertical load-bearing capability to resist mooring and riser loads, all at economical cost and with relatively short lead times because tankers are produced in large numbers from shipyards worldwide.
FPSOs also have the advantages of allowing more flexible oil distribution and providing storage capacity for produced oil, which can eliminate the need for pipeline export networks. This factor is relevant off West Africa, for example, where offshore pipeline infrastructure is very limited and is restricted to shallow waters. Off Brazil, the existing offshore infrastructure is working close to capacity, and the extreme water depths of new fields mean that costs of shuttle tanker offtake from FPSOs compare favorably with the costs of installing additional export pipelines.
The FPS sector
Initial FPS installations featured converted semisubmersible drilling rigs, and in the case of FPSOs, converted tankers. These units tended to be deployed on marginal fields where the water depth and/or uncertainties as to the volume of recoverable reserves meant that development using a conventional fixed platform solution was too commercially risky. The FPS concept has since proved to be a cost-effective method of developing both marginal and world-class offshore fields.
The FPS sector has developed over time. Expansion of the world's floating production fleet has been particularly rapid over the last decade and is increasingly dominated by FPSOs. Although FPSOs continue to predominate, prospects identified by Infield show that other vessel types, particularly TLPs and Spars, may well become increasingly common among new installations. It is important to note, however, that these are prospects, not forecasts, and it is likely that some of the identified prospects will be delayed or abandoned.
Turning to the prospects for individual regions, Africa, Asia, and North America show many prospective installations through 2007. Activity in Latin America, predominantly off Brazil, appears likely to remain fairly constant, while Western Europe loses its status as the leading FPS theater and shows evidence of a fairly strong decline in activity. Only 11 FPS installations are likely there in 2003-2007, in contrast to the 18 installations in the 1998-2002 period. The region is the only one to register a decline in the number of vessels installed relative to the previous five-year period.
There are 131 FPSs planned and possible worldwide for the 2003-2007 period, although some of these may not move ahead in this timeframe. Together, Africa and Asia account for more than 50% of these prospective installations, with North America and Latin America together accounting for another 30%.
2002-2003
A number of factors impacted the FPS market in 2002-2003. Structural changes have taken place in the UK North Sea, where increases in the industry's tax burden have been coupled with indications that some of the majors are reassessing their positions in light of potentially more lucrative opportunities elsewhere
Political changes in Brazil in the wake of the election of a left-leaning president have led to a tightening of local content requirements. This factor, and the inevitable uncertainties that impending change provokes in a national oil company such as Petrobras, have contributed to slow progress on some significant projects
A number of experienced offshore contractors have been badly burned on large-scale deepwater turnkey engineering, procurement, installation, and commissioing projects. The suitability of lump-sum contracts in such high-cost and technically challenging contexts is increasingly being called into question.
As a result of these and other changes (including the delays that perennially affect FPS projects around the globe), our forecasts for the coming five years are slightly less buoyant than they were a year ago.
The Infield data on FPS prospects reflects these changes; 30 FPS installations forecast at the time of our previous report no longer figure on the database for the 2003-2007 period, while a further 42 FPSs have been moved back by one or more years.
Offsetting these "losses," there have been "gains" in the form of 26 new prospects that were not on the screen at the time of the previous report. The result is that over $4 billion in projects has moved back in time, while remaining on screen for the 2003-2007 period. This type of slippage is characteristic of the industry, and given the dynamic nature of the FPS sector, we fully expect to see further changes in the future.
Of all the world's major businesses, the oil and gas industry has perhaps the highest profile. Consequently, the industry is highly susceptible to disruption by antagonistic political forces. Examples include the incessant civil unrest in the Niger Delta, the disputes between Australia and the newly-formed nation state of East Timor, and the emergence of protectionist policies in Brazil, all of which have the potential to delay, modify, or halt ongoing and future projects.
null
null
Despite some occasionally striking changes at the project level, however, the long-term view remains fairly constant. The capex forecast here for the 2003-2007 period is down just 2% on the total forecast in the 2002-2006 report.
FPSOs represent by far the largest segment of the market, accounting for 67% of the forecast capex. The remaining capex is fairly evenly distributed among the other three FPS types (FPSSs, TLPs, and Spars), resulting in a global FPS capex forecast of $31.6 billion.
Within the FPSO segment, the exact mix of newbuilds, conversions, and upgrades/redeployments requ-ired to meet demand is impossible to determine precisely, though this will obviously have a strong effect on the capex levels within the segment. Our forecasts have assumed that the supply mix will include 28 conversions and 17 upgrades/redeployments.
There are four main drivers behind the continued demand growth within the FPS sector:
Continuing expansion in the use of subsea production technologies
The industry's move into deepwater
Exploitation of marginal fields
Growing emphasis on "fast-track" and/or phased developments.
On the supply side, the influence of globalization is already apparent, but is likely to be somewhat offset by national insistence on local content in the delivery of floating production systems and other components of offshore developments generally.
An active leasing market has emerged in the FPSO segment in particular – roughly 40% of the world's FPSO fleet and just under half of the North Sea fleet are owned by leasing contractors. In recent years, contractors have picked up a number of significant project awards based on the deployment of converted vessels – predominantly tankers and semisubmersible drilling rigs. The redeployment of modified/upgraded vessels, especially in the leased FPSO segment, is likely to play an increasingly important role in meeting the growth in market demand.
Regional markets
Africa and Asia account for more than half of the 116 vessels forecast for installation over the 2003-2007 period. North America will see 27 installations, followed by 15 for Latin America, six for Australasia, and four for Western Europe.
Africa, North America, and Latin America will account for 75% of forecast global capex. The relatively benign environments and shallow waters in which most of the FPS prospects in Asia are located enable cheaper FPS solutions to be adopted. Thus, although the region has 30 FPS units forecast for the period, its capex of $5.5 billion is lower than that forecast for North America and not far ahead of Latin America (Brazil), regions where newbuild solutions and/or higher specification vessels tend to be required.