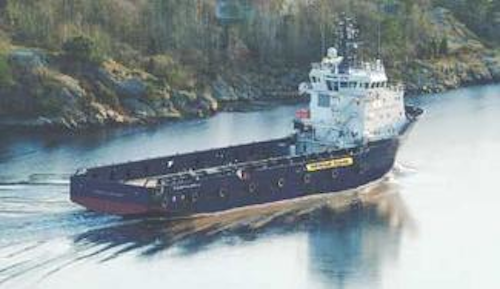 Judy Maksoud
FPSO conversion for SBM
Single Buoy Moorings, a subsidiary of IHC Caland, has been awarded a $500,000-contract from Petrobras to supply a leased FPSO for the deepwater Marlim Sul field in the Campos basin. SBM is to provide an FPSO that will be ready to produce first oil by the middle of next year.
The vessel will be a converted VLCC tanker purchased particularly for conversion. The FPSO will have a processing capacity of 100,000 b/d of oil and 81 MMcf/d of gas and operating depth capability of nearly 4,000 ft.
Dalia topsides awarded
TotalFinaElf has awarded a Technip-Coflexip Stena/Saipem/Stolt consortium a topsides contract for an FPSO that will produce the Dalia field in deepwater block 17 offshore Angola.
The FPSO will have 2,000-bbl storage capacity and will provide a production rate of 225,000 b/d, water injection rate of 410,000 b/d, and gas treatment rate of 8 MMcm/d. It will accommodate 120 people. The vessel will use a spread mooring system.
The FPSO will produce the 800 MMbbl Dalia field and will likely be used in future development as a hub for the Orquidea, Violeta, and Perpetua fields, which are expected to produce an accumulative 150,000 b/d.
New supply vessel for Seabulk
Seabulk International Inc. has purchased the Seabulk Africa, a newbuild UT-755L platform supply vessel built at the Simek Shipyard in Norway. The Seabulk Africa is a multipurpose vessel that will ferry equipment, supplies, and personnel to offshore platforms and rigs.
The 5,500-hp, 236-ft vessel will become part of Seabulk's West African fleet, which presently comprises 42 vessels ranging from crewboats to anchor handlers.
According to Hubert E. Thyssen, corporate vice president and senior vice president of marketing for Seabulk Offshore, the company's offshore vessels subsidiary, the new supply vessel "is equipped with the latest technology, including dynamic positioning and firefighting equipment, and is ideally suited to the deepwater West African market. The Seabulk Africa will be the flagship of our West African fleet."
null
Seabulk will bareboat charter two additional newbuild vessels from the Labroy Group in Indonesia for deployment in the Southeast Asia market. The Seabulk Padamyar, a 3,800-hp anchor-handling tug/supply vessel, and the Seabulk Nylar, a 3,800-hp PSV, have secured three-year contracts with a two-year option each with a major oil company.
Seabulk Offshore operates a fleet of 134 vessels in the Gulf of Mexico, Caribbean, South America, West Africa, Middle East, and Southeast Asia.
Contracts in motion for FPSO
Sembawang Industries subsidiary Sembawang Maritime Offshore Engineering is moving forward with FPSO construction. The company has signed a contract that covers fabrication and installation of FPSO topside facilities for Bouygues Offshore.
The contract encompasses fabrication and installation of topside facilities for ExxonMobil's ERHA FPSO for the deepwater ERHA field offshore Nigeria. SMOE will work with Sembawang Shipyard, in Singapore, to provide the bulk structural steel materials, including the main gas injection trains and generator modules as well as various utility modules. The topsides are scheduled for completion in 2005. In October 2002, Hyundai Heavy Industries in Korea was awarded a contract to build the FPSO.
Newbuilds for China
China National Offshore Oil Corp. subsidiary China Oilfield Services Ltd. has signed contracts valued at $80.96 million with four domestic shipyards for the construction of eight vessels for delivery by May 2004.
One of the vessels is a seismic/geohazard survey vessel that will be able to carry out seismic surveys as well as deepwater engineering for platforms or pipelines. According to COSL, this will be the first Chinese-built vessel equipped with dynamic positioning and with an ROV and other support for subsea operations. The vessel also has onboard facilities for testing subsea-to-onshore pipeline materials and construction.
COSL described the other seven units as "multifunctional oil field support vessels."
Dalian New Shipbuilding Heavy Industry, Guangzhou Whampoa Ship-building Plant, Wuchang Shipyard, and Shandong Huanghai Shipbuilding will build the vessels.
Matterhorn hull reaches completion
Keppel Corp. Ltd. subsidiary Keppel FELS Ltd. earned kudos along with a cash bonus for delivering detailed engineering and fabrication of Atlantia Offshore Ltd.'s Matterhorn SeaStar TLP ahead of schedule.
The Matterhorn TLP is the first to be built outside the US in accordance with ISO 9000:2000 specifications. Measuring 84 ft in diameter, the Matterhorn SeaStar hull, which is the fourth in the series, was built at a cost of $22 million. The newbuild will be the first SeaStar production platform supporting vertical access production flowlines running through a central moonpool and controlled by surface trees.
The TLP hull will be transported to the Gulf of Mexico for topside installation, after which it will work on the Matterhorn field in TotalFinaElf's Mississippi Canyon block 243 in 2,850 ft of water.
Jumbo readies new heavy lift concept
Jumbo is building two new generation super heavy lift vessels, the Jumbo Javelin and the Fairpartner. These two 11,000 dwt J-1600 class vessels will be the most powerful heavy lift cargo vessels in their class in the world, the company said.
Scheduled to begin service in October 2003, this eighth generation of Jumbo heavy lift ships is designed to provide greater lift capacity and outreach.
The super heavy lift newbuilds feature two state-of-the-art rotating mast cranes with a combined lift capacity of 1,600 metric tons at a maximum outreach of 28 m. The main hoists are supplemented with a range of other handling systems to increase general cargo handling capability. With a shallow draft of 6.5 m, the J-1600 class retains small port operational capability.
In order to increase operational flexibility, the deckhouse and bridge have been placed forward and only extend across half the deck width. This arrangement maximizes longitudinal deck space that is used to accommodate reactor columns, which can exceed 150 m in length.
The 143-m main deck can accommodate large topside process modules, and the deck width can be extended to nearly 40 m using fly-decks.