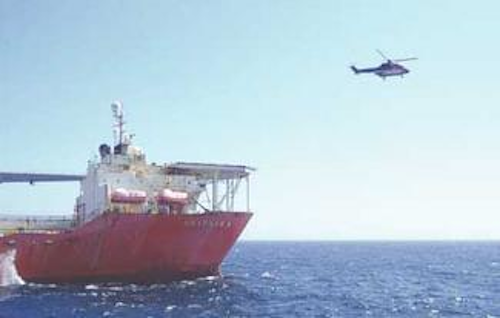 C.N.S. Systems has become part of a European Commission effort aimed at improving safety at sea and in the air. The company, based in Linköping, Sweden, specializes in communication, navigation, and surveillance systems, in particular very high frequency digital link (VDL) Mode 4 and automated identification system (AIS) communications.
Recently, it won a contract for the North European ADS-B Network (NEAN) Update Program (NUP), Phase II. One focus of the program for C.N.S. is improving safety during helicopter approach to offshore platforms, said Anders Sjöström, marine systems business area manager.
C.N.S.'s contribution includes VDL Mode 4 ground stations for installation on offshore platforms and at the home bases, and airborne transponders for helicopters. The intention is to increase the operational availability while at the same time increasing the safety on approaches. Also, the system will monitor non-controlled airspace, thereby improving safety at a much lower cost than before. Together with AIS, the system can provide a complete surveillance picture both at sea and for airspace.
A combined service would then be most efficient where the core of the system is a server that transfers information from AIS to VDL Mode 4 because the two are not directly compatible. The AIS and VDL Mode 4 systems can work together, but an intermediary, or server, must coordinate communications between the two. Using the two systems together is especially helpful for offshore installations, where there are frequent movements of helicopters and vessels. The first two offshore installations will be in Scotland and Stavanger, Norway.
null
Information transported via these ground stations can help ensure safety of helicopters, which often fly through air space lacking radar coverage when en route to platforms, C.N.S. Vice President Tommy Bergström said. Uncontrolled air space has aroused safety concerns in America, Australia, and Asia, he added.
VDL Mode 4, with a 19.2 kbps transfer rate, provides definitive information about each aircraft subscribing to the system. If two aircraft were on a collision course, their names – assuming both subscribed to VDL Mode 4 service – would be made available to facilitate communication and avert a collision, Sjöström said. Under the NUP plan, VDL Mode 4 equipment will tag all aircraft as traffic information service – broadcast (TIS-B) targets, and AIS will apply a similar treatment for all vessels. AIS transfers marine transponder data at 9.6 kbps. International regulations will require AIS equipment on most oceangoing vessels within the next couple of years.
Virtual transponders
AIS and VDL Mode 4 include both point-to-point and broadcast communications using a small amount of front-end information for data exchange. Data from VDL Mode 4 and AIS can be sent from a mobile vessel or aircraft or a stationary point. Sjöström said the AIS system will be able to predict potential conflict zones based on the speed and course of two vessels. Transponder data can also be sent virtually to simulate a message from a location to indicate potential threats.
One such use of the virtual transponder, or a shore station, would be to notify vessels of anomalies below the sea surface, Sjöström said. He cited last December's sinking of the Tricolor car carrier in the English Channel after a collision with a container ship in thick fog. This left the vessel submerged yet near sea level. By the end of January, three vessels had collided with the downed Norwegian cargo ship. A ground station would have transmitted safety messages about the Tricolor without requiring the presence of a vessel or aircraft at the site, Sjöström said.
The VDL Mode 4 system, which uses VHF, offers availability to multiple frequencies, so proprietary data can be sent and received. Because the service is based on the VHF system, airtime is free, unlike services relying on satellite links. The free airtime allows transponders on aircraft and vessels to frequently transmit position information. With all transmissions units tuned to the global position system, data transfer of multiple vessels and aircraft can be coordinated down to milliseconds. Under AIS, no transmission conflicts will occur. A transponder can select its own transmission schedule and will also be aware of other ships in the vicinity and their transmission plan.
The company is now considering pursuing "a combined unit for search and rescue and moving around oil rigs," Bergström said.
For more information, contact Anders Sjöström, C.N.S. Systems. Tel.: +46 13 35 22 90, fax: +46 13 35 22 99, email: anders.sjostrom@cns.se, website:.www.cns.se.
---
NUP goals
The NUP Phase II project focuses on developing and validating new air traffic management concepts based on automatic dependent surveillance – broadcast (ADS-B), which offers accuracy down to the meter. The work, sponsored by the EC Trans-European Transport Networks, is expected to lead to certification, safety approval, and operation of these concepts. Work on the program began in 1995, and Phase II is slated to run through 2005. While NUP Phase I restricted its attention to northern Europe, NUP Phase II branches out and draws portions of the North Atlantic and central Europe into the program.
NUP Phase II maintains the collaboration of airlines, air traffic control centers, and airports in establishing a European ADS-B network based on global standards. The network will include air and ground components. During NUP Phase II, participants will define and validate ADS-B-based applications. The NUP Phase II program is based on the use of the VDL Mode 4 technology as the ADS-B enabler.