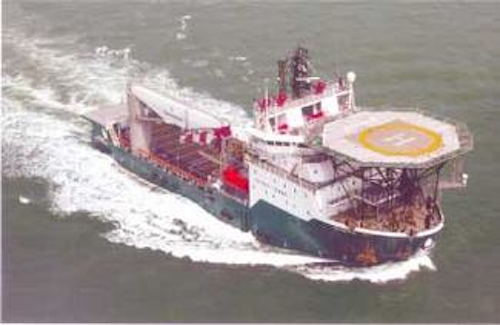 Groupe Bourbon's strategy is to become a major player in the deepwater market for offshore support, says Offshore Division Managing Director Christian Lefevre. "But to succeed in that market, you must be prepared to invest in new tonnage, and specifically new types of vessels with new specifications."
Deepwater multi-purpose PSVs figure strongly in the company's current shipbuilding program. Twenty-five vessels are under construction, which will eventually supplement a 132-strong fleet that includes 40 anchor-handler/tug supply (AHTS), multipurpose, and conventional platform supply vessels (PSVs).
Groupe Bourbon entered the offshore arena in 1991, when it bought a controlling stake in Marseille-based tug and vessel operator Chambon. It has since built a global presence through further acquisitions and a mixture of partnerships, joint ventures, and pooling arrangements.
Within the "consortium," the main company is Surf, a wholly-owned subsidiary of Groupe Bourbon, founded in 1973. Surf operates over 80 support vessels and crew boats, all registered under the French flag. Its main markets are off West Africa, in particular Angola, Cameroon, Congo, Gabon, and Nigeria. The workforce of 400 includes a high proportion of African seamen, all trained by Groupe Bourbon, Lefevre points out. "Our main clients include Total and ExxonMobil in deepwater projects, plus Agip, Amerada Hess, ChevronTexaco, and Marathon. In certain cases, we have five-year contracts with options for a further five years."
null
In Angola, Groupe Bourbon has a joint venture with Sonangol called Sonasurf, mainly providing deepwater support services. Three of its vessels were deployed to assist drilling operations for the Girassol project. Sonasurf owns seven vessels, three of which are under construction. Its major current contract, awarded in January 2002, involves providing marine services to Esso Exploration Angola in deepwater block 15. The spread there comprises five supply vessels, one tug, one anchor-handler/supply vessel, and one fast supply/intervention vessel.
Another alliance with Norway's Eidesvik, called Eidsurf, was designed initially to secure Surf a toehold in the North Sea. Eidsurf is, however, increasingly targeting West Africa. It has two new PSVs, both Vik & Sandvik designs, under contract to Total's Amenam project off Nigeria for 18 months. These are operated in partnership with Nigerian-based company Interoil Services.
Last year, Groupe Bourbon acquired respectively 51% and 33.5% shares in Norwegian contractors Island Offshore and Havila Supply. Island Offshore owns three large AHTS vessels, two of which are UT 722 LX-design newbuilds. Features include 20,000 hp, 500-metric-ton winches, and 237-ton bollard pull. One of the new vessels, the Havila Borgstein, has been contracted to ExxonMobil in Angola. Havila itself operates 24 ships, including seven PSVs and eight AHTS vessels.
Last July, Petrobras took another of the Island vessels on a two-year charter to work off Brazil. This was arranged through Delba Maritima. Groupe Bourbon bought 50% of this long-established Brazilian contractor in 2001. Delba owns and operates 11 conventional supply boats. Its main recent success was clinching an eight-year contract from Petrobras for three large anchor-handlers, under construction at the Fels Setal yard.
"These will be the first large anchor-handlers registered under the Brazilian flag," Lefevre says, "and we have plans to build another new vessel locally."
Finally, late in 2002 Groupe Bourbon also signed a cooperation agreement to finance construction of 10 new deepwater support vessels owned by Rigdon Marine in the US. All are being built at Bender Shipbuilding and Repair Co. in Mobile, Alabama, under a $15-million contract. Deliveries will be phased from early 2004 through 2005.
The design has been adapted for the deepwater sector by a Groupe Bourbon technical team working with Seattle-based Guido Perla & Associates. Rigdon will operate the vessels in the Gulf of Mexico, while Groupe Bourbon will market them internationally.
According to Gael Bodenes, responsible for Marketing and Business Development in the Offshore Division, the general thrust in the deep offshore sector is toward bigger, more powerful supply vessels with advanced firefighting capability and class 2 dynamic positioning.
"Deepwater operators are always asking for more redundancy. We are also increasing our vessels' capability for handling greater quantities of mud, fuel, cement, and water.
"In general, we are focusing on improving conditions for our crews, through better quality accommodation and through suppression of noise through special mountings. There was a study recently in the North Sea that showed accidents were being caused by fatigue.
"Our other emphasis is on the environment. We have fitted special tanks to store our reject materials, and also installed equipment for burning of refuse. And we are controlling emissions of exhaust gas from the main engines, in line with new regulations for the North Sea," Bodenes says.