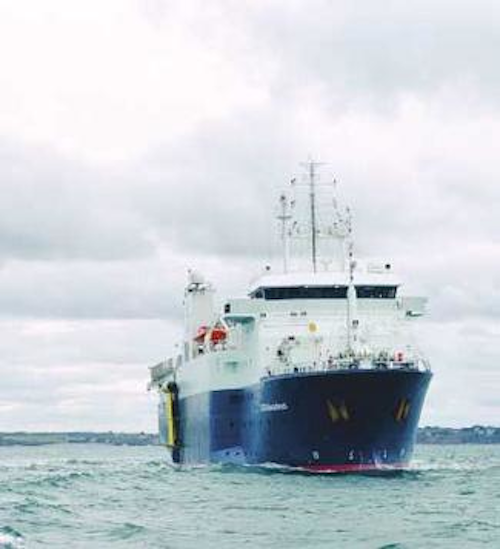 Last year ended with a setback for CGG, following a fire that sank its recently reconfigured vessel Mistral. Overall, the company bore up well in a declining market for geophysical services.
The Mistral was operating off Trinidad for BHP when the incident occurred last December. According to Rollin Delzer, CGG's vice president for business development offshore, the fire started in the engine room then quickly engulfed the entire vessel, which sank in 800 m of water.
The Mistral was on its second assignment following a six-month conversion at a shipyard in Bremerhaven, Germany. That program had included widening of the stern by 40% and a complete reconfiguration of the seismic decks. The data recording room had also been refitted, largely to accommodate a new spread of eight to 10 6,000-m Solid Seal streamers.
This equipment, supplied by CGG subsidiary Sercel, is a reduced-diameter solid cable with distributed electronics, designed for faster deployment and improved productivity in harsh environments in particular. The system had just completed its debut run, nearly four weeks ahead of schedule, on an exclusive 1,750-sq-km 3D survey offshore Morocco. "The system was much more robust than anticipated with the new handling systems working perfectly," Delzer says. "We were again way ahead of schedule when we moved it to Trinidad for BHP." The Trinidadian authorities are still investigating the cause of the fire. Delzer points out that there have been quite a few fires in the industry of late, so this was not an isolated incident. CGG will return to Trinidad with another vessel to complete the work.
null
Despite this setback, the performance of the Solid Seal system has persuaded CGG to equip the remainder of its five-vessel acquisition fleet, probably at the rate of one per year.
"Oil companies are very interested in applying this technology, particularly as they move toward 4D surveys," Delzer adds. "The vast majority of vessels in the industry have older streamer equipment, and sooner or later, they'll need to upgrade. Ours is one of the more modern fleets around."
Most of CGG's ships are booked on assignments through this summer. "Prices remain flat, but there seems to be demand for our services." In the Gulf of Mexico, the company is committed to multi-client surveys. The Symphony is working on a one-year project, and the Amadeus has just completed a nine-month assignment.
"We're focused on the central lease sale Garden Banks acreage that is the hottest area at the moment," Delzer says. "In June, we'll finish our largest survey to date in these waters, over 7,000 sq km."
Last year, the Symphony – the world's largest acquisition vessel, at 120 m – completed a proprietary survey for BP using state-of-the-art acquisition parameters. To image the geology beneath the salt structure, the vessel towed six 9,200-m hydrophone streamers with 100-m spacing. Acquisition lines were arranged to produce a final grid spacing of 12.5 x 6.25 m. This high level of sub-surface sampling was used in determining future development wells in the Thunder Horse area of the Gulf of Mexico.
"In the Gulf of Mexico, it is essential to image below the salt," Delzer says, "and for that, you need longer streamer offsets. We're the first to have done this in a 9,000-m configuration. We're now applying this experience to our multi-client surveys in the Gulf of Mexico. But this year, we'll also be making a big push in the Mexican sector, with Pemex looking to do more and more projects."
However, Brazil will remain the number one market in Latin America. CGG focused on Brazil with two vessels there during the whole of 2002.
"Although activity since has dropped significantly, we still expect to retain our market share, even though others have left the country," Delzer said. "We were the only company to perform a proprietary survey for BP in the Amazon basin last year." In addition, CGG Harmattan undertook the largest high-resolution survey in the world for Petrobras with additional extensions, Delzer points out. This 3D survey covers 2,620 sq km in the Campos basin.
"West Africa remains slow, a little below expectations for the second year in a row, mainly due to the oil companies having problems signing permits in Nigeria. Most of our competitors have shot multi-client surveys in West Africa, but that's not the direction we want to go."
The Amadeus is booked for the entire North Sea season this year, working for multiple clients in the UK and Norwegian sectors. The main opportunities here are for the majors. "BP/Shell in particular are acquiring 4D baseline studies."
Elsewhere, activity has picked up in the Egyptian sector of the Mediterranean following exploration programs by Agip, Apache, BP, and Ocean Energy.
"In the Far East, activity remains constant, but pricing is below prices levels along the Atlantic Margin," Delzer says. "Processing is a much bigger market in the Far East now than new acquisition, particularly in Malaysia." Recently CGG set up a new regional processing hub in Kuala Lumpur to respond to this growth.
Off eastern Canada, Delzer concludes, many planned acquisition projects have been postponed or delayed, due to a combination of company mergers and environmental concerns.
"Prices are forecast to remain flat through 2003, which definitely does not warrant us increasing our fleet to replace the Mistral. Overall, there are still five to six too many vessels in the global acquisition fleet, and there are too many vessels with aging equipment. Despite this, 2002 was good for us offshore, particularly in terms of our new recording equipment. There's been a very reassuring progression in what we're trying to do."
Last September, CGG took a 7.51% stake in its rival PGS, which is known to have financial problems. A bid for PGS' fleet is possible at some point.
"Consolidation is probably the only way forward in this industry," says CGG's senior executive vice president, Christophe Pettenati-Auziere. A takeover would create a merger of 14 vessels, although some of these might have to be stacked – not sold, he stresses – to reduce current overcapacity.
"Our competitors might also do the same thing," he adds. "We took this share in PGS just to wave the flag, but in fact it makes us their second-largest shareholder. They reacted very positively at the time, and we maintain regular contacts with them. Their fleet includes six Ramforms, which are good vessels, though no better or worse than ours. The other three are typical ship-shaped vessels. They have bad utilization at the moment, as the market in multi-client surveys is slowing, so they are focusing on exclusive surveys, as is everyone else, which is why prices in this sector are under serious pressure."